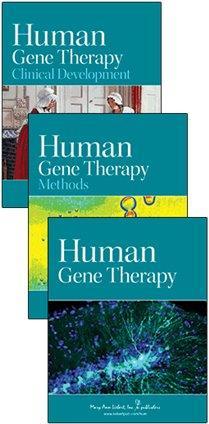 New Rochelle, NY, July 20, 2015--To overcome the off-target mutations that commonly occur with CRISPR/Cas9 genome editing methods, researchers at Harvard Medical School and Massachusetts General Hospital have developed two strategies that greatly improve the specificity of RNA-guided nucleases for the DNA region targeted to be cut and repaired. A description of these new techniques and their successful use to modify human cancer cells and embryonic stem cells is described in a special issue on genome editing in Human Gene Therapy, a peer-reviewed journal from Mary Ann Liebert, Inc., publishers. The article is available free on the Human Gene Therapy website until October 15, 2015.
In the special issue led by Guest Editor Feng Zhang, PhD, Broad Institute of MIT and Harvard, and McGovern Institute for Brain Research, MIT (Cambridge, MA), ?Nicolas Wyvekens, Ved Topkar, Cyd Khayter, J. Keith Joung, and Shengdar Tsai present their work in the article "Dimeric CRISPR RNA-Guided FokI-dCas9 Nucleases Directed by Truncated gRNAs for Highly Specific Genome Editing 9." They introduce two new strategies to reduce the off-target effects of current CRISPR genome editing methods: the use of truncated guide RNA molecules (gRNAs), creating shorter binding sites between the gRNAs and targeted DNA regions; and the addition of a FokI domain to the Cas9 protein, resulting in the formation of a nuclease dimer instead of monomer (the RNA-guided FokI-dCas9 Nuclease, or RFN).
###
Research reported in this publication was supported by the National Institutes of Health under Award Numbers DP1 GM105378, P50 HG005550, R01 AR063070, and F32 GM105189
About the Journal
Human Gene Therapy, the Official Journal of the European Society of Gene and Cell Therapy, British Society for Gene and Cell Therapy, French Society of Cell and Gene Therapy, German Society of Gene Therapy, and five other gene therapy societies, is an authoritative peer-reviewed journal published monthly in print and online. Led by Editor-in-Chief Terence R. Flotte, MD, Celia and Isaac Haidak Professor of Medical Education and Dean, Provost, and Executive Deputy Chancellor, University of Massachusetts Medical School, Human Gene Therapy presents reports on the transfer and expression of genes in mammals, including humans. Related topics include improvements in vector development, delivery systems, and animal models, particularly in the areas of cancer, heart disease, viral disease, genetic disease, and neurological disease, as well as ethical, legal, and regulatory issues related to the gene transfer in humans. Its companion journals, Human Gene Therapy Methods, published bimonthly and focused on the application of gene therapy to product testing and development, and Human Gene Therapy Clinical Development, published quarterly, features data relevant to the regulatory review and commercial development of cell and gene therapy products. Tables of contents for all three publications and a free sample issue may be viewed on the Human Gene Therapy website.
About the Publisher
Mary Ann Liebert, Inc., publishers is a privately held, fully integrated media company known for establishing authoritative peer-reviewed journals in many promising areas of science and biomedical research, including Nucleic Acid Therapeutics, Tissue Engineering, Stem Cells and Development, and Cellular Reprogramming. Its biotechnology trade magazine, Genetic Engineering & Biotechnology News (GEN), was the first in its field and is today the industry's most widely read publication worldwide. A complete list of the firm's 80 journals, books, and newsmagazines is available on the Mary Ann Liebert, Inc., publishers website.
---
Journal
Human Gene Therapy