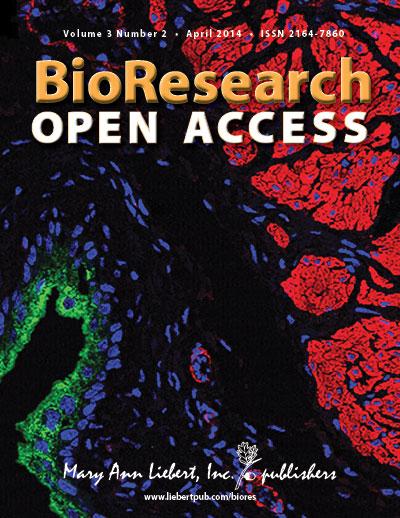 New Rochelle, NY, April 17, 2014—The development of stem cell therapies to cure a variety of diseases depends on the ability to characterize stem cell populations based on cell surface markers. Researchers from the Finnish Red Cross have discovered a new marker that is highly expressed in a type of stem cells derived from human umbilical cord blood, which they describe in an article in BioResearch Open Access, a peer-reviewed journal from Mary Ann Liebert, Inc., publishers. The article is available free on the BioResearch Open Access website.
Heli Suila and colleagues, Finnish Red Cross Blood Service, Helsinki, Finland present evidence to show that the glycan O-GLcNAc, is present on the surface of stem cells and is part of a stem cell-specific surface signature. In the article "Extracellular O-Linked N-Acetylglucosamine Is Enriched in Stem Cells Derived from Human Umbilical Cord Blood" the authors suggest that the glycan plays a crucial role in a cell signaling pathway that regulates embryonic development.
"This work is particularly interesting as epidermal growth factor domains are found on the Notch receptors, suggesting that these novel glycans may be involved in Notch receptor signaling pathways in stem cells," says BioResearch Open Access Editor Jane Taylor, PhD, MRC Centre for Regenerative Medicine, University of Edinburgh, Scotland.
###
About the Journal
BioResearch Open Access is a bimonthly peer-reviewed open access journal led by Editor-in-Chief Robert Lanza, MD, Chief Scientific Officer, Advanced Cell Technology, Inc. and Editor Jane Taylor, PhD. The Journal provides a new rapid-publication forum for a broad range of scientific topics including molecular and cellular biology, tissue engineering and biomaterials, bioengineering, regenerative medicine, stem cells, gene therapy, systems biology, genetics, biochemistry, virology, microbiology, and neuroscience. All articles are published within 4 weeks of acceptance and are fully open access and posted on PubMedCentral. All journal content is available on the BioResearch Open Access website.
About the Publisher
Mary Ann Liebert, Inc., publishers, is a privately held, fully integrated media company known for establishing authoritative peer-reviewed journals in many areas of science and biomedical research, including, DNA and Cell Biology, Tissue Engineering, Stem Cells and Development, Human Gene Therapy, HGT Methods, and HGT Clinical Development, and AIDS Research and Human Retroviruses. Its biotechnology trade magazine, Genetic Engineering & Biotechnology News (GEN), was the first in its field and is today the industry's most widely read publication worldwide. A complete list of the firm's 80 journals, books, and newsmagazines is available on the Mary Ann Liebert, Inc., publishers website (http://www.liebertpub.com).
Mary Ann Liebert, Inc. 140 Huguenot St., New Rochelle, NY 10801-5215 http://www.liebertpub.com
Phone: (914) 740-2100 (800) M-LIEBERT Fax: (914) 740-2101
---
Journal
BioResearch Open Access