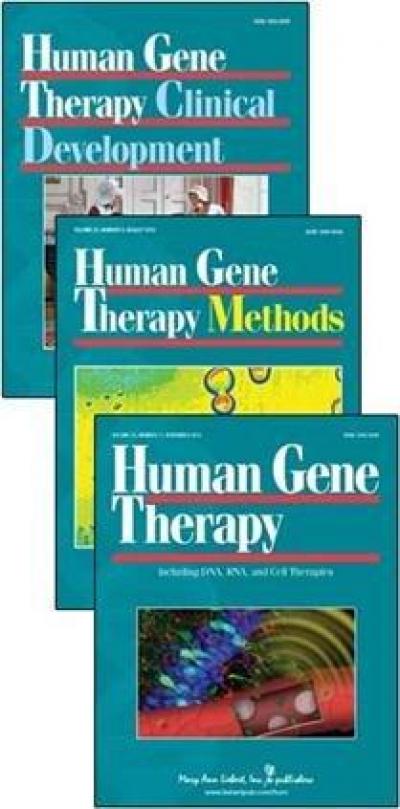 New Rochelle, NY, January 15, 2013—A novel therapeutic approach called exon skipping involves bypassing a disease-causing mutation in a gene to restore normal gene expression and protein production. Two innovative examples of this strategy used to correct gene defects associated with muscular dystrophy are described in articles in Human Gene Therapy, a peer-reviewed journal from Mary Ann Liebert, Inc., publishers. The articles are available free on the Human Gene Therapy website.
Willem Hoogaars and a team of researchers from France, the Netherlands, Finland, and Germany evaluated a combination of an exon-skipping treatment delivered via an adeno-associated virus (AAV) vector and a compound that inhibits myostatin signaling in a mouse model of Duchenne muscular dystrophy. The dual treatments led to improved muscle force and a decrease in ineffective muscle contractions, as well as increased body weight, muscle mass, and muscle fiber size. They did not, however, improve the effects of each treatment given individually. The results are reported in the article "Combined Effect of AAV-U7-Induced Dystrophin Exon Skipping and Soluble Activin Type IIB Receptor in mdx Mice."
Francesca Gualandi and colleagues, University of Ferrara and University of Padua, Italy, used exon skipping to inactivate mutated RNA messages responsible for defective collagen structure and function in muscle tissue affected by Ullrich muscular dystrophy or Bethlem myopathy. The authors describe their approach in "Antisense-Induced Messenger Depletion Corrects a COL6A2 Dominant Mutation in Ullrich Myopathy."
"This combines two very promising therapeutic approaches in a relevant animal model of muscular dystrophy," says James M. Wilson, MD, PhD, Editor-in-Chief, and Director of the Gene Therapy Program, Department of Pathology and Laboratory Medicine, University of Pennsylvania Perelman School of Medicine, Philadelphia.
###
About the Journal
Human Gene Therapy, the Official Journal of the European Society of Gene and Cell Therapy, British Society for Gene and Cell Therapy, French Society of Cell and Gene Therapy, German Society of Gene Therapy, and five other gene therapy societies, is an authoritative peer-reviewed journal published monthly in print and online. Human Gene Therapy presents reports on the transfer and expression of genes in mammals, including humans. Related topics include improvements in vector development, delivery systems, and animal models, particularly in the areas of cancer, heart disease, viral disease, genetic disease, and neurological disease, as well as ethical, legal, and regulatory issues related to the gene transfer in humans. Its sister journal, Human Gene Therapy Methods, published bimonthly, focuses on the application of gene therapy to product testing and development, and Human Gene Therapy Clinical Development, launching in 2013, publishes data relevant to the regulatory review and commercial development of cell and gene therapy products. Tables of content for all three publications and a free sample issue may be viewed on the Human Gene Therapy website.
About the Publisher
Mary Ann Liebert, Inc., publishers is a privately held, fully integrated media company known for establishing authoritative peer-reviewed journals in many promising areas of science and biomedical research, including Nucleic Acid Therapeutics Tissue Engineering, Stem Cells and Development, and Cellular Reprogramming. Its biotechnology trade magazine, Genetic Engineering & Biotechnology News (GEN), was the first in its field and is today the industry's most widely read publication worldwide. A complete list of the firm's 70 journals, books, and newsmagazines is available on the Mary Ann Liebert, Inc., publishers website.
Mary Ann Liebert, Inc. 140 Huguenot St., New Rochelle, NY 10801-5215 www.liebertpub.com
Phone: (914) 740-2100 (800) M-LIEBERT Fax: (914) 740-2101
---
Journal
Human Gene Therapy