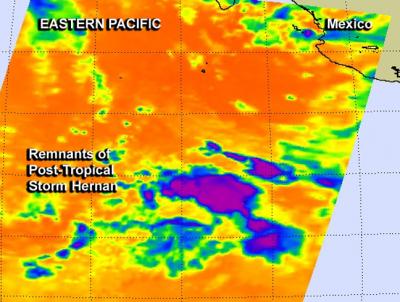 Tropical Storm Hernan degenerated into a remnant low pressure area on July 29. Infrared imagery from NASA's Aqua satellite revealed cloud tops were warming as the storm weakened.
The Atmospheric Infrared Sounder or AIRS instrument aboard Aqua gathered infrared data on a quickly weakening Hernan on July 29 at 5:11 a.m. EDT. The data was then made into a false-colored image at NASA's Jet Propulsion Laboratory in Pasadena, California. The AIRS image showed small, fragmented areas of a few powerful thunderstorms with high, cold cloud tops in Tropical Storm Hernan as it continued weakening. For the most part, however, the cloud top temperatures warmed through the system which indicated the uplift was weaker.
By 11 a.m. EDT (1500 UTC) Hernan was no longer a tropical cyclone and had become a remnant low pressure area. The center of post-tropical cyclone Hernan was located near latitude 23.5 north and longitude 121.1 west, about 710 miles (1,145 km) west of the southern tip of Baja California, Mexico. The post-tropical cyclone is moving toward the west-northwest near 15 mph (24 kph) and this general heading with a decrease in forward speed is expected through Wednesday night, July 30. Maximum sustained winds are near 35 mph (55 kph).
The National Hurricane Center expects that remnant low to dissipate during the next couple of days.
###
---