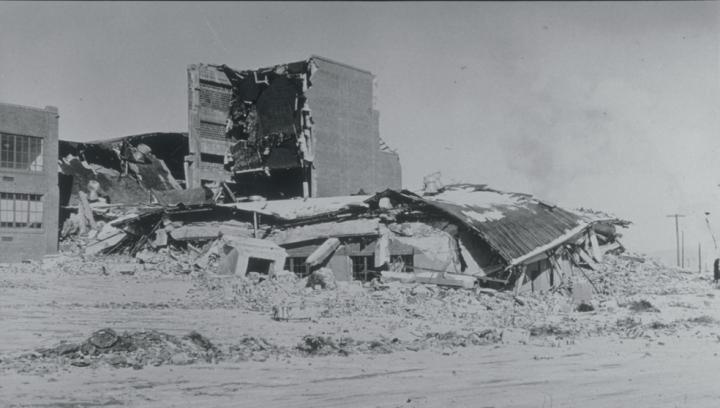 According to a new study by scientists at Scripps Institution of Oceanography at the University of California San Diego, a large earthquake on one fault can trigger large aftershocks on separate faults within just a few minutes. These findings have important implications for earthquake hazard prone regions like California where ruptures on complex fault systems may cascade and lead to mega-earthquakes.
In the study, published in the Sept. 9 issue of the journal Science, Scripps geophysicist Peter Shearer and Scripps graduate student Wenyuan Fan discovered 48 previously unidentified large aftershocks from 2004 to 2015 that occurred within seconds to minutes after magnitude 7 to 8 earthquakes on faults adjacent to the mainshock ruptures.
In one instance along the Sundra arc subduction zone, where the magnitude 9 Sumatra-Andaman mega-earthquake occurred off the coast of Indonesia in 2004, a magnitude 7 quake triggered two large aftershocks over 200 kilometers (124 miles) away. These aftershocks miles away reveal that stress can be transferred almost instantaneously by the passing seismic waves from one fault to another within the earthquake fault system.
"The results are particularly important because of their seismic hazard implications for complex fault systems, like California," said Fan, the lead author of the study. "By studying this type of triggering, we might be able to forecast hosting faults for large earthquakes."
Large earthquakes often cause aftershock sequences that can last for months. Scientists generally believe that most aftershocks are triggered by stress changes caused by the permanent movement of the fault during the main seismic event, and mainly occur near the mainshock rupture where these stress changes are largest. The new findings show that large early aftershocks can also be triggered by seismic wave transients, where the locations of the main quake and the aftershock may not be directly connected.
"Multiple fault system interactions are not fully considered in seismic hazard analyses, and this study might motivate future modeling efforts to account for these effects," said Shearer, the senior author of the study.
###
The National Science Foundation funded the study.
Scripps Communications Office
Scripps Institution of Oceanography
Web: http://scrippsnews.ucsd.edu
Phone: 858-534-3624
Email: scrippsnews@ucsd.edu
Follow us on Twitter: @Scripps_Ocean & @Explorations
Facebook: http://facebook.com/scrippsocean
YouTube: http://www.youtube.com/scrippsoceanography
Instagram: Scripps_Ocean
Pinterest: https://pinterest.com/scrippsocean
About Scripps Institution of Oceanography
Scripps Institution of Oceanography at the University of California San Diego is one of the oldest, largest, and most important centers for global science research and education in the world. Now in its second century of discovery, the scientific scope of the institution has grown to include biological, physical, chemical, geological, geophysical, and atmospheric studies of the earth as a system. Hundreds of research programs covering a wide range of scientific areas are under way today on every continent and in every ocean. The institution has a staff of more than 1,400 and annual expenditures of approximately $195 million from federal, state, and private sources. Scripps operates oceanographic research vessels recognized worldwide for their outstanding capabilities. Equipped with innovative instruments for ocean exploration, these ships constitute mobile laboratories and observatories that serve students and researchers from institutions throughout the world. Birch Aquarium at Scripps serves as the interpretive center of the institution and showcases Scripps research and a diverse array of marine life through exhibits and programming for more than 430,000 visitors each year. Learn more at scripps.ucsd.edu and follow us at: Facebook | Twitter | Instagram.
About UC San Diego
At the University of California San Diego, we constantly push boundaries and challenge expectations. Established in 1960, UC San Diego has been shaped by exceptional scholars who aren't afraid to take risks and redefine conventional wisdom. Today, as one of the top 15 research universities in the world, we are driving innovation and change to advance society, propel economic growth and make our world a better place. Learn more at http://www.ucsd.edu.
---