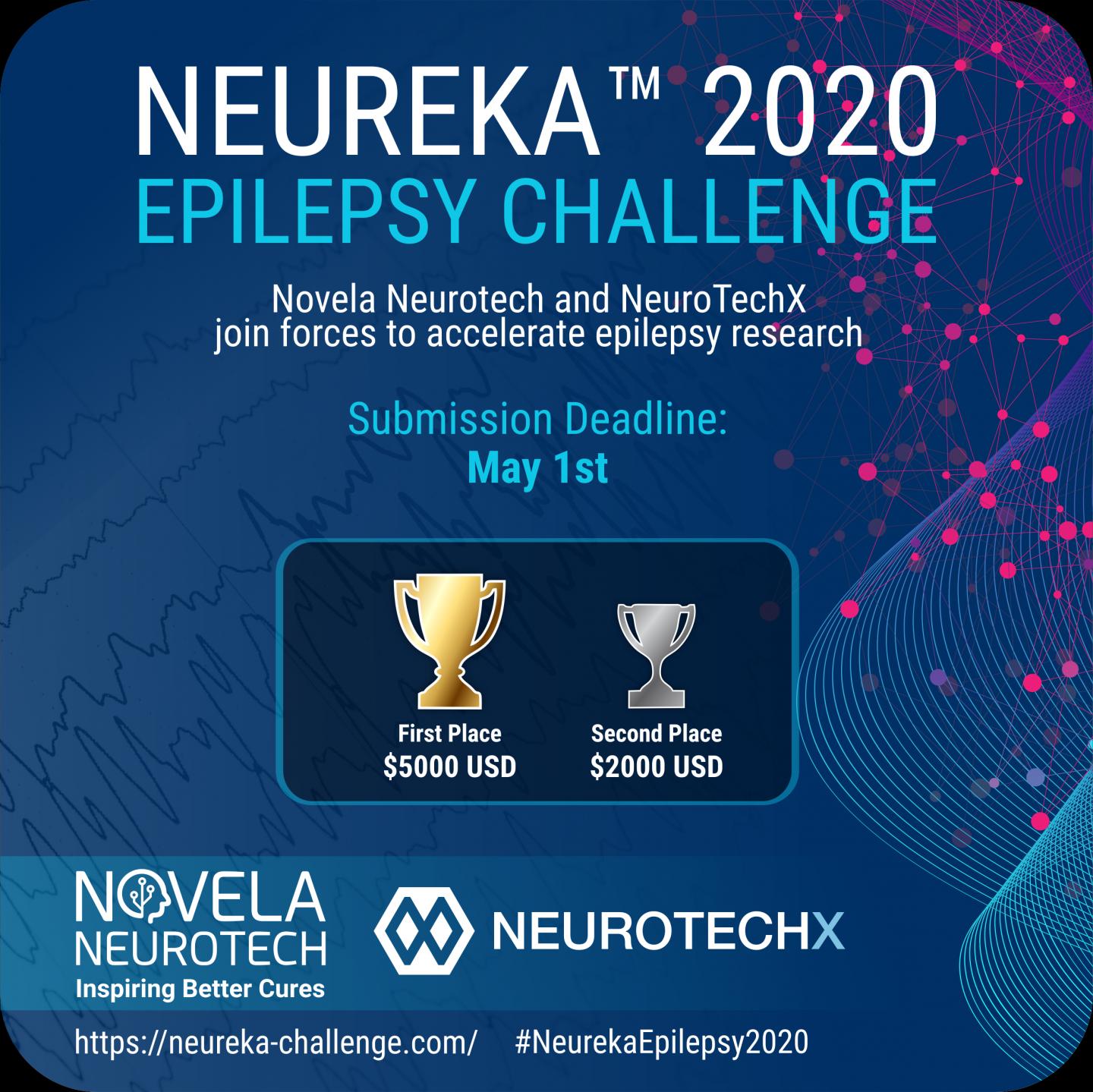 San Francisco, CA - Novela Neurotech, a medtech company that accelerates neurological discoveries, joins forces with NeuroTechX, an international neurotech community to launch a global, online crowdsourcing challenge with the goal of accelerating epilepsy research.
The month-long NeurekaTM challenge aims to harness a new generation of AI and online big data resources to develop better seizure prediction algorithms using scalp EEG signals. Participants will analyze an open source dataset, the Temple University Hospital (TUH) EEG Seizure Detection Corpus, to identify methods that accurately and effectively predict seizure events using a minimal number of EEG channels. Winning solutions will be made available online and open-sourced to encourage further improvements.
The challenge, running from April 1st to May 1st, is open internationally to all. The top two winners will receive a monetary prize of $5000 and $2000 USD, respectively. We strongly welcome and encourage everyone to participate.
For more details, or to register and download the dataset, visit the NeurekaTM 2020 Epilepsy Challenge website.
Reimagining EEG for Epilepsy
EEG is the clinical gold standard for monitoring epilepsy patients for seizure activity. However, traditional EEG headsets are bulky, uncomfortable to wear, and require abrasion of the scalp before use. These characteristics prevent epilepsy patients from monitoring their seizures at home.
In addition, EEG signals taken from the scalp are incredibly noisy. It often takes years of clinical training before a healthcare provider and reliably "read" these EEG signals to diagnose and monitor epilepsy. However, thanks to new advances in machine learning and AI, automated seizure prediction--a challenging but criticall problem--is now within reach.
The NeurekaTM challenge hopes to tackle traditional EEG shortcomings by crowdsourcing better algorithms from the neurotech community. The hope is to kickstart a global effort to reimagine EEG for epilepsy, by cutting down the number of channels required without sacrificing prediction accuracy, while lengthening prediction time before a seizure episode.
"The challenge perfectly reflects our mission to accelerate solutions for neurological patients through fostering collaboration. NeurekaTM is named after our data platform that indexes neurological data in one place, using standardized formats to enable easy data sharing and mining between research teams. We strongly believe that collaboration will speed up neuroscience discoveries, to the ultimate benefit of patients," says Ray Iskander, CEO of Novela Neurotech.
NeuroTechX is the largest international neurotech community with over 20 city chapters, 23 student clubs and over 15,000 members worldwide involved in both online and physical activities and initiatives. The nonprofit organization has been at the forefront of supporting neurotech enthusiasts by providing resources, training and professional development opportunities. Through these efforts, NeuroTechX cultivates new generations of talent while advancing the neurotech field.
"NeuroTechX and Novela share a similar ethos of open source collaborations, promoting teamwork to advance neuroscience and neurotechnologies. We're grateful to join forces in a high-impact, real-world challenge for the benefit of epilepsy patients," says Yannick Roy, co-founder and Executive Director at NeuroTechX.
Temple University shares the same excitement.
"We are thrilled to work with both teams and the global community in an open data challenge to find novel EEG solutions. New advancements in AI, and novel big data sources such as the TUH dataset will democratize research, and fundamentally advance the technology," says Joseph Picone, Professor at Temple University.
"I'm very eager to see all the submissions our talented community comes up with. Remember the challenge is open to everyone, and best of luck to all participants," adds Yannick.
"As people are increasingly quarantined at home during the coronavirus pandemic, we hope an online challenge will not only support epilepsy research and patients, but also foster a sense of community and optimism," says Iskander.
More details on the rules, guidelines and other information about the challenge can be found at the NeurekaTM 2020 Epilepsy Challenge website.
###
About Novela Neurotech
Novela Neurotech, based in Alameda, CA, has been on the forefront of accelerating brain stimulation research. Spun off from Waterloo University in Canada, Novela is developing a full brain signal data platform Neureka, which includes a smart hardware neural interface and a cloud-based software analysis suite, to aid researchers in developing new treatments. More at https://novelaneuro.com
About NeuroTechX
NeuroTechX is a non-profit organization whose mission is to facilitate the advancement of neurotechnology by providing key resources and learning opportunities, and by being leaders in local and worldwide technological initiatives. Its three pillars are "Community", "Education", and "Professional Development". More at https://neurotechx.com/
About TUH
Temple University Hospital in Philadelphia, Pennsylvania is an academic medical center in the United States. The TUH EEG Seizure Corpus (TUSZ) is the largest open source corpus of its type and represents an accurate characterization of clinical conditions for epilepsy. More at https://www.templehealth.org/locations/temple-university-hospital
---