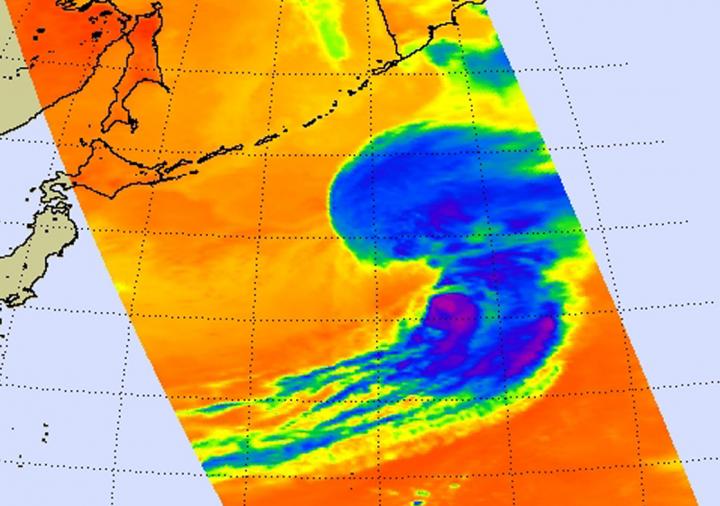 Tropical Cyclone Atsani appeared to look more like a frontal system in infrared imagery from NASA's Aqua satellite.Early on August 26, the Joint Typhoon Warning Center issued their final bulletin on the system as it was transitioning into an extra-tropical cyclone,
The Atmospheric Infrared Sounder or AIRS instrument that also flies aboard Aqua captured infrared data on the storm on August 25 at 14:47 UTC (10:47 a.m. EDT). Cloud top temperatures in thunderstorms northeast of the center were colder than -63F/-52C, indicating high, strong thunderstorms with the potential for heavy rainfall. Areas around the rest of the system appeared almost cloud-free.
At 0900 UTC (5 a.m. EDT) on April 6, 2015, Tropical Cyclone Atsani's maximum sustained winds were near 60 knots (69 mph/111 kph). It was located 1,065 nautical miles (1,226 miles/1,972 km) south of Petropavlovsk, Russia, near 35.2 north latitude and 155.8 east longitude. Astani was moving to the east-northeast at 28 knots (32.2 mph/51.8 kph).
In the final bulletin on Atsani Joint Typhoon Warning Center, Atsani was transitioning into an extra-tropical low and is expected to make landfall south of eastern Russia on August 26.
###
---