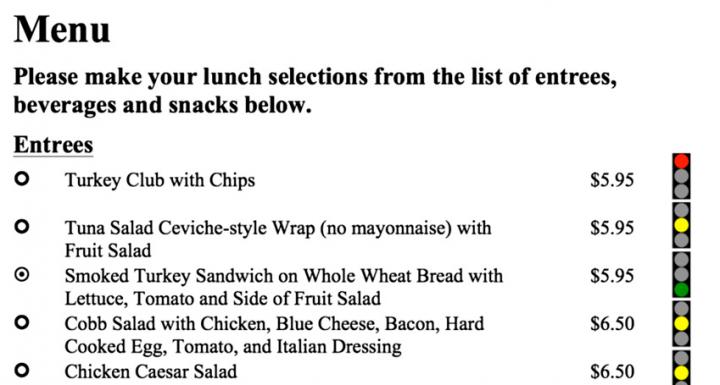 PHILADELPHIA, PA - Imagine you're ordering lunch from your favorite online delivery spot, and just before submitting your order, you notice that the club sandwich in your cart is marked with a red stop light signifying high calorie content. Would you keep it in your cart? New research from the Perelman School of Medicine at the University of Pennsylvania suggests you might switch to a lower-calorie option. When researchers added color-coded or numeric calorie labels to online food ordering systems, the total calories ordered was reduced by about 10 percent when compared to menus featuring no calorie information at all. The study is the first to evaluate the effect of "traffic-light" calorie labeling - where green labels signal low calorie content, yellow labels signal medium calorie content, and red labels signal high calorie content - in the increasingly common setting of ordering meals online. Results are published online in the Journal of Public Policy & Marketing.
"Calorie labeling appears to be effective in an online environment where consumers have fewer distractions, and the simpler traffic-light labeling seems as effective as standard calorie numbers," said lead author Eric M. VanEpps, PhD, a postdoctoral researcher at the Center for Health Incentives and Behavioral Economics at the Perelman School of Medicine at the University of Pennsylvania.
The U.S. Food and Drug Administration has said that in May 2017 it will begin mandating numeric calorie labeling for restaurants, movie theaters, vending machines, and food delivery services -- including delivery services with online ordering. States such as Vermont and cities including New York and Philadelphia also have begun to implement broad calorie-labeling mandates.
For the study, VanEpps and colleagues from Carnegie Mellon University set up a system in which corporate employees ordering lunch from a cafeteria via a newly-developed online portal were presented with the calorie information for menu items via numeric or traffic light calorie labels, both together, or none at all. Over the six week study period, 803 orders were placed by the 249 study participants.
The team found that each of the three calorie labeling conditions - numbers alone, traffic lights alone, or both labels together - reduced calories ordered by about 10 percent, compared to orders involving no calorie labels.
"The similar effects of traffic light and numeric labeling suggests to us that consumers are making decisions based more on which choices seem healthier than on absolute calorie numbers," VanEpps said.
As expected, the simple traffic light labeling of calorie content had a particularly strong impact among the subset of participants who scored poorly on a simple test of math ability (numeracy). Calorie labeling overall also had a stronger impact among obese participants than among non-obese participants. Results of the study add to ongoing research from the team examining calorie labeling's impact in different meal-ordering settings.
"Future studies looking at different menu types and sets of participants are necessary, but this study on its own provides clear evidence that both calorie labeling methods can be effective when ordering meals online," VanEpps said. "It's important that research be conducted in all ordering contexts where calorie labeling mandates might be applied."
###
Penn Medicine is one of the world's leading academic medical centers, dedicated to the related missions of medical education, biomedical research, and excellence in patient care. Penn Medicine consists of the Raymond and Ruth Perelman School of Medicine at the University of Pennsylvania (founded in 1765 as the nation's first medical school) and the University of Pennsylvania Health System, which together form a $4.3 billion enterprise.
The Perelman School of Medicine has been ranked among the top five medical schools in the United States for the past 17 years, according to U.S. News & World Report's survey of research-oriented medical schools. The School is consistently among the nation's top recipients of funding from the National Institutes of Health, with $392 million awarded in the 2013 fiscal year.
The University of Pennsylvania Health System's patient care facilities include: The Hospital of the University of Pennsylvania -- recognized as one of the nation's top "Honor Roll" hospitals by U.S. News & World Report; Penn Presbyterian Medical Center; Chester County Hospital; Penn Wissahickon Hospice; and Pennsylvania Hospital -- the nation's first hospital, founded in 1751. Additional affiliated inpatient care facilities and services throughout the Philadelphia region include Chestnut Hill Hospital and Good Shepherd Penn Partners, a partnership between Good Shepherd Rehabilitation Network and Penn Medicine.
Penn Medicine is committed to improving lives and health through a variety of community-based programs and activities. In fiscal year 2013, Penn Medicine provided $814 million to benefit our community.
---
Journal
Journal of Public Policy & Marketing