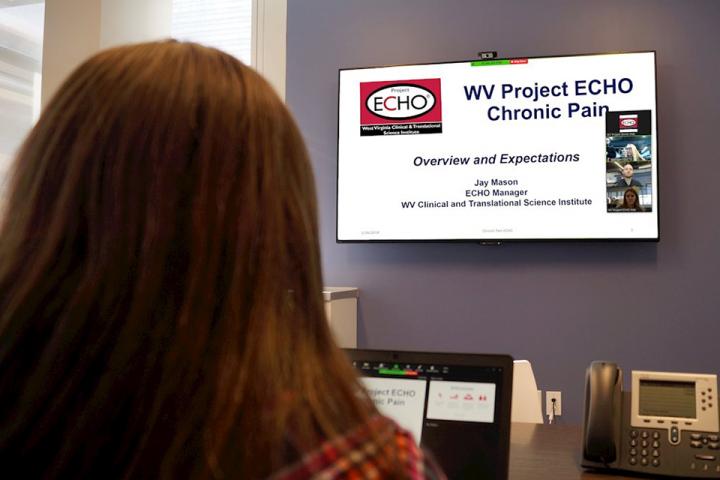 MORGANTOWN, W.Va. - The West Virginia Clinical and Translational Science Institute Project ECHO program has been spreading specialty care knowledge across the Mountain State for five years. Building upon its success, the project can now lend resources and expertise to health providers beyond West Virginia with its recent designation as an ECHO Superhub - one of only eight in the United States and 18 worldwide.
The Superhub designation means that WVCTSI Project ECHO, housed at West Virginia University, can offer outreach support, mentoring and training to healthcare providers and other institutions on how to start their own ECHO program, a guided-practice model designed by the University of New Mexico to reduce health disparities in underserved and remote areas.
WVCTSI launched its Project ECHO program in the spring of 2016 to address the rising prevalence of hepatitis C cases in West Virginia. Since then, it has expanded specialized care education to healthcare providers in nine areas: hepatitis C and HIV, chronic pain management, substance use disorder, psychiatry, chronic lung disease, endocrinology, cardiac health, memory health and, most recently, COVID-19.
"One of our longtime partners, Cabin Creek Health Systems near Charleston, approached us with the idea of starting a Project ECHO program," said Jay Mason, director of community programs and the WVCTSI Project ECHO. "They were looking for assistance with hepatitis C treatment and screening, so we did the immersion training with the University of New Mexico and launched our first ECHO in May 2016
"Being located in Morgantown, with access to the medical school, allowed us to partner with infectious disease specialists who could provide expertise to clinicians throughout West Virginia."
Mason explained that the ECHO model is similar to telemedicine. Rather, specialists will connect with primary care physicians, usually in remote areas.
Primary care providers participating in ECHO sessions have the opportunity to discuss their patient cases with a panel of expert hub members as well as receive didactic specialized content presentations.
To date, WVCTSI Project ECHO has presented 530 educational sessions to more than 1,000 individual participants in not only West Virginia, but also Georgia, Indiana, Kentucky, Maryland, New Jersey, North Carolina, Ohio, Pennsylvania, Tennessee, Texas, Virginia and Wyoming. The Superhub designation will amplify this reach as leaders from West Virginia will provide training to health care leaders from throughout the nation who wish to host ECHO programs.
Dr. Sally Hodder, WVCTSI director and associate vice president for clinical and translational science at WVU, said, "WVCTSI Project ECHO has demonstrated an impressive record in a very short period of time, amplifying specialty expertise in rural areas throughout the nation. Jay Mason and his team deserve congratulations on the impactful program that they have implemented. It is not surprising that they have been chosen to enable others to establish similar programs."
Faith Kelly, Superhubs manager with the ECHO Institute at the University of New Mexico, agreed with Hodder about the impressive growth and success the program has achieved.
"With their expertise and enthusiasm, WVCTSI is now authorized to recruit, train and serve as a model for new ECHO hubs," Kelly said. "The WVCTSI ECHO team has embraced the opportunity to play this critical role in the ECHO movement as we strive together to reach a billion lives by 2025."
To become a Superhub, a Project ECHO Hub must be a hub for at least one year, submit an application and once approved, participate in a specialized ECHO Immersion training around Superhubs. The Superhub Immersion training was completed virtually in January of 2021 thus completing the Superhub process.
"Our entire team can't wait to help spread this model that we have had such great success with, not only here in West Virginia but all around the country," Mason said. "There are no other Superhubs on the East Coast, so we're increasing access to people on this side of the country.
"Community health centers have started to use ECHO as a recruiting tool for providers in small, isolated places. It serves as an outlet to learn and connect with other primary care providers. Likewise, specialists at WVU may not fully understand primary care in rural parts of the state, so they're learning as well. The most valuable aspect of ECHO is in building those relationships."
In July 2021, the WVCTSI Project ECHO Superhub will host its first training with the Hepatitis C Virus Collaborative. The ECHO Institute developed the HCV Collaborative for purposes of increasing provider education and capacity to treat hepatitis C in Appalachia. The states participating in the collaborative include West Virginia, Indiana, Kentucky, North Carolina and Tennessee. HCV ECHO hubs will be launched in states that currently do not have them (e.g., Kentucky, North Carolina and Tennessee) with the mentorship from existing HCV ECHO Hubs (West Virginia and Indiana). West Virginia specifically will offer a Superhub training for those states wanting to initiate HCV ECHO Hubs.
###
WVCTSI Background
WVCTSI is funded by an IDeA Clinical and Translational grant from the National Institute of General Medical Sciences (U54GM104942) to support the mission of building clinical and translational research infrastructure and capacity to impact health disparities in West Virginia.
---