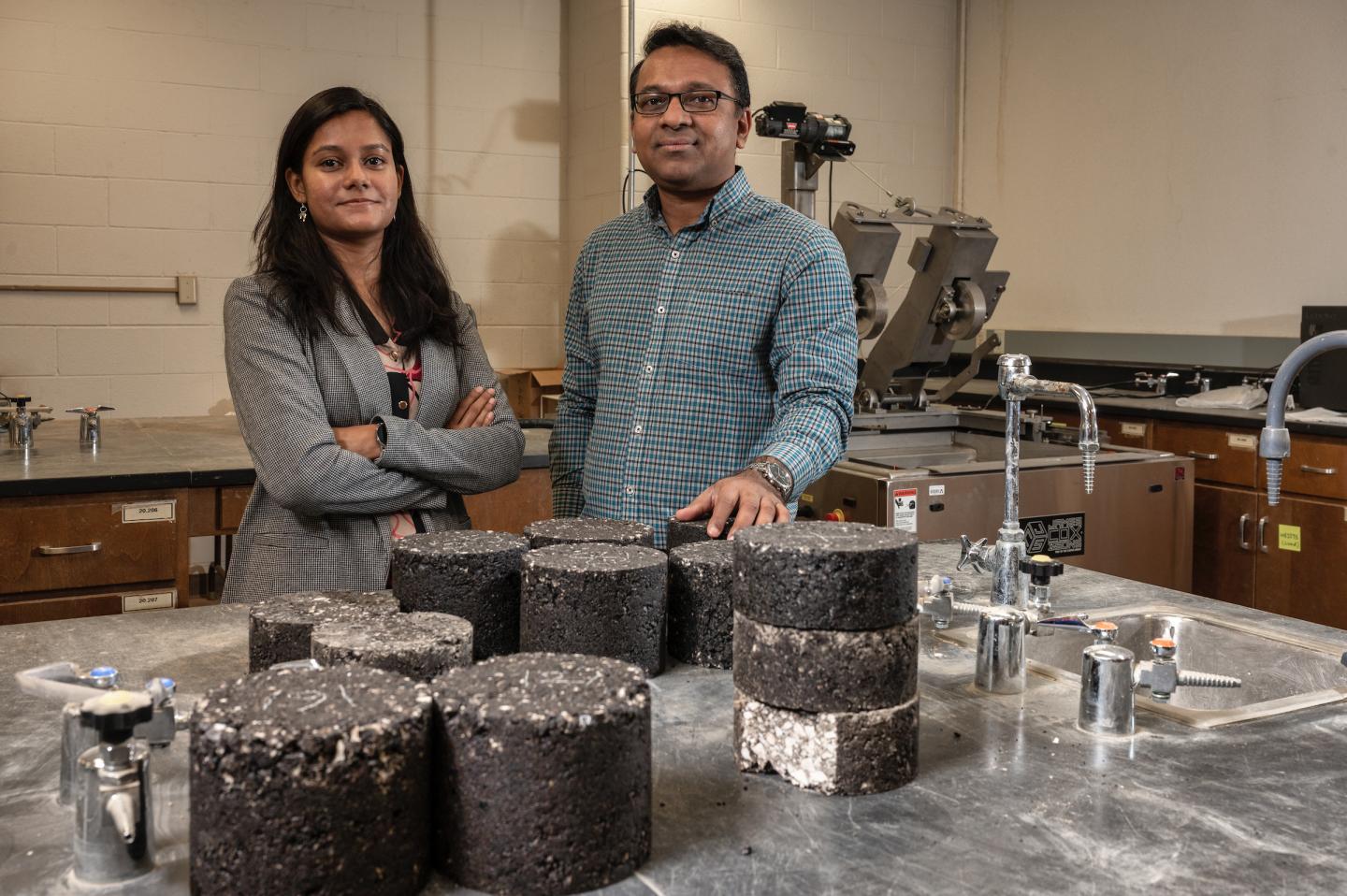 When China recently stopped importing much of the United States' recycling materials, it created a glut of recyclables, including plastics, with no place to go.
Enter Sahadat Hossain and Warda Ashraf.
The University of Texas at Arlington researchers are combining their two areas of expertise--recycling and asphalt/concrete, respectively--to lead a two-year, $342,588 feasibility study on building plastic roads, funded by the Texas Department of Transportation (TxDOT).
The roads wouldn't be made entirely of recycled plastic, but instead mixed with asphalt for an ideal consistency to keep the road safe for motorists and help it last longer, cost less and avoid cracking. "When China was taking all of the recyclables, it was an $11 billion per year industry for the United States," said Hossain, a professor in the Department of Civil Engineering and director of UTA's Solid Waste Institute for Sustainability. "Materials that were recycled before are now going to landfills, where they are going to occupy a large volume of landfill space for a long time.
"Now that the international market for U.S. recycling materials no longer exists, we need to find and create local uses and markets for recycled plastics. TxDOT is focusing on increasing use of sustainable construction material, and this feasibility study of plastic roads is the agency's latest effort."
Some countries already have tried building plastic roads, with inconsistent results. Hossain said the right mix of plastic is needed in asphalt to create friction between a vehicle's tires and the road, ensuring safe driving.
Ashraf, an assistant professor of civil engineering, has expertise in construction materials.
"We want to make the road more sustainable with these recycled plastics mixed in," Ashraf said. "The project could lead to more durable, sustainable and cheaper roads while also maintaining safety for vehicles. We also need to evaluate the effects of using recycled plastics on the performance of roads."
The research team certainly will have a lot of recycled plastics available for its testing. The United States is creating more waste than ever. In 2015, the most recent year for which national data was available, the U.S. generated more than 262 million tons of waste, up 4.5% from 2010 and 60% from 1985, according to the U.S. Environmental Protection Agency. That amounts to nearly five pounds per person per day.
A Bloomberg survey showed that each person in the United States generates the equivalent of 3,700 bottles in plastic waste annually.
"The plastic road project demonstrates TxDOT's commitment to incorporate recycling and sustainability in pavement repair, construction and management," said Boon Thian, TxDOT Dallas District pavement engineer.
Ali Abolmaali, chair and professor of the Department of Civil Engineering, said the project could have long-term implications for roads across the United States.
"Finding the proper mix of plastics used in roadways could be life-changing for the infrastructure most of America takes for granted," Abolmaali said. "UTA already has a great working relationship with TxDOT. This project will only serve to strengthen that relationship."
###
---