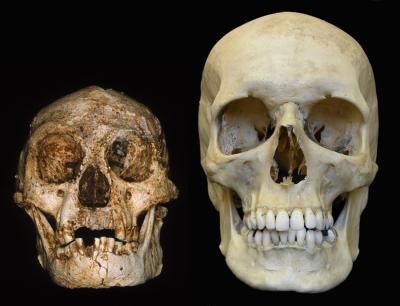 Homo floresiensis, a pygmy-sized small-brained hominin popularly known as 'the Hobbit' was discovered five years ago, but controversy continues over whether the small brain is actually due to a pathological condition. How can its tiny brain size be explained? Researchers writing in the open access journal BMC Biology have tackled this question in the context of a comprehensive assessment of the evolution of brain and body size throughout the larger primate family.
Nick Mundy and Stephen Montgomery, from the Department of Zoology at Cambridge University, UK, and colleagues from Durham University used previously published data from living and extinct species to reconstruct the pattern of brain and body mass evolution in primates. According to Nick Mundy, "Our results provide robust confirmation for the suggestion that strong evolutionary trends have governed the expansion of the primate brain. In contrast, body size evolution has not tended to increase in primates, implying brain and body mass have been subject to separate selection pressures and supporting the findings of previous studies in other taxonomic groups that these two highly correlated traits can show differences in their patterns of evolution".
Brain expansion began early in primate evolution and has occurred in all major groups, suggesting a strong selective advantage to increased brainpower in most primate lineages. Despite this overall trend, however, Mundy and his colleagues have identified several branches/lineages within each major group that have shown decreasing brain and body mass as they evolve, for example in marmosets and mouse lemurs. According to Mundy, "We find that, under reasonable assumptions, the reduction in brain size during the evolution of Homo floresiensis is not unusual in comparison to these other primates. Along with other recent studies on the effects of 'island dwarfism' in other mammals, these results support the hypothesis that the small brain of Homo floresiensis was adapted to local ecological conditions on Flores."
###
Notes to Editors
1. Reconstructing the ups and downs of primate brain evolution: implications for adaptive hypotheses and Homo floresiensis
Stephen H Montgomery, Isabella Capellini, Robert A Barton and Nicholas I Mundy
BMC Biology (in press)
During embargo, article available here: http://www.biomedcentral.com/imedia/4698200402621472_article.pdf?random=180250
After the embargo, article available at journal website: http://www.biomedcentral.com/bmcbiol/
Please name the journal in any story you write. If you are writing for the web, please link to the article. All articles are available free of charge, according to BioMed Central's open access policy.
Article citation and URL available on request at press@biomedcentral.com on the day of publication
2. A picture of a 'hobbit' skull next to a human skull is available here: http://www.biomedcentral.com/graphics/email/images/skulls.jpg
3. BMC Biology - the flagship biology journal of the BMC series - publishes research and methodology articles of special importance and broad interest in any area of biology and biomedical sciences. BMC Biology (ISSN 1741-7007) is covered by PubMed, MEDLINE, BIOSIS, CAS, EMBASE, Scopus, Zoological Record, Thomson Reuters (ISI) and Google Scholar.
4. BioMed Central (http://www.biomedcentral.com/) is an STM (Science, Technology and Medicine) publisher which has pioneered the open access publishing model. All peer-reviewed research articles published by BioMed Central are made immediately and freely accessible online, and are licensed to allow redistribution and reuse. BioMed Central is part of Springer Science+Business Media, a leading global publisher in the STM sector.
---