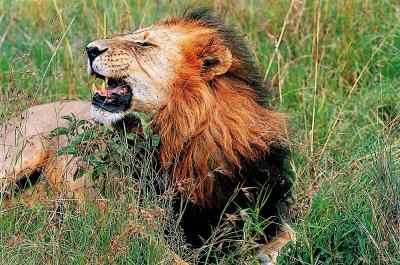 CHICAGO--An article appearing in the current issue of the Journal of Zoology sheds light on several longstanding misconceptions regarding the controversial topic of mane variability among wild lions. This comprehensive scientific assessment of mane variation--including "manelessness"--is a first and took nearly seven years to complete.
According to the overall findings of the study, wild lions generally develop manes in accordance with local climate regimes. In Equatorial east Africa, climate is determined by elevation. Thus lions with the most profuse manes occur at the upper limit of their altitudinal range, while similar aged males in the lowest and warmest environments like Tsavo typically carry only modest or scanty manes.
However, the authors also found, paradoxically, that the majority of lions in regions like the greater Tsavo ecosystem (which is famed for its "maneless" lions), did appear to acquire respectable manes, eventually, contrary to most recent popular and scientific accounts of the lions from that region.
"We knew about the climate/elevation correlation since we were the first to publish those preliminary results in GEO 2001, but this new development really threw us for a loop," says Tom Gnoske, of the Field Museum's Zoology Department and senior author of the paper. "However once we analyzed all of the statistical data we found a very strong correlation linking increased age and continued mane development, a significant variable ignored by all previous authors."
Statistical data from this study demonstrates that the onset of mane development in lions living below an altitude of 800 meters on or near the equator is delayed, and that the "rate" or speed at which a mane develops in lions from those regions is slower on average than that of the more familiar lions living in the cooler, higher altitudes of the greater Serengeti ecosystem and elevated plains extending northward, such as the Athi/Kapiti Plains and beyond. According to the researchers, in environments like Tsavo that have especially high minimum temperatures throughout the year, lions in their reproductive prime--from the approximate ages of five thru seven years old--usually possess only very marginally developed manes, while most of the more thoroughly maned lions in those same territories were already well past their breeding prime.
Furthermore, the researchers found compelling evidence indicating that manes of lions from all populations continue to develop long after a lion has achieved sexual maturity, such that the best-maned lions in any region are typically of an older age class. "Usually lions are well past their breeding prime when they carry the most extensive and often darkest manes of their lives," explains Kerbis Peterhans Adjunct curator of Mammals at The Field Museum, Professor at Roosevelt University, and co-author of the study.
This finding stands in contrast to recent studies arguing that female-driven sexual selection in the species Panthera leo is focused on males with more extensively developed and darker manes. "Up until now, it has been incorrectly assumed that lions typically achieve the full extent of mane development by the time they reach four to five years of age," Kerbis Peterhans adds. "This phenomenon carries across the board to all African lion populations, including recently extinct ones, based on the data from our rigorous review of museum specimens."
The team found no evidence that rainfall, season, habitat, soil nutrients, nutrition, lion density, prey density or biomass were correlated with mane-growth patterns, but established that increased humidity appears to have a negative impact on mane growth in especially warm environments. Recent theories, linking manelessness in Tsavo's lions to male pattern baldness (due to excessive testosterone and aggression), are not supported by this study.
"There is a lot of dogma to overcome, and many important aspects of lion-hood, including behavioral repertoires and survival strategies adopted by lions in lesser known environments, have yet to be documented," explains Gastone Celesia, a retired surgeon and medical researcher based in the Chicagoland area and co-author of the paper. "Much of the current scientific thinking and most of the misconceptions about lion behavior and morphology stem from relatively few studies in select environments and habitats. If lions are to survive as a species, the full range of habitats, morphological variation and behavioral strategies must also survive and be maintained. Richer and more productive habitats are being co-opted, taken over by pastoralists and agriculturalists every day. It is the poorer habitats (like Tsavo) that may provide hope for future lion survival."
The study's authors avoided using captive specimens for their study due to the abundance of variables these animals are subject to, including inbreeding, hybridization and unknown pedigrees, stress, chronic inactivity, and climate-controlled environments. Instead, the authors focused their efforts on the mane condition of two adjacent populations of wild lions that were separated by only elevation, and thus, climate.
Equatorial east Africa was chosen for the study because the greatest range of mane variation occurs there. In fact, both maximum and minimum mane conditions have been documented there historically, and continue to exist today, making it an ideal region for addressing the questions posed by the authors (see Velizar Simeonovski's plate).
This provocative topic was first discussed in a peer reviewed scientific venue in 1833 in this very journal (under its former name): Smee, Capt. W. "On the maneless lion of Gujerat," Proceedings of the Zoological Society of London; part 1, page 140, 1833.
The Journal of Zoology is published by the Zoological Society or London. This study has just been published on the journal's "OnlineEarly" website at http://www.blackwell-synergy.com/toc/jzo/0/0.
###
---
Journal
Journal of Zoology