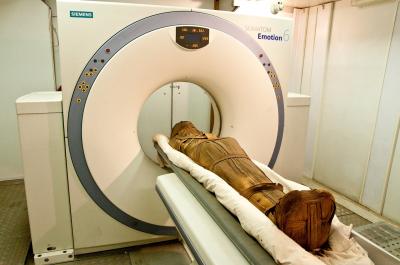 Irvine, Calif. – Hardening of the arteries has been detected in Egyptian mummies, some as old as 3,500 years, suggesting that the factors causing heart attack and stroke are not only modern ones; they afflicted ancient people, too.
Study results are appearing in the Nov. 18 issue of the Journal of the American Medical Association (JAMA) and are being presented Nov. 17 at the Scientific Session of the American Heart Association at Orlando, Fla.
"Atherosclerosis is ubiquitous among modern day humans and, despite differences in ancient and modern lifestyles, we found that it was rather common in ancient Egyptians of high socioeconomic status living as much as three millennia ago," says UC Irvine clinical professor of cardiology Dr. Gregory Thomas, a co-principal investigator on the study. "The findings suggest that we may have to look beyond modern risk factors to fully understand the disease."
The nameplate of the Pharaoh Merenptah (c. 1213-1203 BC) in the Museum of Egyptian Antiquities reads that, when he died at approximately age 60, he was afflicted with atherosclerosis, arthritis, and dental decay. Intrigued that atherosclerosis may have been widespread among ancient Egyptians, Thomas and a team of U.S. and Egyptian cardiologists, joined by experts in Egyptology and preservation, selected 20 mummies on display and in the basement of the Museum of Egyptian Antiquities for scanning on a Siemens 6 slice CT scanner during the week of Feb. 8, 2009.
The mummies underwent whole body scanning with special attention to the cardiovascular system. The researchers found that 9 of the 16 mummies who had identifiable arteries or hearts left in their bodies after the mummification process had calcification either clearly seen in the wall of the artery or in the path were the artery should have been. Some mummies had calcification in up to 6 different arteries.
Using skeletal analysis, the Egyptology and preservationist team was able to estimate the age at death for all the mummies and the names and occupations in the majority. Of the mummies who had died when they were older than 45, 7 of 8 had calcification and thus atherosclerosis while only 2 of 8 of those dying at an earlier age had calcification. Atherosclerosis did not spare women; vascular calcifications were observed in both male and female mummies.
The most ancient Egyptian afflicted with atherosclerosis was Lady Rai, who lived to an estimated age of 30 to 40 years around 1530 BC and had been the nursemaid to Queen Ahmose Nefertiri. To put this in context, Lady Rai lived about 300 years prior to the time of Moses and 200 prior to King Tutankhamun (Tut).
In those mummies whose identities could be determined, all were of high socioeconomic status, generally serving in the court of the Pharaoh or as priests or priestess. While the diet of any one mummy could not be determined, eating meat in the form of cattle, ducks and geese was not uncommon during these times.
"While we do not know whether atherosclerosis caused the demise of any of the mummies in the study, we can confirm that the disease was present in many," Thomas says.
###
In addition to Thomas, Dr. Adel Allam of the Al Azhar Medical School in Cairo, Egypt, is the study's co-principal investigator. Dr. Randall Thompson of the Mid America Heart Institute in Kansas City, Mo.; Dr. L. Samuel Wann of the Wisconsin Heart Hospital in Milwaukee; and Dr. Michael Miyamoto of UC San Diego also contributed to the JAMA report.
The Egyptology and preservationist team consisted of Abd el-Halim Nur el-Din and Gomma Ab el-Maksoud of Cairo University; Ibrahem Badr of the Institute of Restoration in Alexandria, Egypt; Hany Abd el-Amer of the National Research Center in Dokki, Giza, Egypt.
The authors express their appreciation to Zahi Hawass, secretary general of the Supreme Council of Antiquities, for allowing them to scan these mummies and perform this investigation.
About the University of California, Irvine: Founded in 1965, UCI is a top-ranked university dedicated to research, scholarship and community service. Led by Chancellor Michael Drake since 2005, UCI is among the fastest-growing University of California campuses, with more than 27,000 undergraduate and graduate students, 1,100 faculty and 9,200 staff. The top employer in dynamic Orange County, UCI contributes an annual economic impact of $4.2 billion. For more UCI news, visit www.today.uci.edu.
News Radio: UCI maintains on campus an ISDN line for conducting interviews with its faculty and experts. Use of this line is available for a fee to radio news programs/stations that wish to interview UCI faculty and experts. Use of the ISDN line is subject to availability and approval by the university.
---