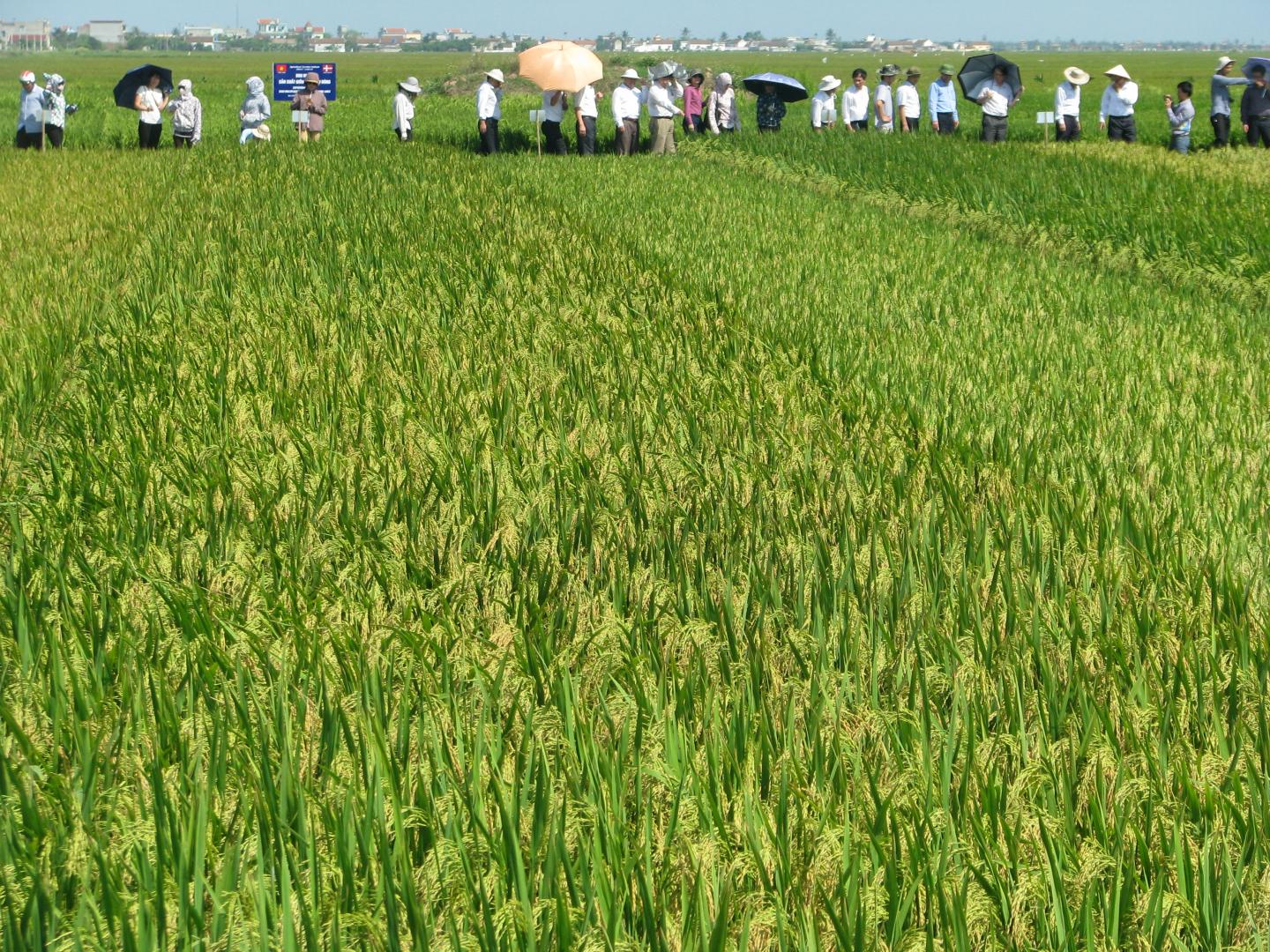 As the second-largest global exporter, Rice is the most important agricultural commodity of Vietnam. A dramatic increase in rice production has taken place since the 1980s, due to the expansion of arable land and a shift in the crop's varieties from producing a single annual yield to two-three yields per year.
With an impressive 3.3 per cent annual yield increase from 1987, Vietnamese rice production has benefited from the uptake of new rice varieties and improvements in genetics applied to advance crop breeding.
However, there is an increasing threat to this vital crop from factors associated with climate change such as emerging pathogens and rising sea levels, where Vietnam's major rice growing areas are predominantly coastal, as well as the environmental pressures of rapid urban development.
Developing the bioinformatics capacity in Vietnam will allow research Institutes to benefit from advancements in next generation genomics, applying their computational skills to rice breeding to help maintain productivity in the face of changing climates, and potentially develop new higher value rice varieties for the global market.
In collaboration with the Agriculture Genetics Institute (AGI) in Hanoi (Vietnam), TGAC is working to characterise the genetic diversity of traditional rice varieties from Vietnam, aiming to develop genomic markers associated with traits of interest such as disease resistance and salt tolerance.
With the initial research phase of this project exploring the genetic diversity of 36 local varieties, this project will provide funding for a further 48 varieties to be analysed. With the aim to increase this number to 600 in the future. The generation of such large genomic datasets requires expertise in bioinformatics in order to analyse the data and develop molecular tools to aid precision breeding for improving rice. (1)
The international collaboration between TGAC and AGI will extend out to a wider group of researchers in Vietnam through training workshops to build bioinformatics capacity, using rice as a model. The programme involves the exchange of scientists from Vietnam to gain expertise in bioinformatics analysis, and from UK to learn about the field phenotyping activities in Vietnam.
An experiment in Vietnam for testing of salinity tolerance rice varieties derived from Marker Assisted BackCrossing - MABCScientists from TGAC, AGI and other participating Institutes will host 'Train the Trainer' workshops in Norwich to train Vietnamese researchers in bioinformatics and genomic analysis to equip them with the skills to sustain training for researchers in Vietnam for the future (2). In order to make the data accessible, TGAC will set up a public database to host the variant data within the context of the latest genome assemblies and annotation.
Project lead, Sarah Ayling, Crop Genomics and Diversity Group Leader at TGAC, said: "The Institutional Links funding provides an opportunity for us to train Vietnamese scientists in bioinformatics, and equip them with the skills to train others to help advance their understanding of next generation genomics.
"These 'Train the Trainer' activities will enable the flow of knowledge to other researchers in the region, providing more scientists with the skill-set required to make use of genomic data for rice breeding and improve the crop yield for current and future generations in Vietnam.
"Our partnership will enable TGAC and the UK to provide guidance on best practices and, in collaboration with our Vietnamese colleagues, lead the development of innovative ways to share data and enhance the training and up-skilling of scientists in the areas of bioinformatics and genomics, globally."
Dr Le Huy Ham, Director General of AGI, added: "The project for the training of our scientists in bioinformatics is of extreme value; at our institute and in Vietnam in general, we have good rice breeders, including molecular breeders, but we do not have bioinformatics experts, who can use data from genomic sequencing for breeding purposes.
"This project will help us with this, where due to our collaboration with TGAC, our scientists' dream about the application of genomic tools for rice breeding becomes a reality, following the first phase of our collaboration when we sequenced the first 36 genomes of local rice."
"Following the Newton Fund agreement being signed between the MOST in Vietnam and the UK Embassy in Hanoi, I hope that this will bring new opportunities for further collaboration and genomic tools will become widely used for rice breeding in Vietnam."
The British Council's Newton Institutional Links fund addresses areas of research and innovation to support the economic development and social welfare of low and middle-income countries with poor and vulnerable populations.
###
Notes to Editors
(1) The development of varieties with enhanced characteristics, particularly for high-end varieties such as aromatic rice, will increase the income for Vietnamese rice farmers, and improve the income from rice exports in the next 5-10 years.
(2) Establishing such solid training programmes will offer TGAC an opportunity to work on a long-term strategic partnership with Vietnam that will be influential in shaping data-sharing policies consolidating the UK's leadership in this area. The global shortage of resources in areas of biomathematics and bioinformatics is also a crucial priority in the agenda of BBSRC, TGAC and many other research and academic institutions worldwide.
The trainers established during this project will be part of an online community sharing technical and training know-how. This will be a valuable resource within the Vietnam region, with the expectation to participate in other TGAC-organised training events in neighbouring countries.
The impact of this project to Vietnam science was recognised by the Ministry of Science and Technology (MOST) with an award presented in August 2013 to the scientists involved at TGAC and AGI.
About TGAC
The Genome Analysis Centre (TGAC) is a world-class research institute focusing on the development of genomics and computational biology. TGAC is based within the Norwich Research Park and receives strategic funding from the Biotechnology and Biological Science Research Council (BBSRC) - £7.4M in 2013/14 - as well as support from other research funders. TGAC is one of eight institutes that receive strategic funding from BBSRC. TGAC operates a National Capability to promote the application of genomics and bioinformatics to advance bioscience research and innovation.
TGAC offers state of the art DNA sequencing facility, unique by its operation of multiple complementary technologies for data generation. The Institute is a UK hub for innovative Bioinformatics through research, analysis and interpretation of multiple, complex data sets. It hosts one of the largest computing hardware facilities dedicated to life science research in Europe. It is also actively involved in developing novel platforms to provide access to computational tools and processing capacity for multiple academic and industrial users and promoting applications of computational Bioscience. Additionally, the Institute offers a Training programme through courses and workshops, and an Outreach programme targeting schools, teachers and the general public through dialogue and science communication activities. http://www.tgac.ac.uk
About BBSRC
BBSRC invests in world-class bioscience research and training on behalf of the UK public. Our aim is to further scientific knowledge, to promote economic growth, wealth and job creation and to improve quality of life in the UK and beyond.
Funded by Government, and with an annual budget of around £467M (2012-2013), we support research and training in universities and strategically funded institutes. BBSRC research and the people we fund are helping society to meet major challenges, including food security, green energy and healthier, longer lives. Our investments underpin important UK economic sectors, such as farming, food, industrial biotechnology and pharmaceuticals.
For more information about BBSRC, our science and our impact see: http://www.bbsrc.ac.uk
For more information about BBSRC strategically funded institutes see: http://www.bbsrc.ac.uk/institutes
About the British Council
The British Council is the UK's international organisation for cultural relations and educational opportunities. We create international opportunities for the people of the UK and other countries and build trust between them worldwide.
We work in more than 100 countries and our 8,000 staff - including 2,000 teachers - work with thousands of professionals and policy makers and millions of young people every year by teaching English, sharing the arts and delivering education and society programmes.
We are a UK charity governed by Royal Charter. A core publicly-funded grant provides 20 per cent of our turnover which last year was £864 million. The rest of our revenues are earned from services which customers around the world pay for, such as English classes and taking UK examinations, and also through education and development contracts and from partnerships with public and private organisations. All our work is in pursuit of our charitable purpose and supports prosperity and security for the UK and globally.
For more information, please visit: http://www.britishcouncil.org. You can also keep in touch with the British Council through http://twitter.com/britishcouncil and http://blog.britishcouncil.org/.
---