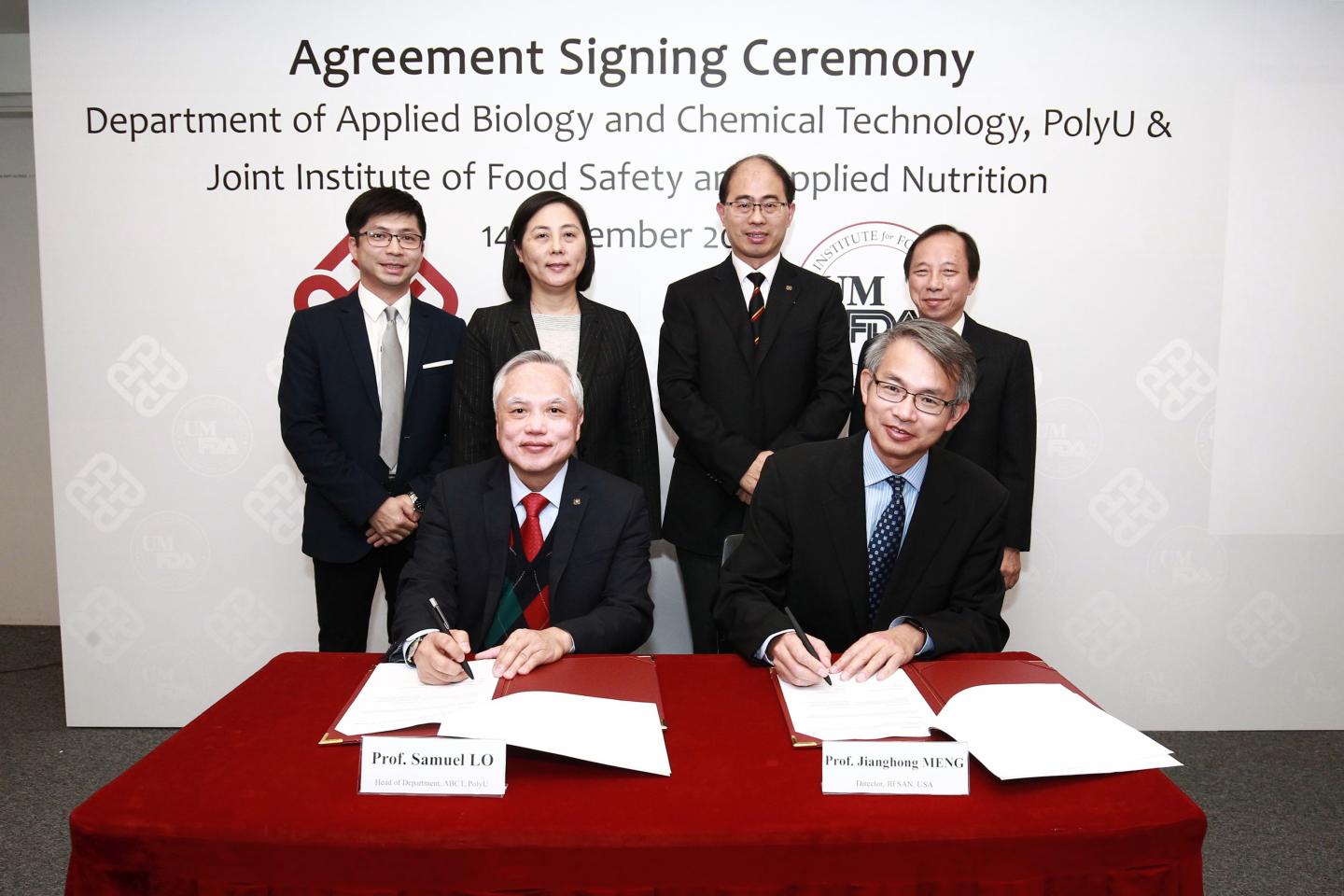 The Hong Kong Polytechnic University (PolyU) announced today (14 December) the collaboration with the Joint Institute for Food Safety and Applied Nutrition (JIFSAN), a centre of excellence established by the United States Food and Drug Administration (FDA) and the University of Maryland, to provide science-based food safety training in Hong Kong and Shenzhen recognized by FDA.
PolyU is the first collaborator of JIFSAN to offer training courses outside the United States, demonstrating its unique role in raising the standard of food safety in the region.
To mark the milestone of the collaboration, the agreement signing ceremony, officiated by Dr Samuel Yeung Tze-kiu, Acting Controller, Centre for Food Safety (CFS) of the Food and Environmental Hygiene Department, HKSAR Government, was held on PolyU campus on the same day. The agreement was signed by Professor Samuel Lo Chun-lap, Head of the Department of Applied Biology and Chemical Technology (ABCT), PolyU, and Professor Meng Jianghong, Director of JIFSAN, witnessed by Professor Wong Wing-tak, Dean of the Faculty of Applied Science and Textiles (FAST) cum Director of the Food Safety and Technology Research Centre (FSTRC), PolyU; Professor Wong Man-sau, Associate Dean of FAST; Dr Wong Ka-hing, Associate Professor of ABCT; and Dr Leung Ka-sing, Adjunct Associate Professor of ABCT.
This collaboration is warmly welcomed by governments, food industry and academics in the region. Representatives from government agencies from China, Hong Kong, Taiwan and Macau attended the ceremony, including CFS, China National Center for Food Safety Risk Assessment, Provisional Municipal Council of Macau, Guangdong Entry-Exit Inspection and Quarantine Bureau, Shenzhen Center for Disease Control and Prevention, Food and Drug Administration of Shenzhen Municipality, and Taiwan Food Industry Research and Development Institute.
In his speech, Dr Samuel Yeung Tze-kiu said, "The Hong Kong Special Administrative Region Government attaches great importance to ensuring food safety in Hong Kong. The CFS will continue its commitment in promoting food safety and appreciates the collaborative arrangements between tertiary institutions in achieving this common goal."
Professor Wong Wing-tak said, "Building on our strengths in food science research and education, we believe that the collaboration with JIFSAN will create synergy to help food safety professionals in Hong Kong and the mainland understand how to tackle food safety threats and safeguard worldwide health."
Professor Meng Jianghong said, "JIFSAN has a global reputation for providing high quality food safety training. We are excited to join forces with PolyU to develop and expand the availability of educational resources for training in food safety, and contribute towards the safety of global food supply and protecting public health."
As the first initiative of this collaboration, FSTRC will offer FDA food safety training courses focusing on different aspects of risk analysis, covering basics like understanding terminology of food safety risk analysis, technical aspects such as how to use tools and techniques to conduct risk assessment, and management aspects on decision process and risk communication. This is in response to the increasing need to educate food safety and other public health professionals on the principles of risk analysis and the tools and techniques in order to systematically address food safety issues worldwide. Risk analysis has been implemented by international organizations such as Codex Alimentarius Commission (Codex) and the World Trade Organization (WTO).
Targeting food safety and other public health professionals from government agencies and food companies in Hong Kong and in the region, the first batch of courses offered by FSTRC will be open to application in fall 2018 and to be delivered in late 2018. The length of courses range from one to ten days, and will be co-taught by JIFSAN trainers and FSTRC staff.
JIFSAN was established in 1996 as a jointly administered institute between FDA and the University of Maryland to promote food safety, human nutrition, and animal health and production through integrated research, education, and outreach programs.
###
---