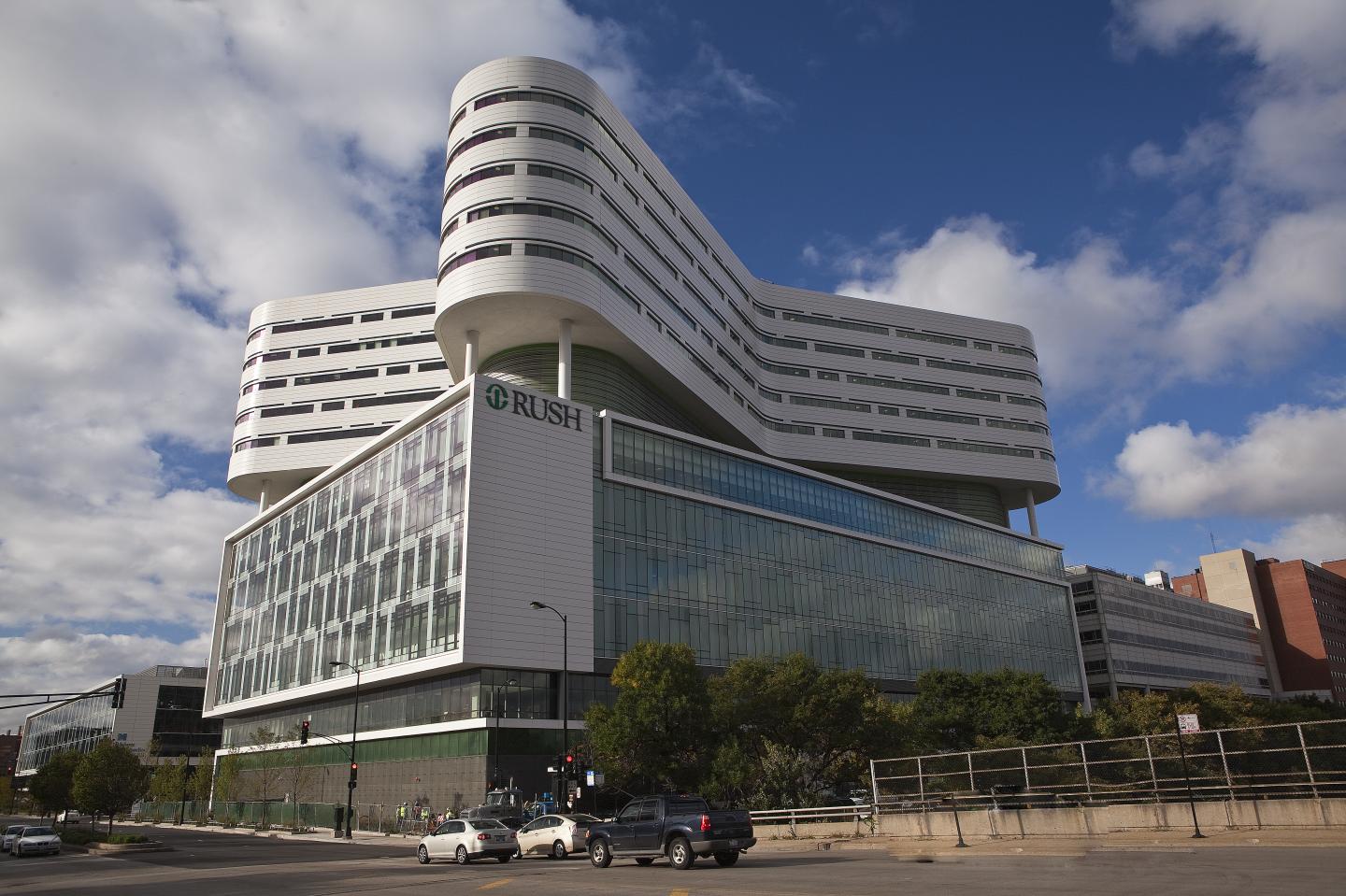 Rush University Medical Center today received the Bernard A. Birnbaum, MD, Quality Leadership Award, given annually by healthcare services company Vizient to academic medical centers, complex teaching medical centers and community hospital members that demonstrate superior performance in its Quality and Accountability Study.
"This year's award winners demonstrate how leadership, collaboration, adaptability and the use of advanced analytics can create the shared sense of purpose that is necessary to achieve a high level of performance across the care continuum. We are proud to recognize the achievements of each winning organization," said Byron Jobe, president and chief executive officer for Vizient.
Rush ranked second among 99 leading academic medical centers in the United States in the study, the sixth consecutive time Rush has been ranked in the top five among participating academic medical centers.
"Being ranked so highly again among so many of our peer institutions in Vizient's survey shows once more that the patient care Rush provides is among the best in the nation," said Dr. Larry Goodman, CEO of the Rush system and of Rush University Medical Center. "It's just as important that we so consistently have been ranked among the top five participating medical centers, demonstrating the consistent excellence of the care Rush provides, year after year."
Ratings are based solely on objective data measures
The Vizient study, which also included 100 complex teaching medical centers and 93 community hospitals, evaluated participants' performance based on the Institute of Medicine's six domains of care -- safety, timeliness, effectiveness, efficiency, equity and patient centeredness.
Unlike other reviews of hospitals that take reputation into account or that are limited to data about patients with Medicare or Medicaid, the Vizient study is based entirely on objective data related to patient outcomes for all inpatients regardless of insurance. The analysis determined the rankings based on the most recently available full year of data from the Vizient Clinical Data Base; the U.S. Centers for Medicare and Medicaid Services' Core Measures and the centers' Hospital Consumer Assessment of Healthcare Providers and Systems survey; and the U.S. Centers for Disease Control and Prevention's National Healthcare Safety Network.
Rush uses data to guide improvements in care
Rush's improvement in the rankings in part reflects the Medical Center's continuous dedication to quality improvement. "When we get our data back from Vizient, we don't just say, 'it's great.' Instead, we look for where have opportunities for improvement and use the data to drive change in those areas," said Dr. Omar Lateef, senior vice president and chief medical officer at Rush
For example, Rush improved its ranking in the study's safety domain by reducing avoidable patient harm by 8.7 percent during its past fiscal year, with a significant focus on reducing hospital acquired infections, hospital acquired pressure injuries and falls with injuries. "Focused efforts that included doctors, nurses, information technology, housekeeping and care quality team members resulted in a 21 percent reduction in C difficile infections," said Richa Gupta, MBBS, vice president, performance improvement and operational effectiveness, and chief quality officer at Rush.
Rush also improved in the efficiency of care and effectiveness domain, which partially is due to a recently established collaboration between physicians, nurses and case managers to assess patients potential discharge needs early in their hospital stay. Such assessments help avoid patients being kept in the hospital for extra days while arrangements such as home care or rehabilitation are made, enabling them to begin the process of returning home sooner.
"If you know up front the patient is going to have additional needs after hospitalization, you can start making plans and involving the family members, which can shave days off their length of stay," said Dr. Brian Stein, associate chief medical officer. "Reducing unneeded days spent in the hospital, and getting home sooner, is always a good thing for patients." "The extraordinary physicians, nurses and staff at all levels of Rush are at the heart of why we are routinely recognized through such objective quality rankings," said Michael Dandorph, president of the Rush System and Rush University Medical Center. "These committed professionals are focused on providing excellent, compassionate care and accommodating our patients wherever they choose to see their Rush health care provider."
Vizient ranking the latest in steady stream of honors for Rush.
The Vizient ranking is the latest in a consistent stream of honors for Rush University Medical Center and the other Rush system hospitals that are unique among U.S. academic health systems, including the following recognitions:
U.S. News & World Report ranked seven programs at Rush University Medical Center among the best in the country in the latest edition of its annual "Best Hospitals" issue.
For the fourth consecutive time, all three Rush hospitals -- Rush University Medical Center, Rush Oak Park Hospital and Rush Copley Medical Center -- received an 'A' grade for safety, the highest possible, from the Leapfrog Group, a nonprofit patient safety watchdog organization, in its latest round of its twice-yearly safety grades, which were announced in April.
The Leapfrog Group also named Rush University Medical Center a Top Teaching Hospital (which is different from Leapfrog's safety grade) in December.
Rush University Medical Center and Rush Copley Medical Center each received five stars, and Rush Oak Park Hospital was awarded a four-star rating, in the Centers for Medicare and Medicaid Services' latest Hospital Compare overall rating in December. Rush is the only medical center in Chicago with a five-star rating.
Rush University Medical Center received its fourth consecutive Magnet designation, the highest honor in nursing, in January 2016, and Rush Oak Park Hospital received Magnet status in March of that year.
In March, the Human Rights Campaign -- a civil rights organization that advocates for equality for people who are gay, lesbian, bisexual, transgender and/or queer/questioning -- named Rush University Medical Center a Leader in LGBT Health Equality for the tenth consecutive year. The HRC also named Rush Oak Park Hospital a leader for the fifth consecutive year.
Rush University Medical Center and Rush Oak Park Hospital both have received the Healthgrades Outstanding Patient Experience Award, which recognizes hospitals that provide an overall outstanding patient experience. Healthgrades evaluates patient experience performance by applying a scoring methodology to 10 patient experience measures, using data collected from the 32-question survey of the hospital's own patients. Hospitals in the top 15 percent with the highest overall patient experience scores are recognized as Outstanding Patient Experience Award recipients.
###
---