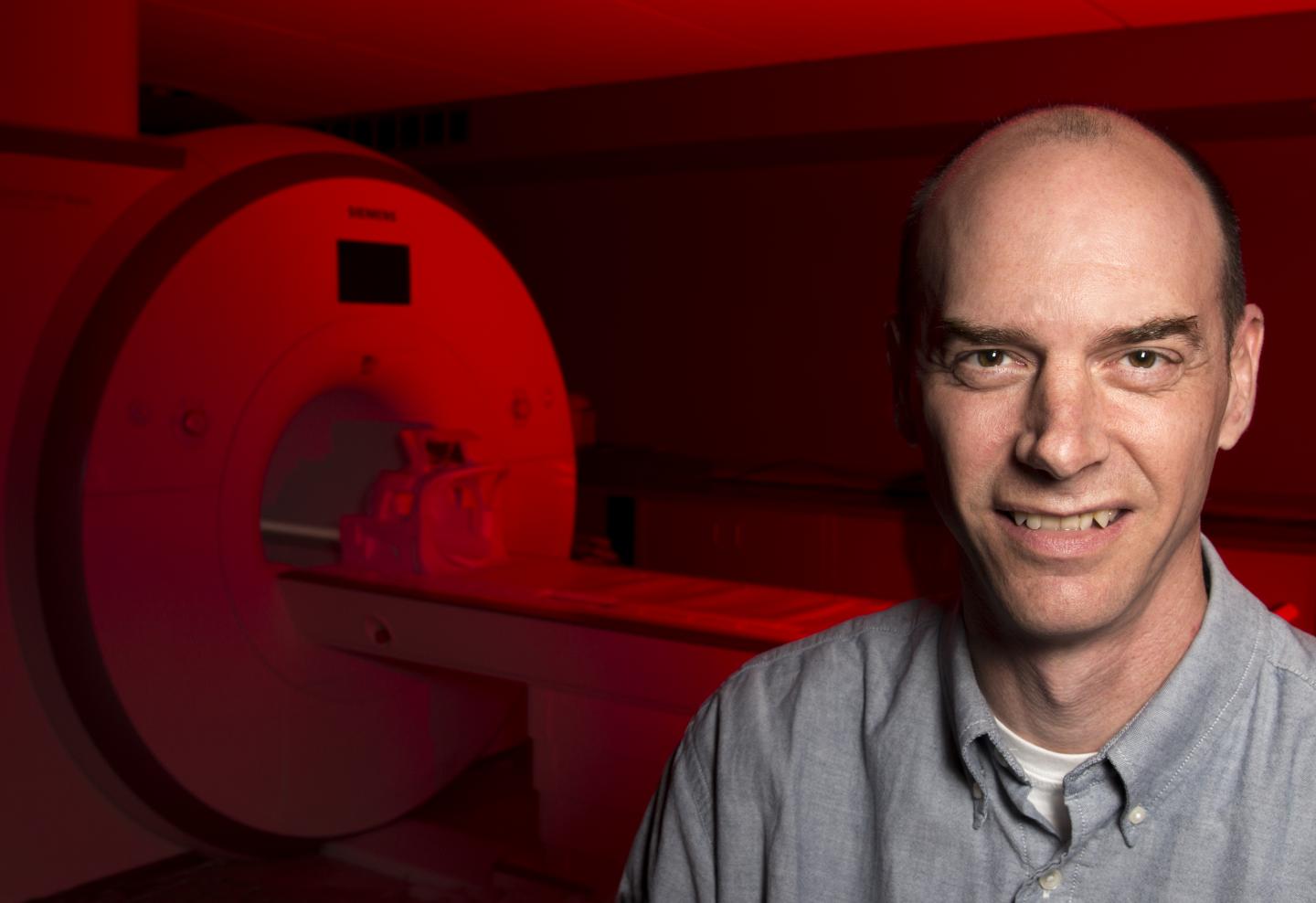 East Hanover, NJ - July 20, 2018 - Glenn Wylie, DPhil, associate director of the Rocco Ortenzio Neuroimaging Center (RONIC) at Kessler Foundation, has received a $300,000 sub-award from the National Institutes of Health (NIH) for a collaborative study with the University of Alabama at Birmingham (UAB).
Cognitive impairment is prevalent in persons with multiple sclerosis (MS), yet often poorly managed. Aerobic exercise training is a promising approach for managing cognitive dysfunction in MS; however, results from previous randomized controlled trials (RCTs) have been equivocal. In this study, researchers will assess the effects of a progressive, 3-month treadmill walking exercise intervention on cognitive processing speed (CPS), brain volume, and functional connectivity in individuals with MS.
"We know from our own pilot data that exercise training has considerable promise for improving cognition in this population," explained Dr. Wylie. "We hypothesize that treadmill exercise training will result in significant improvements in MS-related cognitive impairment. This research may foster the development of exercise training guidelines that can be used by clinicians to improve cognition and brain health in individuals with MS."
UAB researchers plan to enroll 88 people with MS who present with slowed CPS, the most commonly impaired cognitive domain in MS. Data will be collected by UAB researchers at baseline and follow-up time points, for analysis by Kessler Foundation researchers.
"This study may provide the first Class I evidence for the effects of treadmill walking exercise training as a rehabilitative approach to cognitive deficits in people with MS," remarked Brian Sandroff, PhD, principal investigator of the study, and assistant professor in the UAB School of Health Professions. "As a former postdoctoral fellow at Kessler Foundation, it is gratifying to continue to work with Dr. Wylie to develop effective, non-invasive treatments that minimize the effects of MS on cognitive performance. Our goal is to help individuals with MS remain active at home, in their communities, and the workplace."
###
This project is funded by NIH grant #1R01HD091155-01A1
About the University of Alabama at Birmingham
Known for its innovative and interdisciplinary approach to education at both the graduate and undergraduate levels, the University of Alabama at Birmingham is an internationally renowned research university and academic medical center, as well as Alabama's largest employer, with some 23,000 employees, and has an annual economic impact exceeding $7 billion on the state. The pillars of UAB's mission deliver knowledge that will change your world: the education of students, who are exposed to multidisciplinary learning and a new world of diversity; service and engagement in the community.
About Kessler Foundation
Kessler Foundation, a major nonprofit organization in the field of disability, is a global leader in rehabilitation research that seeks to improve cognition, mobility and long-term outcomes, including employment, for people with neurological disabilities caused by diseases and injuries of the brain and spinal cord. Kessler Foundation leads the nation in funding innovative programs that expand opportunities for employment for people with disabilities. Learn more by visiting http://www.KesslerFoundation.org.
Stay Connected
Twitter | http://www.twitter.com/KesslerFdn
Facebook | http://www.facebook.com/KesslerFoundation
YouTube | http://www.youtube.com/user/KesslerFoundation
Instagram | http://www.instagram.com/kesslerfdn
iTunes & SoundCloud | http://www.soundcloud.com/kesslerfoundation
Contacts
Carolann Murphy, PA; 973-324-8382; CMurphy@KesslerFoundation.org
Laura Viglione, MS; 973-323-3675; LViglione@KesslerFoundation.org
---