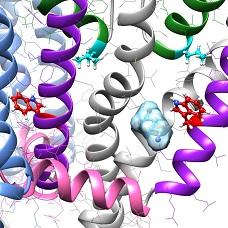 Irvine, CA - February 28, 2019 - University of California, Irvine School of Medicine researcher Geoff Abbott, PhD, has been awarded a $2 million Outstanding Investigator Award/Maximizing Investigators' Research Award (MIRA) R35 grant from the National Institute of General Medical Sciences, and a $1.7 million R01 grant from the National Institute of Neurological Disorders and Stroke. The MIRA grant is for a study titled, "Ion Channel Transporter Interactions," and the R01 is for research titled, "GABA Activation of the M-current." The 5-year grants support different studies, both focused on understanding the pathophysiology of ion channel-related disorders, including epilepsy, in search of viable therapies.
The MIRA award will support research in the Abbott Lab aimed at understanding the KCNQ and KCNE potassium channel gene families, their interactions with each other and with solute transporters. KCNQ family potassium channels are essential for the normal functioning of tissues including human heart, brain, thyroid, stomach, colon, pancreases, pituitary gland, auditory system and blood vessels, and are highly important for human health. The channels and transporters to be examined are linked to human diseases including cardiac arrhythmia, epilepsy and diabetes.
"With the help of this MIRA grant, my lab will explore how and why channel-transporter complexes form, how KCNEs and other proteins regulate these complexes, and the molecular basis for the disease processes that occur when they dysfunction," said Abbott.
The 5-year R01 grant Abbott received will support work that follows earlier studies done by the Abbott Lab, including their discovery of the first example of a neurotransmitter directly activating a voltage-gated ion channel, and their work uncovering the molecular basis for the anticonvulsant action of specific herbal medicines.
"This grant will allow us to continue our work in an effort to uncover how prevalent and important this newly discovered mode of channel regulation is, and its potential role for pathophysiology and therapy in neurological disorders, including epilepsy," Abbott explained.
The two studies are already underway and Abbott hopes his work will lead to the development of therapeutic agents that target the complexes to treat human disease.
###
About the UCI School of Medicine: Each year, the UCI School of Medicine educates more than 400 medical students, as well as 200 doctoral and master's students. More than 600 residents and fellows are trained at UC Irvine Medical Center and affiliated institutions. The UCI School of Medicine offers an MD degree, a dual MD/PhD medical scientist training program, PhDs and master's degrees in anatomy and neurobiology, biomedical sciences, genetic counseling, epidemiology, environmental health sciences, pathology, pharmacology, physiology and biophysics, and translational sciences. Medical students also may pursue an MD/MBA program, a combined MD/Master's in Public Health or a dual MD/master's program called the Program in Medical Education for the Latino Community (PRIME-LC). UCI School of Medicine is accredited by Liaison Committee on Medical Accreditation (LCME), and ranks among the top 50 nationwide for research. For more information, visit: som.uci.edu.
About the University of California, Irvine: Founded in 1965, UCI is the youngest member of the prestigious Association of American Universities. The campus has produced three Nobel laureates and is known for its academic achievement, premier research, innovation and anteater mascot. Led by Chancellor Howard Gillman, UCI has more than 36,000 students and offers 222 degree programs. It's located in one of the world's safest and most economically vibrant communities and is Orange County's second-largest employer, contributing $5 billion annually to the local economy. For more on UCI, visit http://www.uci.edu.
---