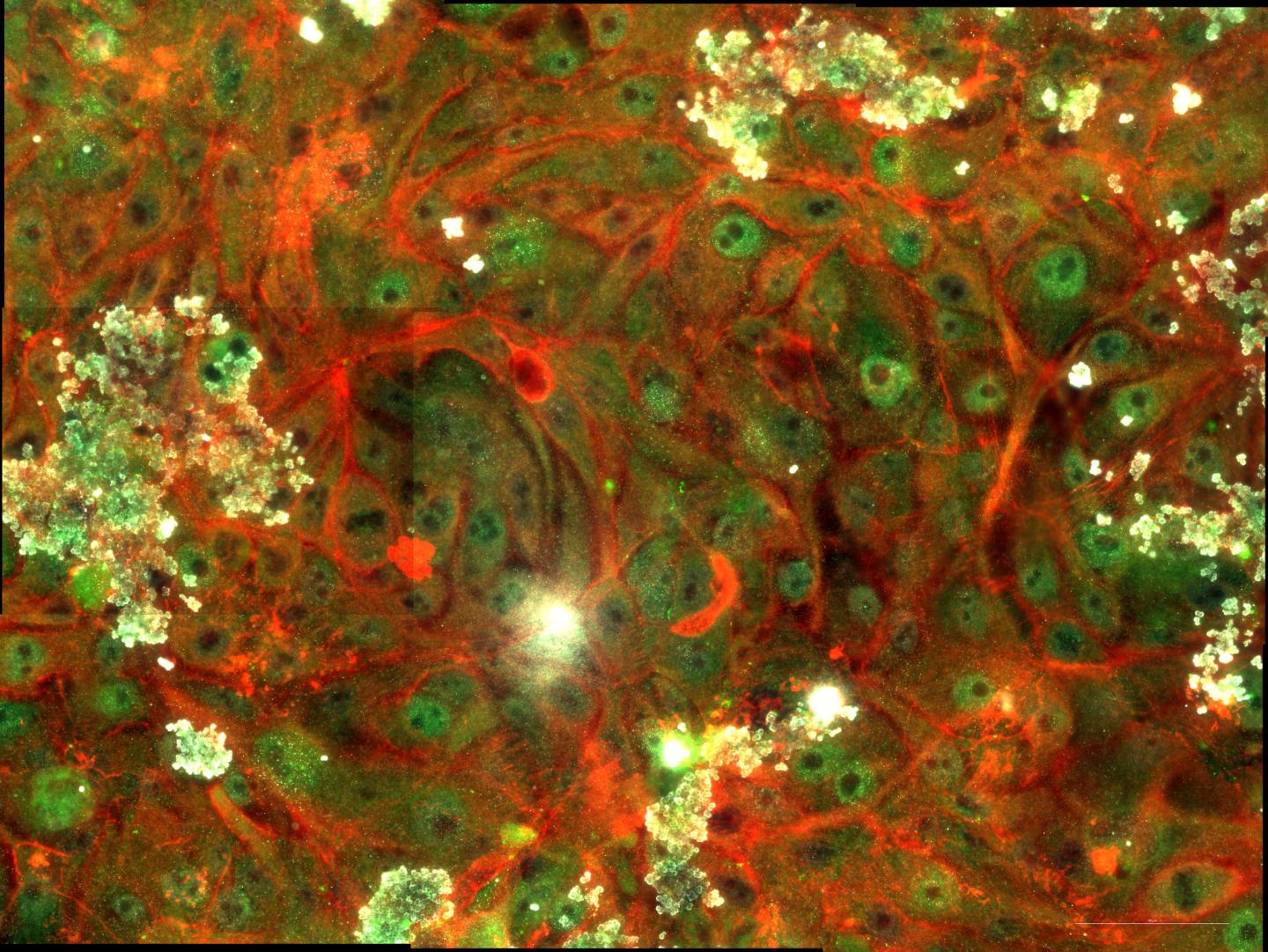 Researchers have built a model to investigate the metastasis of cancer by examining the metabolism of breast epithelial cells and look at the role of signaling. This research, published in PLOS Computational Biology, may contribute to the development of cell specific anti-cancer interventions.
Scientists, led by Ottar Rolfssonat the University of Iceland, have built a mathematical model to examine the metabolism of breast epithelium -- as the majority of breast cancers originate from these cells. The model specifically looks at the process of epithelial to mesenchymal transition (EMT) which is an important event during development and cancer metastasis.
One of the key metabolic alterations that takes place during EMT is that of the epidermal growth factor receptor (EGFR) which is a pathway that regulates growth, survival, proliferation, and differentiation in mammalian cells. EFGR signaling often affects metabolic rate in tumor cells and controls their progression -- the dysregulation of signaling pathways during this process is therefore a hallmark of metastasis.
The scientists' model looks at the EGFR signaling cascade to investigate crosstalk between EFGR signaling and EMT in cell culture models of human breast epithelium. The model was then used to obtain a list of potential signaling and metabolic targets of EMT.
These targets may aid in the understanding of the molecular mechanisms that underlie EMT and cancer metastasis. The results also show how the metabolic signposts of cancer cell growth and EMT can be predicted based on the transcriptome analysis of EGFR signaling genes alone (where current methods are inconsistent) -- thus supporting the idea of cell specific anti-cancer interventions.
###
In your coverage please use this URL to provide access to the freely available article in PLOS Computational Biology: http://dx.plos.org/10.1371/journal.pcbi. pcbi.1004924
Published paper: http://journals.plos.org/ploscompbiol/article?id=info:doi/10.1371/journal.pcbi.1004924
Press preview: http://blogs.plos.org/everyone/files/2016/06/pcbi.1004924-Press-Preview.pdf
Contact:
Ottar Rolfsson
ottarr@hi.is
Citation: Choudhary KS, Rohatgi N, Halldorsson S, Briem E, Gudjonsson T, Gudmundsson S, et al. (2016) EGFR Signal-Network Reconstruction Demonstrates Metabolic Crosstalk in EMT. PLoS Comput Biol 12(6): e1004924. doi:10.1371/journal. pcbi.1004924
Image Credit: VCU Libraries / Flickr
Image Link: http://blogs.plos.org/everyone/files/2016/06/Rolfsson-striking-image.jpg
Funding: This project is supported by Icelandic Research Fund (RANNIS) project grants (Grant no. 130591-051 and 152358-051). KSC was supported by Icelandic Research Fund (RANNIS) postdoctoral grant (Grant no. 152369-051). The funders had no role in study design, data collection and analysis, decision to publish, or preparation of the manuscript.
Competing Interests: The authors have declared that no competing interests exist.
Back to the Top
About PLOS Computational Biology
PLOS Computational Biology features works of exceptional significance that further our understanding of living systems at all scales through the application of computational methods. For more information follow @PLOSCompBiol on Twitter or contact ploscompbiol@plos.org.
Media and Copyright Information
For information about PLOS Computational Biology relevant to journalists, bloggers and press officers, including details of our press release process and embargo policy, visit http://journals.plos.org/ploscompbiol/s/press-and-media .
PLOS Journals publish under a Creative Commons Attribution License, which permits free reuse of all materials published with the article, so long as the work is cited.
About the Public Library of Science
The Public Library of Science (PLOS) PLOS is a nonprofit publisher and advocacy organization founded to accelerate progress in science and medicine by leading a transformation in research communication. For more information, visit http://www.plos.org.
Disclaimer
This press release refers to upcoming articles in PLOS Computational Biology. The releases have been provided by the article authors and/or journal staff. Any opinions expressed in these are the personal views of the contributors, and do not necessarily represent the views or policies of PLOS. PLOS expressly disclaims any and all warranties and liability in connection with the information found in the release and article and your use of such information.
---
Journal
PLoS Computational Biology