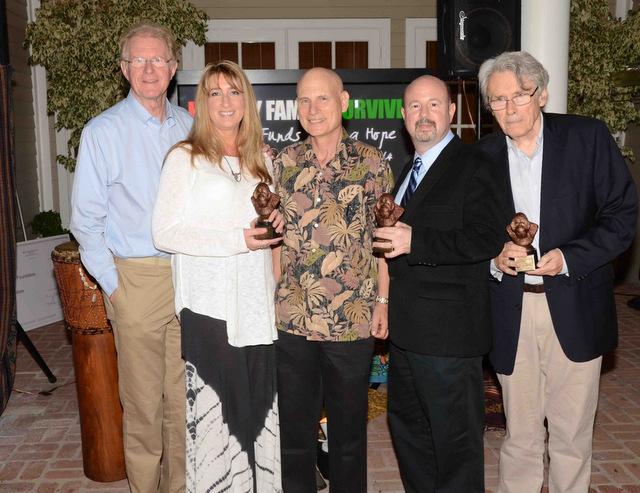 Michael E. Mann, Distinguished professor of meteorology and director of Penn State's Earth System Science Center, received a 2014 Pongo Environmental Award. Mann received the award at the Orang Utan Republik Foundation's annual fundraiser, Oct. 19, Beverly Hills, Calif.
The Pongo Awards honor those "who have made significant contributions to protect the welfare of all living species via advocacy, leadership, public service, ethical commerce, education and research."
Mann was selected for his research, which provided important global temperature data and a strong case for global warming, and for being "one of the most important, resilient, outspoken and courageous climate warriors of our time."
Actor and activist Ed Begley, Jr. served as emcee for the event and other award recipients included Showtime's "Years of Living Dangerously," for the series' work in promoting climate change awareness and education and "The Dawn of the Planet of the Apes," for the film's dramatic portrayal of an evolving population of great apes and a devolving population of humans in what could be a possible future based on technology and failure to be good stewards of the planet.
Playwright George Shea and actor Mike Farrell were honored for the stage production of "Dr. Keeling's Curve," the one-man show about David Keeling, the scientist known worldwide for his work documenting global warming. Ronna Phelps, owner of Chandler Farm, also was honored for creating a line of palm-oil free beauty and skin care products with profits benefiting orangutan groups.
Mann is the author of "Dire Predictions: Understanding Global Warming" and "The Hockey Stick and the Climate Wars: Dispatches from the Front Lines." He continues his research in global warming and has published more than 170 peer-reviewed papers. He was recently included in the Bloomberg News list of 50 Most Influential People under the category Thinker. He is a Fellow of the American Meteorological Society, and the American Geophysical Union, and received the Hans Oeschger Medal of the European Geosciences Union in 2012.
The Pongo Awards are named after orangutans. Pongo is part of the scientific name of the orangutan -- Pongo pygmaeus (Bornean orangutan) and Pongo abelii (Sumatran orangutan).
"The orangutan is the species that demonstrates our unbreakable bond with the animal kingdom," said Gary Shapiro, president of the OURF. "The orangutan is one of our closest relatives, sharing approximately 97 percent of our DNA. Once found widespread throughout the forests of Asia, orangutans are now found only on the islands of Sumatra and Borneo.
###
For more information on OURF visit http://www.orangutanrepublik.org/ online.
Visit https://www.youtube.com/watch?v=3vNZjARjLyU&feature=youtu.be online to watch a video of Mann, Shapiro and Begley.
---