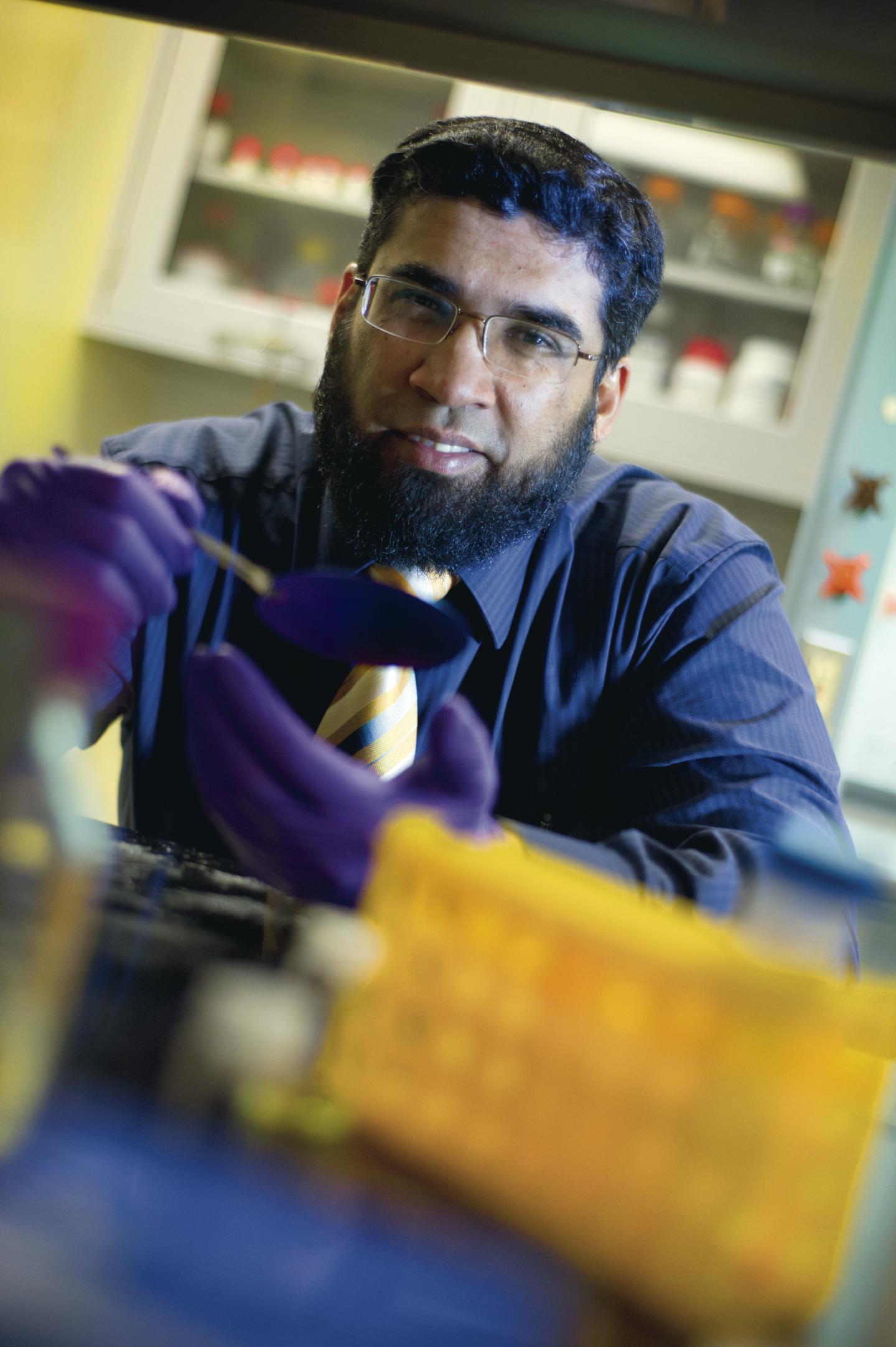 Samir Iqbal, a University of Texas at Arlington associate professor of electrical engineering at The University of Texas at Arlington, has been named a Fellow of the prestigious Royal Society of Chemistry, the United Kingdom-based association representing more than 50,000 the world's leading chemical scientists.
In a letter supporting Iqbal's nomination, Sandy Dasgupta, UTA's Jenkins Garrett Professor of Chemistry and Biochemistry, cited Iqbal's "expertise in chemical and biological analysis."
Dasgupta cited Iqbal's recent work in the world of chemistry as evidence of his contributions to the field. He said scientific and engineering worlds are merging more and more these days.
Dasgupta cited Iqbal's published paper in The Journal of Physical Chemistry titled "3D Structural Integrity and Interactions of Single-stranded Protein-binding DNA in a Functionalized Nanopore." Dasgupta also cited Iqbal's work on the paper titled "Nucleic Acid Aptamers in Cancer Research, Diagnosis and Therapy" in Chemical Society Reviews.
Iqbal is an expert in nanotechnology and biosensors with a substantial portfolio of work in the area of cancer detection at the molecular level. His work has attracted almost $3.5 million in research funding since he joined the University in 2007.
"My research has focused on understanding and learning life at the smallest scales," Iqbal said. "This focus on nanoscale systems and devices requires a deep understanding of reactions, energies and atomic level precision.
"Thanks to some fine collaborators here at UTA, this work has transcended many, many disciplines. It is an honor to be recognized for the contributions that we have been able to make here. Having the letters 'FRSC' written with my name will bring recognition to UTA wherever I go."
Iqbal holds appointments in the College of Engineering's Electrical Engineering and Bioengineering departments, and is an adjunct professor at UT Southwestern Medical Center at Dallas. He won a National Science Foundation CAREER Award in 2009 to develop new methods of detecting and isolating cancer biomarkers to improve the diagnosis and treatment of diseases.
His current research primarily focuses on nanotechnology and MEMS, or micro-electromechanical systems, biosensors and bio-inspired fabrication. Iqbal's research team has conducted experimental and mathematical work on facilitated transport, a phenomenon that explains travel of ions across cell walls. They have used nanoscale holes made in silicon, called nanopores, to introduce the notion of attractive and repulsive potentials from DNA duplex formations and protein binding or the lack of protein binding.
Another area of his research focuses on the use of functionalized membranes for active separation of disease-causing molecules.
Iqbal has published more than 45 journal papers and is a senior member of the Institute of Electrical and Electronics Engineers and a member of the American Society of Mechanical Engineers, the American Physical Society, the Biophysical Society and the Biomedical Engineering Society. In 2013, Tau Beta Pi inducted him as an Eminent Engineer.
UTA Engineering Dean Khosrow Behbehani said Iqbal is very deserving of his most recent honor.
"Dr. Iqbal's election to the prestigious rank of Fellow of the Royal Society of Chemistry is much celebrated news," said Behbehani, who also is a bioengineering professor and Fellow of the National Academy of Inventors and of the American Institute for Medical and Biological Engineering. "It is a recognition of the importance of Dr. Iqbal's work in integrating the knowledge of chemistry with electrical and biomedical engineering to create new technologies that can fundamentally improve healthcare."
Behbehani said Iqbal's work is a shining example of the University's commitment to advancing health and the human condition under the Strategic Plan 2020: Bold Solutions | Global Impact.
The Royal Society of Chemistry is the United Kingdom's professional body for chemical scientists from all over the world. The nonprofit organization, headquartered in London, represents more than 50,000 individuals and is the largest organization in Europe for advancing the chemical sciences. The RSC is actively involved in the spheres of education, qualifications and professional conduct. It is a major publisher, and is internationally regarded as a provider of chemical databases. It is recognized throughout the world as an authoritative voice of chemistry and chemists.
Less than 1 percent of chemistry professionals worldwide achieve Fellow status, and about 6 percent of the nominees are elected each year. Of the Society's 107 total Fellows in 2015, just 5 percent were from the United States.
Fellow status is awarded to individuals who have "made an outstanding contribution to the advancement of the chemical sciences; or to the advancement of the chemical sciences as a profession; or have been distinguished in the management of a chemical sciences organization."
###
About The University of Texas at Arlington
The University of Texas at Arlington is a comprehensive research institution of more than 50,000 students in campus-based and online degree programs and is the second-largest institution in The University of Texas System. The Chronicle of Higher Education ranked UTA as one of the 20 fastest-growing public research universities in the nation in 2014. U.S. News & World Report ranks UTA fifth in the nation for undergraduate diversity. The University is a Hispanic-Serving Institution and is ranked as the top four-year college in Texas for veterans on Military Times' 2016 Best for Vets list. Visit http://www.uta.edu to learn more, and find UTA rankings and recognition at http://www.uta.edu/uta/about/rankings.php.
---