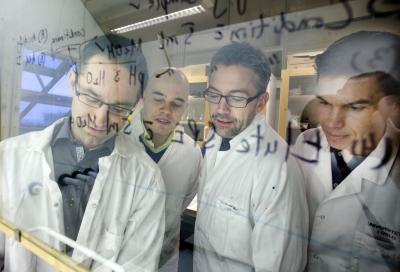 Anxiety-moderating drugs that reach waterways via wastewater create fearless and asocial fish that eat more quickly than normal. These behavioral changes can have serious ecological consequences. This is shown by Umeå University researchers in the prestigious journal Science.
Many drugs leave our bodies unaffected, and residues from them are therefore found in wastewater. Low concentrations of drugs are often found downstream from sewage treatment plants. Today we test how dangerous drugs are to humans, but our knowledge of the environmental impacts of drugs is limited. For the first time, scientists have now been able to show how the behavior of fish is affected by involuntary medication.
Researchers have examined how perch behave when they are exposed to the anxiety-moderating drug Oxazepam. The changes were obvious in drug concentrations corresponding to those found in waters in densely populated areas in Sweden.
"Normally, perch are shy and hunt in schools. This is a known strategy for survival and growth. But those who swim in Oxazepam became considerably bolder," explains ecologist Tomas Brodin, lead author of the article.
The drug made the fish braver and less social. This means that they left their schools to look for food on their own, a behavior that can be risky, as school formation is a key defense against being eaten by predatory fish.
The fish also ate more quickly. Since fish fulfill an important function in many aquatic environments, changes in eating behavior can seriously disturb the ecological balance.
"We're now going to examine what consequences this might have. In waters where fish begin to eat more efficiently, this can affect the composition of species, for example, and ultimately lead to unexpected effects, such as increased risk of algal blooming," says Tomas Brodin.
Considerably more drugs with the same function are found in surface water downstream from sewage treatment plants, not only in Sweden but also elsewhere in the world. Moreover, drug use is predicted to increase. This means that previously unknown changes in behavior among fish, with ecological consequences as a result, may be a global phenomenon.
"The solution to the problem is not to stop medicating ill people but to try to develop sewage treatment plants that can capture environmentally hazardous drugs," says environmental chemist Jerker Fick.
The study, published in Friday's edition of Science, should be seen as a pointer about what might already be underway in many waters around the world. More comprehensive studies are required before any far-reaching conclusions can be drawn.
The scientists are presenting their findings at a press conference arranged by Science at the scientific conference AAAS Annual Meeting in Boston on February 14.
###
Original article: The scientific article can be requested via Science, e-post: scipak@aaas.org
For more information, please contact:
Tomas Brodin, Department of Ecology and Environmental Sciences
Phone: +46 (0)90- 786 56 01, mobile: +46 (0)70-278 35 70.
E-mail: tomas.brodin@emg.umu.se
Jerker Fick, Department of Chemistry
Phone: +46 (0)90-786 93 24, mobile: +46 (0)70-261 65 56.
E-mail: jerker.fick@chem.umu.se
Micael Jonsson, Department of Ecology and Environmental Sciences
Phone: +46 (0)90- 786 77 18, mobile +46 (0)70-643 22 67.
E-mail: micael.jonsson@emg.umu.se
Jonatan Klaminder, Department of Ecology and Environmental Sciences
Phone: +46 (0)786 95 54, mobile: +46 (0)702-341 868.
E-mail: jonatan.klaminder@emg.umu.se
---