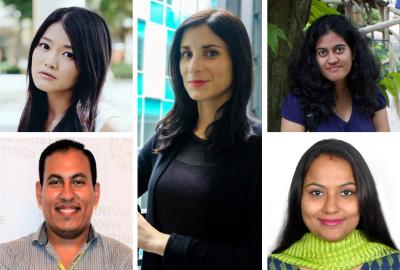 Five early-career science journalists have won the 2019 EurekAlert! Fellowships for International Science Reporters, as the program celebrates its 15th anniversary and the contributions of its alumni to science journalism.
The winners, from China, India, Slovenia, and Egypt, will receive travel support to attend the 2019 AAAS Annual Meeting, Feb. 14-17, in Washington, D.C.. Two 2018 Fellowship winners, Vijay Shankar Balakrishnan (India) and Haonan Liu (China) will also attend the Meeting.
Mohammed Yahia, a 2008 EurekAlert! Fellowship recipient and current president of the World Federation of Science Journalists, highlights the need for more opportunities for science journalists in developing countries.
"Being a science journalist in developing regions is tricky because there are very few formal education opportunities available," said Yahia, a co-founder and vice-president of the Arab Science Journalists Association and executive editor of partnership and custom media at Nature Research. "At the same time, there is a growing need to cover science, and there is growing demand, especially with science being integral to the development of these regions. We need more and better science journalists who can play this important part, and to deliver stories that are relevant to their audiences.
"I was one of the recipients of the fellowship early in my career and it made a huge difference to me," Yahia added. "The AAAS [Annual Meeting] was by far the biggest science conference I'd ever been to, and it was exciting to have some of the best scientists and researchers in the world in one place."
Federico Kukso, a 2011 EurekAlert! Fellowship recipient from Argentina and current board member of the World Federation of Science Journalists, said the fellowship gave him the opportunity to travel outside "the bubble" of Latin America and learn from scientists and science journalists from other regions.
"In an era dominated by fake news, anti-vaccine movements, climate change deniers, flat-earthers and promoters of magical thinking, it is more important than ever to communicate science. And to do it well," said Kusko. "For this reason, fellowships such as the EurekAlert! fellowship are important: they help young science journalists from the farthest corners of the planet to improve their skills and give them the unique opportunity to participate in important scientific meetings where they can get to know the debates around the main scientific topics of the moment," said Kukso.
Yahia and Kukso are among 68 other journalists who have received the fellowship. Other winners who have gone on to enjoy successful and respected careers in science journalism include Gan Xiao (2014), now a senior reporter with China Science Daily, and Dalia AbdelSalam (2008 and 2010), now chief editor of For Science للعِلم and former board member of the Arab Science Journalists Association. AbdelSalam is also a judge in this year's competition.
The 2019 winners are:
Mohamed Elsonbaty Ramadan, a scientist-turned-freelance journalist based in Brussels, Belgium, focuses his writing on areas such as global health, science and technology, and has reported for outlets such as the Scientific American Arabic Edition, SciDev.Net MENA Edition, MIT Technology Review Arabic Edition and the Scientific Arabi magazine. Ramadan says he is eager to network with policymakers and fellow journalists at the Annual Meeting.
"Winning the EurekAlert! Fellowship and attending the AAAS Annual Meeting in 2019 will give me the opportunity for exposure to world-class science and science journalism," said Ramadan.
The last fellowship winner from the Middle East was Nadia El Dakroury in 2011.
Mićo Tatalović, chair of the Association of British Science Writers and a judge for the 2019 fellowship program, echoes the importance of providing more opportunities to science reporters in developing economies like the Balkans. "Scientific research and science reporting have long been dominated by a small number of mainly Western countries. Science is now becoming ever more global and we need journalists in developing regions to make sense of it all to local audiences.
"This is why opportunities such as this fellowship are so crucial as a stepping stone for young science reporters, and as a validation of their hard work, perseverance and striving to get into this difficult but important business of reporting on science and technology," said Tatalović.
The EurekAlert! Fellowship program expanded to the Balkans last year and applications from the region doubled this year. Among them, Lea Udovč was selected for her work with the Slovenian Press Agency (STA). She covers science, technology, and innovation and has authored interviews and stories on topics ranging from microbiology and zoology to astrophysics. Udovč was recently nominated for the European Science Writer of the Year Award 2018, which is coordinated by the Association of British Science Writers (ABSW).
"Winning the EurekAlert! Fellowship has implications beyond my personal interests and benefits," said Udovč. "I believe this fellowship has an important role in promoting and encouraging good science journalism in the Balkan region, which has been largely left out of from the global science journalism map."
Li Zheng, a freelance journalist with Guokr.com, a new media news platform in China, is the third winner from that outlet in the last four years. With a background in international politics and sociology, she focuses her writing on the societal and human aspects of science and technology. She has written in-depth reports about algorithms, technology ethics, and gender in science and technology.
"It is truly a great honor to be representing the science communication field in China and to showcase what we have - a vibrant community with loads of new ideas as well as deep, reflective thinking," said Zheng.
"The applications from China this year reflect an impressive sense of cosmopolitanism," says Jane Qiu, an award-winning science writer in Beijing and a judge of this year's program. "Their works are original and capture the cutting edge of science and technology and its societal implications."
The 2019 fellowship program received partial support from Johns Hopkins Medicine.
"At Johns Hopkins Medicine, we work towards the goal of increasing the public understanding of science across the globe. We are thrilled to support international science journalism and enable a journalist from China to travel to the 2019 AAAS Annual Meeting," said Audrey Huang, director of media relations and director of marketing and communications for research and education at Johns Hopkins Medicine.
For the fourth year in a row, the EurekAlert! Fellowship program will support two early-career journalists from India.
"India is a developing country and there are lots of issues that need to be addressed and science can help," said 2019 Fellowship winner Jyoti Singh, a journalist with India Science Wire (ISW) who writes about chemistry, healthcare, mathematics and nuclear energy. "Science is essential for progress in any country. International events like the AAAS Annual Meeting give an opportunity to journalists to learn from these platforms."
Spoorthy Raman, a managing editor with Research Matters, began a career in information technology before switching paths. Raman, who reports on physics, engineering, ecology, geology, and environmental disciplines, hopes to gain greater exposure to global scientific advances at the AAAS Annual Meeting.
"Personally, I am happy to have gained international recognition," said Raman. "When I quit my high-flying career as an engineer, little did I know the possibilities in science writing. When I look back, I feel lucky to be doing what I love and making a career out of it."
About the Fellowships
Established in 2004 with a seed grant from the William T. Golden Endowment Fund for Program Innovation and sponsored by EurekAlert!, the AAAS-operated science-news service, the EurekAlert! Fellowships for International Science Reporters support early-career science reporters from emerging economies by providing them with opportunities to cover the latest research and network with peers from around the world at AAAS Annual Meetings. The 2019 program is supported in part by Johns Hopkins Medicine.
Applicants must have five years or less of professional science journalism experience, meet EurekAlert!'s longstanding reporter-registrant eligibility criteria, and submit a complete application including published writing samples, a letter of recommendation, and an original essay.
Past Fellowship winners have represented the Middle East, Africa, Central and South America, India and China, and for the first time in 2018, the Balkan region. For more information about the 2019 Fellowship winners and their Meeting coverage, as well as a list of all EurekAlert! Fellowship recipients since 2004, visit: http://www.eurekalert.org/fellows.
Biographies of 2019 Fellowship Winners (in alphabetical order)
Mohamed Elsonbaty Ramadan (@ElsonbatySciCom)
Mohamed Elsonbaty Ramadan is a freelance science journalist from Egypt. He received his Bachelor's degree in Pharmaceutical Sciences from Alexandria University in 2011, before obtaining a Master's degree in Science Communication and Public Engagement from the University of Edinburgh in 2016. Since 2014, Ramadan has worked as a freelance science journalist where he has published articles in outlets such as Scientific American Arabic Edition, SciDev.Net MENA Edition, MIT Technology Review Arabic Edition and the Scientific Arabi magazine. In addition, he was the author of a series of articles for children about homemade scientific experiments titled "The Young Arabi Laboratory," published in The Young Arabi magazine. As a previous science communication consultant and trainer, Ramadan helped implement various science communication and engagement projects with organizations such as the British Council, 1001 Inventions, and the American University in Cairo. In 2017, he was selected as the first winner of the Mijbil Al-Mutua Award for young science communication professionals in the MENA region. According to FameLab 2010, Ramadan is one of Egypt's top 10 Science Communicators. Additionally, Ramadan has received several grants and fellowships that have allowed him to attend international events such as the Lindau Nobel Laureates meeting 2017, Falling Walls Conference 2017 and EuroScience Open Forum 2018. He is a member of "Public Communication of Science and Technology" (PCST) network.
Spoorthy Raman
Spoorthy Raman is a science writer based in Bangalore, India. After spending her early years in Mysore and Bangalore, she obtained a Bachelor's degree in Computer Science and a Master's degree in Information Technology. She worked in the software industry for a few years before deciding to pursue science writing as a profession. Over the past three years, Raman has focused her writing on a wide range of topics, spanning physics, engineering, ecology, geology and environmental disciplines. Her articles have been published in many media outlets, including Deccan Herald, FactorDaily and American Geophysical Union blogs. In addition to participating in several workshops and panels, Raman had the opportunity to appear on the "Last Word" on BBC Radio 4. She was the recipient of the Merit Prize in the Asian Scientist Writing Prize in 2017 and currently works as the Managing Editor at Research Matters. Apart from writing, she loves photography, reading, nature, wildlife and just being out in the sun. A learner for life, she loves to dabble with anything new, whether it is a technology, skill, or a hobby.
Jyoti Singh (@ashajyoti11)
Jyoti Singh is a science journalist and social media manager at the India Science Wire (ISW). ISW, a science news and feature service funded by India's Department of Science and Technology, was established to promote science, technology, health and environment coverage in Indian media. Singh, a science communicator, journalist and science enthusiast, has work published in newspapers, magazines and e-portals like The Hindu, Scroll, Deccan Herald, Outlook, Down to Earth, Firstpost, Meghalaya Guardian, Indian Science Journal, and Invention Intelligence. She has contributed material for books, brochures, documentary films and radio jingles on topics such as nuclear energy. In addition, Singh has written science serials for All India Radio on various topics like chemistry, grass root innovations and mathematics. These serials have been translated into 19 languages and telecast from all the regional radio stations of India. Singh has a Master's degree in Mass Communication (Science and Technology).
Lea Udovč (@LeaUdovc)
Lea Udovč is a journalist at the Slovenian Press Agency (STA), the leading Slovenian provider of media content for domestic and foreign audiences. She started her journalism career as a presenter and editor at Souvizija, a web-based student TV network and Radio Student, an independent radio station. Since 2017, Udovč has been a full-time employee of the STA, focusing mainly on science, technology, and innovation. She has produced several dozen interviews and stories on different scientific topics ranging from microbiology, zoology, astrophysics, nuclear and theoretical physics, climate change, material science, genetics, neuroscience, and more. She is the author of a series of multimedia stories on the work of Slovenian scientists and researchers, and an author of a multimedia series of articles and video interviews with exceptional and outstanding personalities from Slovenia. Udovč has attended several international excursions and summer schools for science journalists and was nominated for the 2018 European Science Writer of the Year Award, which is coordinated by the Association of British Science Writers (ABSW) and supported by Johnson & Johnson.
Li Zheng (Elise) (@elise901)
Li Zheng (Elise) is a freelance journalist with Guokr.com. With a background in international politics and sociology, Zheng transitioned her career to science journalism at Guokr.com after finishing her Bachelor's and Master's degrees at Peking University and London School of Economics. As a science writer, she focuses her writing on sociology and the human aspects of science and technology. She connects recent discoveries and cutting-edge technologies with the life of individuals and communities in the fast-changing society of China and around the globe. She has written in-depth reports about algorithms, technology ethics, and gender in science and technology. To promote public understanding of science to the public, she would journey through universities, institutions and museums, telling the inside stories of science and technology and how it is connected to the human intellectual world. Over the last few years, she has lived in China and the U.K., and was a volunteer at the Natural History Museum and Science Museum in London. Zheng is currently pursuing a degree in Science and Technology Studies at Georgia Tech while freelancing for Guokr as a staff writer. In her free time, she enjoys learning languages, visiting museums and strolling in random urban streets.
2019 EurekAlert! Fellowship Judges
Dalia AbdelSalam is an award-winning journalist based in Cairo, Egypt. She currently works for Springer Nature as a chief editor of - For Science للعِلم , the Arabic Edition of Scientific American. For 22 years, she was the Environment and Water Editor at Al Ahram Hebdo Newspaper, an Egyptian weekly newspaper in French language. AbdelSalam was a board member of the Arab Science Journalists Association (ASJA) from July 2009 to June 2011 and she co-directed the 7th World Conference for Science Journalists held in Doha, Qatar, in 2011. She also acted as a media consultant for national, regional and international organizations and as an environmental reporting trainer.Since 2006, AbdelSalam has been acting as coordinator for Northern Africa for the African Network of Environmental Journalists (ANEJ) and was chosen in October 2015 to represent the Middle East and North African region in the Orientation Council of "L'Institut de la Francophonie pour le Developpement Durable" (IFDD), based in Quebec City, Canada.
Nehal Lasheen is the deputy editor of the Arabic edition of SciDev.Net for the MENA region. She is the president of the Arab Science Journalists Association and was a mentor in the World Federation of Science Journalists' mentoring project for science journalism SJCOOP2. She has a background in science journalism especially on the Internet and was the Health & Science Editor at IslamOnline.net Arabic website for several years.
Malathy Iyer is a senior editor (health) with The Times of India, Mumbai, with over 20 years of experience. When not chasing the big outbreaks of bird flu and swine flu or tracking the emergence of total drug-resistant tuberculosis, she focuses on issues of urban health care systems and women and children with special needs.
Milica Momčilović is a science journalist, author, and TV anchor at Radio Television of Serbia. She holds the position of editor in science programming and writes science articles for Politika, the oldest daily newspaper in Serbia. As a journalist in TV and print media, she has developed a special interest in establishing partnerships with scientists and their institutes as one of the models for successful reporting on science and mutual capacity building. She is the Vice-President of the World Federation of Science Journalists.
T. V. Padma is a Delhi-based science journalist, who has written extensively on science policies in India, South Asia, and developing countries. She currently writes for Nature, Nature India, New Scientist, Physics World, Chemistry World, BioWorld and The Wire. Padma began her career as a science correspondent at the Press Trust of India, where she reported on science daily and handled the production of the fortnightly PTI Science Service bulletin. She later ran development communication projects at the South Asia office of Panos Institute. In 2005, she joined SciDev.Net as its first South Asia Regional Coordinator to set up the first South Asian network of science writers. She was part of SciDev.Net's award-winning team in 2005 that won the Association of British Science writers prize for best science reporting on the web, for their coverage of the Dec 2004 Asian tsunami. She is also a recipient of the FAO's World Food Day prize for best reporting on health and nutrition issues in India.
Jane Qiu is an award-winning independent science writer in Beijing, regularly contributing to publications such as Nature, Science, Scientific American, and The Economist. A recipient of many prestigious fellowships and travel grants, she has covered a wide range of topics from the Arctic, the Antarctic, and the peaks of the Himalayas. She is passionate about the Tibetan Plateau and surrounding mountain ranges -- a vast area half the size of the US known as the Third Pole because it boasts the largest stock of ice on Earth outside the polar regions -- and strives to highlight its increasing fragility and pressing environmental issues. Qiu has won awards for her writings from the American Association for the Advancement of Science, the Association of British Science Writers, the South Asian Journalists Association, and the Asia Environmental Journalism Awards. She recently completed the Knight Science Journalism Fellowship Program at the Massachusetts Institute of Technology-- the world's premier mid-career fellowship program for science writers, editors, and multimedia journalists.
Dr. Zixue Tai is an associate professor in the School of Journalism & Media at the University of Kentucky, where he is the Sequence Coordinator of the Media Arts and Studies program. His primary area of research pertains to the various aspects of the social, political, and cultural ramifications of the blossoming new media sector, as well as social media activism and collective action in China. The author of The Internet in China: Cyberspace and Civil Society (Routledge, hardcover released in 2006 & paperback published in 2012), Dr. Tai has published in journals such as the Journal of Communication, Journalism & Mass Communication Quarterly, New Media & Society, Psychology & Marketing, Sociology of Health & Illness, International Communication Gazette, and Tobacco Control, among others. Additionally, he has contributed numerous chapters to edited volumes focusing on various aspects of new media and Chinese society.
Mićo Tatalović is a science journalist from Rijeka, Croatia (European Capital of Culture 2020). He was a Knight Science Journalism fellow at MIT in 2017/2018. Before that, he worked as a news editor at New Scientist and SciDev.net. He is the chairman of the Association of British Science Writers and sits on the board of the Balkan Network of Science Journalists.
###
The American Association for the Advancement of Science (AAAS) is the world's largest general scientific society and publisher of the journal Science as well as Science Translational Medicine, Science Signaling, a digital, open-access journal, Science Advances, Science Immunology, and Science Robotics. AAAS was founded in 1848 and includes nearly 250 affiliated societies and academies of science, serving 10 million individuals. Science has the largest paid circulation of any peer-reviewed general science journal in the world. The non-profit AAAS is open to all and fulfills its mission to "advance science and serve society" through initiatives in science policy, international programs, science education, public engagement, and more. For more information, visit http://www.aaas.org.
About EurekAlert!
Founded by AAAS in 1996, EurekAlert! is an editorially independent, online science-news service. Thousands of reporters around the globe use EurekAlert! to access news and resources from the world's top academic journals and research organizations. For free access to EurekAlert!, visit http://www.EurekAlert.org.
---