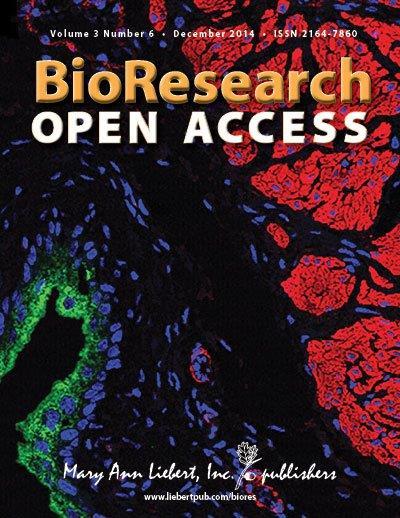 New Rochelle, NY, January 12, 2014--A promising new therapeutic approach to treat a variety of diseases involves taking a patient's own cells, turning them into stem cells, and then deriving targeted cell types such as muscle or nerve cells to return to the patient to repair damaged tissues and organs. But the clinical effectiveness of these stem cells has only been modest, which may be due to the advanced age of the patients or the effects of chronic diseases such as diabetes and cardiovascular disease, according to a probing Review article published in BioResearch Open Access, a peer-reviewed journal from Mary Ann Liebert, Inc., publishers . The article is available on the BioResearch Open Access website.
Anastasia Yu. Efimenko, TN Kochegura, ZA Akopyan, and YV Parfyonova, Moscow State University (Russia), analyze how aging and chronic diseases might affect the regenerative potential of autologous stem cells and explain the differences between the promising results reported in preclinical studies using stem cells derived from healthy young donors and the more modest success of clinical studies in aged patients. The authors propose strategies to test for and enhance to regenerative properties and therapeutic potential of stem cells in the article "Autologous Stem Cell Therapy: How Aging and Chronic Diseases Affect Stem and Progenitor Cells".
"This review discusses a very important issue in regenerative medicine, how aging and chronic pathologies such as cardiovascular diseases and metabolic disorders affect adult stem/progenitor cells," says BioResearch Open Access Editor Jane Taylor, PhD, MRC Centre for Regenerative Medicine, University of Edinburgh, Scotland. "Future therapies are discussed by the authors in terms of overcoming or correcting the limitations of these cells in order to enhance their therapeutic potential."
###
About the Journal
BioResearch Open Access is a bimonthly peer-reviewed open access journal led by Editor-in-Chief Robert Lanza, MD, Chief Scientific Officer, Advanced Cell Technology, Inc. and Editor Jane Taylor, PhD. The Journal provides a new rapid-publication forum for a broad range of scientific topics including molecular and cellular biology, tissue engineering and biomaterials, bioengineering, regenerative medicine, stem cells, gene therapy, systems biology, genetics, biochemistry, virology, microbiology, and neuroscience. All articles are published within 4 weeks of acceptance and are fully open access and posted on PubMed Central. All journal content is available on the BioResearch Open Access website.
About the Publisher
Mary Ann Liebert, Inc., publishers is a privately held, fully integrated media company known for establishing authoritative peer-reviewed journals in many areas of science and biomedical research, including DNA and Cell Biology, Tissue Engineering, Stem Cells and Development, Human Gene Therapy, HGT Methods, and HGT Clinical Development, and AIDS Research and Human Retroviruses. Its biotechnology trade magazine, Genetic Engineering & Biotechnology News (GEN), was the first in its field and is today the industry's most widely read publication worldwide. A complete list of the firm's 80 journals, books, and newsmagazines is available on the Mary Ann Liebert, Inc., publishers website.
---
Journal
BioResearch Open Access