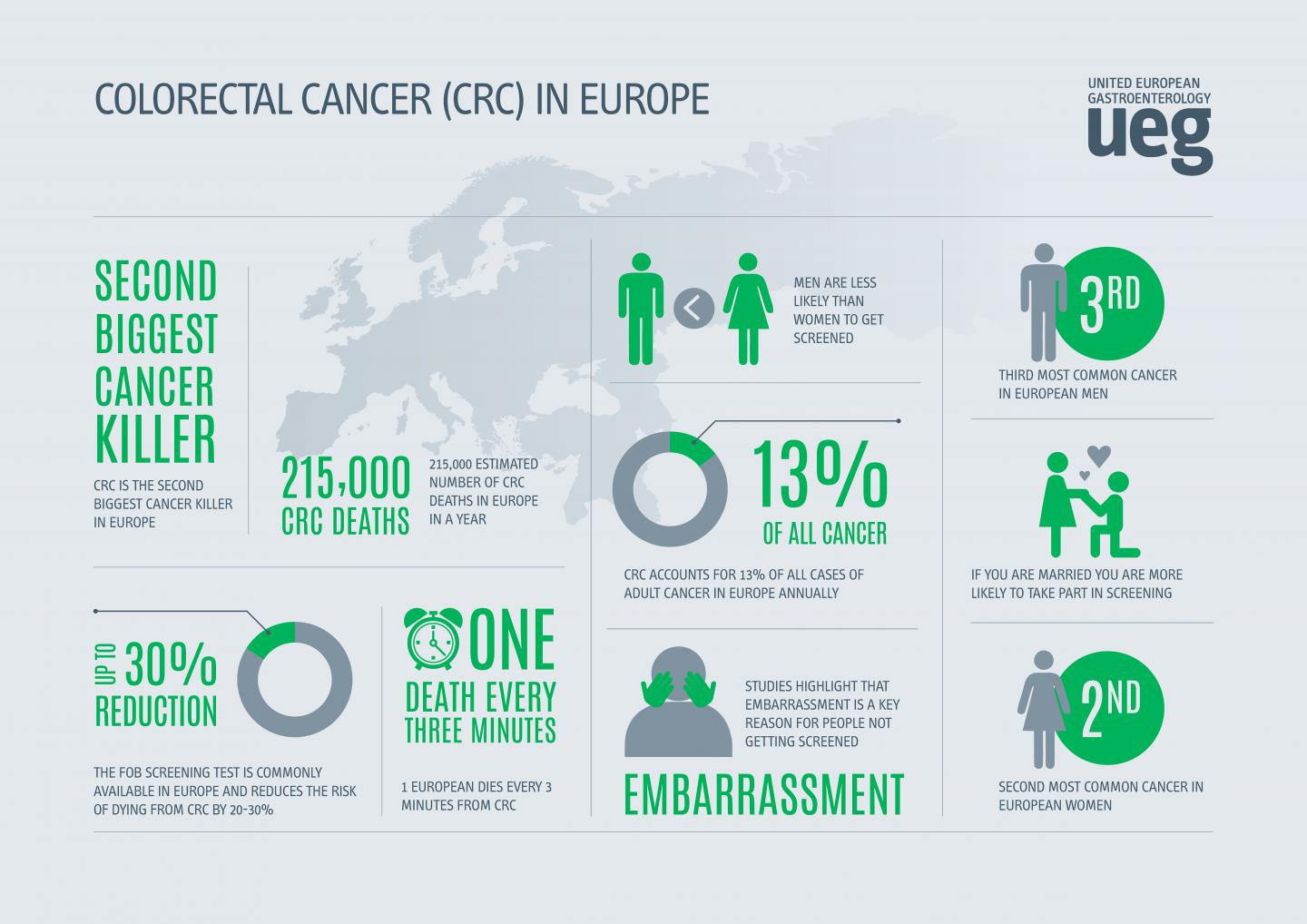 (Prague, 26 September, 2017) Experts from United European Gastroenterology (UEG), presenting at the European Digestive Cancer Days (EDCD) Conference in Prague today, are calling on European governments to focus their efforts on developing early diagnosis techniques, in order to save thousands of lives from digestive cancers including a more targeted approach to ensure at risk patients don't 'slip through the early-detection net'.
Digestive cancers account for 3 of the top 5 European cancer killers, 23.4% of European cancer incidence and 30.1% of European cancer deaths(i).
Currently, of the 5 primary digestive cancers, only colorectal cancer (CRC) is screened for and whilst some significant progress has been made in CRC screening in many European countries, early detection of other digestive cancers is still not sufficiently developed, even in high risk patients.
Experts, legislators and patient organisations from across Europe are meeting at the EDCD to present and discuss new developments and research in digestive cancer screening and early detection and will be calling upon governments to focus their efforts on developing specific screening and early detection techniques.
"Today, we are recommending that European governments focus their efforts on improving early detection of digestive cancers by funding and encouraging research in four specific areas; to give at-risk patients the best possible chance of survival. Public health authorities also need to think smarter when delivering screening, including looking at opportunities to screen for more than one cancer at the same time and using new cancer profiling techniques as they become available." says UEG's Prof Thierry Ponchon.
UEG is highlighting specific areas for review in digestive cancer screening which they claim could not only improve outcomes but once developed could be straightforward to implement, such as:
Look to the future to implement faecal microbiota screening (FBS) to predict colorectal cancer (CRC) before it develops. Early studies show that gut microbiota-based prediction is more accurate than the current faecal occult blood test, with the potential to predict CRC before it develops rather than just detect its indicators (ii) this is a promising prospect for the future of CRC screening, once further research shows this is proven on a population level.
Look to screen patients with heartburn or acid-reflux, using the Cytosponge™ or 'pill on a string' within the doctor's practice, to increase early detection of Barrett's oesophagus - an early precursor to oesophageal cancer. Experts report that existing screening methods for oesophageal cancer are expensive and ineffective, with evidence from the United States showing that only about 7% of people with oesophageal adenocarcinoma are detected through existing endoscopic screening approaches (iii). However, evidence of the use of an affordable, easy, non-invasive test known as a 'pill on a string' has shown to be safe, preferable and accurate and if proven on a population basis, should be widely adopted.
Microbiota screening in alcohol dependent patients at risk of liver cirrhosis and hepatocellular carcinoma (HCC) to determine levels of cancer-protecting short-chain fatty acids (SCFAs). Research indicates that microbiota profiling in alcohol-dependent patients could determine whether the patient's gut is lacking cancer-protecting SCFAs and could more effectively verify the likelihood of liver cancer developing (iv).
Gastric cancer screening should be implemented alongside CRC screening in European countries with an intermediate incidence (10 > 100,000). New evidence presented at the EDCD (v) shows, for the first time, that screening for gastric cancer in at least 14 European countries with an intermediate incidence rate would be cost effective if combined with a pre-scheduled colonoscopy for CRC. There is currently no screening provision for gastric cancer in any European country.
Despite the significance of digestive cancer incidence and mortality, progress in establishing digestive cancer screening lags behind breast and prostate cancer and UEG expert, Monique van Leerdam concludes; "whilst we are making good progress in colorectal cancer screening, we need to focus research on developing new targeted opportunities for screening in all digestive cancers and ensure that we give every patient, especially those at higher risk, the opportunity for earlier intervention - it could save thousands more European lives".
###
For more information, visit http://www.ueg.eu
Notes to Editors
Media Enquiries
For further information, or to arrange an interview, please contact James M. Butcher on +44 (0)1444 811099 or media@ueg.eu
About Prof Thierry Ponchon
Professor Thierry Ponchon is from the Herriot University Hospital in Lyon, France. He is chairman of the UEG Public Affairs Committee, chairman of the European Digestive Cancer Days, a UEG endoscopy specialist and a member of the ESGE Quality Improvement Committee.
About Dr. Monique van Leerdam
Dr Monique van Leerdam is a UEG CRC screening expert. She is head of the department of Gastrointestinal Oncology at the Netherlands Cancer Institute. She is a member of the UEG Public Affairs Committee, the ESGE Guideline Committee and the Advisory Council of the European Society for Digestive Oncology
About the European Digestive Cancer Days
The European Digestive Cancer Days: Prospects and Challenges in Prevention and Screening. Together with the Institute of Health Information and Statistics of the Czech Republic, the UEG Public Affairs Committee is hosting the 3rd European Digestive Cancer Days, this year in Prague, Czech Republic.
The conference looks at prevention, screening and early diagnosis of digestive diseases in the light of cutting edge, up-to-date evidence and practical experiences. The conference is set to discuss the success and variances in existing screening programmes, propose steps for early detection of other digestive diseases and detail the priorities across the continent - covering cost effectiveness, programme methods, parameters for monitoring, quality assurance and logistic organisation.
The conference is taking place September 25-27, 2017 in Prague.
CRC Screening Leaflet
UEG have produced an information leaflet on Colorectal Cancer Screening across Europe, with a new edition being launched at the European Digestive Cancer Days. To view or download the leaflet, visit: https://www.ueg.eu/publications/
About UEG
UEG, or United European Gastroenterology, is a professional non-profit organisation combining all the leading European societies concerned with digestive diseases. Together, its member societies represent over 22,000 specialists, working across medicine, surgery, paediatrics, gastrointestinal oncology and endoscopy. This makes UEG the most comprehensive organisation of its kind in the world, and a unique platform for collaboration and the exchange of knowledge.
To advance standards of gastroenterological care and knowledge across Europe and the world, UEG offers numerous activities and initiatives, including:
UEG Week, the biggest congress of its kind in Europe, and one of the two largest in the world
UEG Education, the universal source of knowledge in gastroenterology, providing online and classroom courses, a huge online library and delivering the latest GI news, fostering debate and discussion
Training Support, funding for innovative training and educational programmes, as well as international scientific and professional co-operations
UEG Journal, published bi-monthly, covering translational and clinical studies from all areas of gastroenterology
EU Affairs, promoting research, prevention, early diagnosis and treatment of digestive diseases, and helping develop an effective health policy for Europe
Follow UEG on Twitter
References
i.GLOBOCAN 2012 (IARC) Section of Cancer Surveillance (29/8/2017)
ii.Ai, Luoyan, et al. "Systematic evaluation of supervised classifiers for fecal microbiota-based prediction of colorectal cancer." Oncotarget 8.6 (2017): 9546.
iii.Vaughan TL, Fitzgerald RC. Nat Rev Gastroenterol Hepatol 2015;12:243-8.
iv. United European Gastroenterology. 2017. Alcohol, GI cancer and microbiota. Available at: https://www.ueg.eu/education/latest-news/article/article/alcohol-gi-cancerand-microbiota/. [Accessed 23 June 2017].
v. Areia, Miguel, et al. "Endoscopic screening for gastric cancer: A cost-utility analysis for countries with an intermediate gastric cancer risk." United European Gastroenterology Journal (2017): 2050640617722902.
---