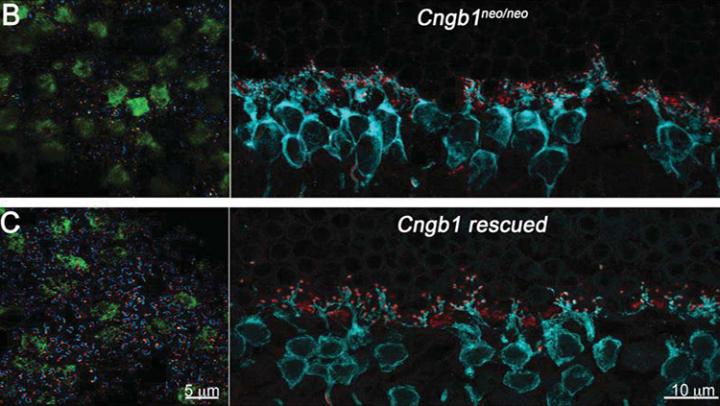 Following gene therapy, the retina can restructure itself and regain normal light responses, according to research in mice published in JNeurosci. These results emphasize the plasticity of the retina and support ongoing development of treatments designed to save dying cells.
Blindness is often caused by the death of rod photoreceptors, a type of cell in the retina. Current treatments have been developed that can save dying rods, but it was not known if the retina could rebuild itself after treatment, which is a key component of regaining vision.
Jeannie Chen, Alapakkam Sampath, Greg Field, and colleagues developed a mouse model with genetically defective rods that mimic developmental blindness disorders in humans. Chen, Sampath, and Field's team examined the structure of the defective retina, as well as its responses to light, at different time points with and without gene therapy. They observed that the rods that received gene therapy not only regained normal light responses, but also recovered normal connections to other retinal neurons.
###
Manuscript title*: Activation of Rod Input in a Model of Retinal Degeneration Reverses Retinal Remodeling and Induces Formation of Functional Synapses and Recovery of Visual Signaling in the Adult Retina
*A preprint of this manuscript has been posted on bioRxiv.
Please contact media@sfn.org for full-text PDF and to join SfN's journals media list.
About JNeurosci
JNeurosci, the Society for Neuroscience's first journal, was launched in 1981 as a means to communicate the findings of the highest quality neuroscience research to the growing field. Today, the journal remains committed to publishing cutting-edge neuroscience that will have an immediate and lasting scientific impact, while responding to authors' changing publishing needs, representing breadth of the field and diversity in authorship.
About The Society for Neuroscience
The Society for Neuroscience is the world's largest organization of scientists and physicians devoted to understanding the brain and nervous system. The nonprofit organization, founded in 1969, now has nearly 37,000 members in more than 90 countries and over 130 chapters worldwide.
---