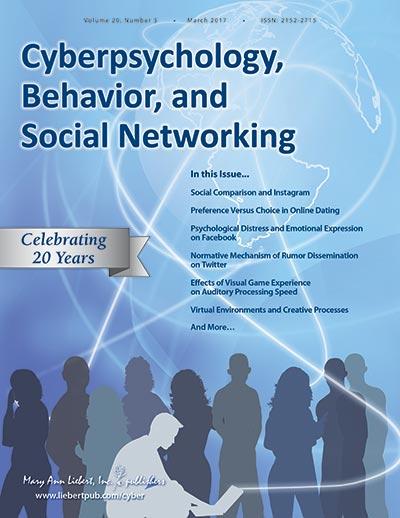 New Rochelle, NY, March 22, 2017--A new study of the believability of information received via Twitter and the intention to pass on a tweet--whether news or rumor--is influenced by the number of times the information has already been retweeted. Number of retweets can serve as a normative cue that leads a person to presume that an unverified rumor is true, increasing the likelihood that they will share it with others, according to the study published in Cyberpsychology, Behavior, and Social Networking, a peer-reviewed journal from Mary Ann Liebert, Inc., publishers. The article is available free on the Cyberpsychology, Behavior, and Social Networking website until April 24, 2017.
In the article entitled "Normative Mechanism of Rumor Dissemination on Twitter," Hyegyu Lee, Handong University, Pohang, and Hyun Jung Oh, CHA University, Pocheon, South Korea, describe an online experiment that included 639 Twitter users. The results indicated that users viewed both news and rumors shared in tweets as uncertain information. They determined the believability of the information based on how others viewed it. If the information had been highly retweeted it was more likely to be considered as believable.
"Whether by word-of-mouth, email, or Twitter, rumors proliferate quite easily. We must remain adamant in our use of critical-thinking skills to evaluate information and avoid equating popularity with plausibility," says Editor-in-Chief Brenda K. Wiederhold, PhD, MBA, BCB, BCN, Interactive Media Institute, San Diego, California and Virtual Reality Medical Institute, Brussels, Belgium.
###
About the Journal
Cyberpsychology, Behavior, and Social Networking is an authoritative peer-reviewed journal published monthly online with Open Access options and in print that explores the psychological and social issues surrounding the Internet and interactive technologies. Complete tables of contents and a sample issue may be viewed on the Cyberpsychology, Behavior, and Social Networking website.
About the Publisher
Mary Ann Liebert, Inc., publishers is a privately held, fully integrated media company known for establishing authoritative peer-reviewed journals in many promising areas of science and biomedical research, including Games for Health Journal, Telemedicine and e-Health, and Journal of Child and Adolescent Psychopharmacology. Its biotechnology trade magazine, GEN (Genetic Engineering & Biotechnology News), was the first in its field and is today the industry's most widely read publication worldwide. A complete list of the firm's 80 journals, books, and newsmagazines is available on the Mary Ann Liebert, Inc., publishers website.
Mary Ann Liebert, Inc. 140 Huguenot St., New Rochelle, NY 10801-5215 http://www.liebertpub.com Phone: (914) 740-2100 (800) M-LIEBERT Fax: (914) 740-2101
---