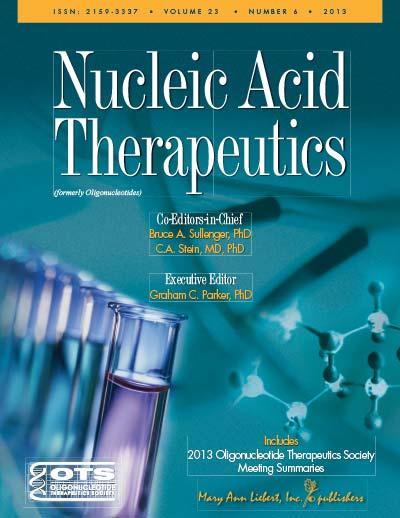 New Rochelle, NY, January 27, 2014—Drugs comprised of single strands of DNA, called aptamers, can bind to targets inside tumor cells causing cell death. But these DNA drugs cannot readily get inside tumor cells on their own. Effective delivery of DNA aptamers using a natural polysaccharide as a carrier is described in an article in Nucleic Acid Therapeutics, a peer-reviewed journal from Mary Ann Liebert, Inc. publishers. The article is available on the Nucleic Acid Therapeutics website.
Tatyana Zamay and coauthors, Krasnoyarsk State Medical University, Siberian Branch Russian Academy of Sciences, and Center for Reproductive Medicine (Krasnoyarsk, Russia), and University of Ottawa, Canada, combined the polysaccharide arabinogalactan, obtained from the larch tree, with a DNA drug that binds to and disrupts the activity of vimentin, a structural protein required for cell division. Vimentin is often over-produced by tumor cells compared to normal cells.
In the article "DNA-Aptamer Targeting Vimentin for Tumor Therapy in Vivo" the authors show that an aptamer targeting vimentin inhibits tumor growth more effectively when it is administered as a mixture with arabinogalactan than alone.
"This work demonstrates the advancement of aptamer therapeutic application through increased bioavailability using a nontoxic polysaccharide based therapy," says Executive Editor Graham C. Parker, PhD.
###
Nucleic Acid Therapeutics is under the editorial leadership of Co-Editors-in-Chief Bruce A. Sullenger, PhD, Duke Translational Research Institute, Duke University Medical Center, Durham, NC, and C.A. Stein, MD, PhD, City of Hope National Medical Center, Duarte, CA; and Executive Editor Graham C. Parker, PhD.
About the Journal
Nucleic Acid Therapeutics is an authoritative, peer-reviewed journal published bimonthly in print and online that focuses on cutting-edge basic research, therapeutic applications, and drug development using nucleic acids or related compounds to alter gene expression. Nucleic Acid Therapeutics is the official journal of the Oligonucleotide Therapeutics Society. Complete tables of content and a free sample issue may be viewed on the Nucleic Acid Therapeutics website.
About the Society
The Oligonucleotide Therapeutics Society is an open, nonprofit forum to foster academia-and industry-based research and development of oligonucleotide therapeutics. The society brings together the expertise from different angles of oligonucleotide research to create synergies and to bring the field of oligonucleotides to its full therapeutic potential.
About the Publisher
Mary Ann Liebert, Inc., publishers is a privately held, fully integrated media company known for establishing authoritative peer-reviewed journals in promising areas of science and biomedical research, including Human Gene Therapy, Human Gene Therapy Methods, Human Gene Therapy Clinical Development, ASSAY and Drug Development Technologies, and DNA and Cell Biology. Its biotechnology trade magazine, Genetic Engineering & Biotechnology News (GEN), was the first in its field and is today the industry's most widely read publication worldwide. A complete list of the firm's 80 journals, books, and newsmagazines is available on the Mary Ann Liebert, Inc., publishers website.
Mary Ann Liebert, Inc.
140 Huguenot St., New Rochelle, NY 10801-5215
Phone: (914) 740-2100 (800) M-LIEBERT Fax: (914) 740-2101
http://www.liebertpub.com
---
Journal
Nucleic Acid Therapeutics