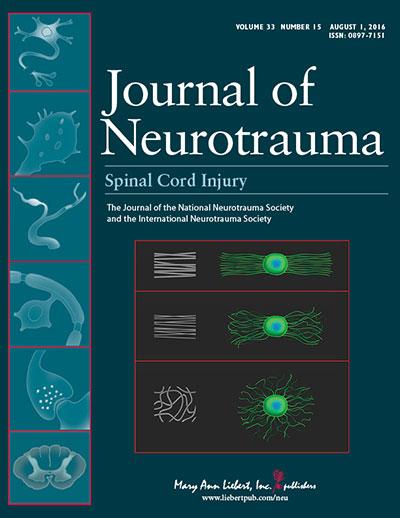 New Rochelle, NY, August 16, 2016--A new study identified risk factors for the development of post-traumatic stress disorder (PTSD) following a mild traumatic brain injury (mTBI), making it possible to screen for PTSD symptoms among at-risk populations. Unlike much previous research that has focused on TBI and PTSD in military personnel, the current study focused on civilian emergency services providers, and the findings are published in Journal of Neurotrauma, a peer-reviewed journal from Mary Ann Liebert, Inc., publishers. The article is available free on the Journal of Neurotrauma website until September 16, 2016.
The study "Screening for Post-Traumatic Stress Disorder in a Civilian Emergency Department Population with Traumatic Brain Injury", found that about 27% of the patients with mTBI who returned for follow-up care at 6 months post-injury and underwent screening were positive for PTSD.
Juliet Haarbauer-Krupa and coauthors from the Centers for Disease Control and Prevention (Atlanta, GA), University of California, San Francisco, San Francisco General Hospital, and Washington University in St. Louis (MO), evaluated factors including functional disability, psychiatric symptoms, satisfaction with life, and performance on measures of visual processing and mental flexibility. They also assessed the predictive value of pre-injury education, psychiatric history, and cause of the TBI.
"This study represents yet another important communication originating from the CDC and the TRACK-TBI study group that now reframes PTSD within the context of civilian TBI," says John T. Povlishock, PhD, Editor-in-Chief of Journal of Neurotrauma and Professor, Medical College of Virginia Campus of Virginia Commonwealth University, Richmond. "The finding of a relatively significant proportion of civilian patients experiencing PTSD following mild TBI calls for its more routine evaluation, particularly in those patients with the added comorbid factors identified in this report."
Research reported in this publication was supported by the National Institutes of Health under Award Numbers RC2 NS069409, RC2 NS064909-02S1, and U01 NS086090-01. The content is solely the responsibility of the authors and does not necessarily represent the official views of the National Institutes of Health.
###
About the Journal
Journal of Neurotrauma is an authoritative peer-reviewed journal published 24 times per year in print and online that focuses on the latest advances in the clinical and laboratory investigation of traumatic brain and spinal cord injury. Emphasis is on the basic pathobiology of injury to the nervous system, and the papers and reviews evaluate preclinical and clinical trials targeted at improving the early management and long-term care and recovery of patients with traumatic brain injury. Journal of Neurotrauma is the official journal of the National Neurotrauma Society and the International Neurotrauma Society. Complete tables of content and a sample issue may be viewed on the Journal of Neurotrauma website.
About the Publisher
Mary Ann Liebert, Inc., publishers is a privately held, fully integrated media company known for establishing authoritative peer-reviewed journals in promising areas of science and biomedical research, including Therapeutic Hypothermia and Temperature Management, Brain Connectivity, and Tissue Engineering. Its biotechnology trade magazine, GEN (Genetic Engineering & Biotechnology News), was the first in its field and is today the industry's most widely read publication worldwide. A complete list of the firm's 80 journals, books, and newsmagazines is available on the Mary Ann Liebert, Inc., publishers website.
---
Journal
Journal of Neurotrauma