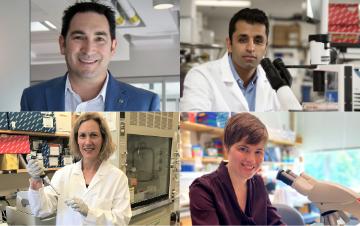 The Damon Runyon Cancer Research Foundation has named four new Damon Runyon Clinical Investigators. The recipients of this prestigious three-year award are outstanding early career physician-scientists conducting patient-oriented cancer research at major research centers under the mentorship of the nation's leading scientists and clinicians. Each will receive $600,000 to support innovative research with the potential to impact cancer diagnosis, prevention and treatment. In addition, Damon Runyon will repay an awardee's medical school debt up to $100,000.
The Foundation also awarded Continuation Grants to two Damon Runyon Clinical Investigators for an additional two years of funding, totaling $400,000 each. The Continuation Grants are designed to support Clinical Investigators who are approaching the end of their original awards and need extra time to work on a promising avenue of research or a clinical trial. This program is possible through the generous support of the William K. Bowes, Jr. Foundation.
"The quality of research proposed by our new Clinical Investigators is exceptionally strong. We are thrilled to be funding brave and bold physician-scientists who are taking risks to experimentally address the most important questions in cancer research and then translate them into improving patients' lives," says Yung S. Lie, PhD, Damon Runyon President and Chief Executive Officer. "We are helping to launch the careers of tomorrow's brightest cancer researchers."
The Clinical Investigator Award program was designed to help address the shortage of physicians capable of translating scientific discovery into new breakthroughs for cancer patients. Through partnerships with industry sponsors and its Accelerating Cancer Cures initiative, the Damon Runyon Cancer Research Foundation has committed over $72 million to support the careers of 108 physician-scientists across the United States since 2000.
2020 Clinical Investigators
Todd A. Aguilera, MD, PhD, with mentors Robert D. Timmerman, MD, and Yang-Xin Fu, MD, PhD, at The University of Texas Southwestern Medical Center, Dallas
There is a critical need for new therapeutic approaches to treat advanced stage rectal cancer, which has increased incidence in younger people and poor prognosis. Working with a multidisciplinary team, Dr. Aguilera is leading a randomized clinical trial that combines an anti-CD40 agonist immunotherapy with radiation and chemotherapy for locally advanced rectal cancer. The drug aims to activate the protein CD40 on dendritic cells which plays a critical role in generating T-cell immunity. As part of the study, Dr. Aguilera is investigating the factors that influence a patient's immune response to this combination treatment with the goal of optimizing therapy for difficult gastrointestinal cancers. If the proposed treatment is successful, it could become a new therapeutic standard that lowers the risk of metastasis, improves survival, shortens the treatment course and potentially avoids the need for surgery.
Anusha Kalbasi, MD, with mentors Antoni Ribas, MD, PhD, and Christine Brown, PhD, at University of California, Los Angeles
Immune checkpoint inhibitors, a standard of care for metastatic melanoma, release the brakes on a patient's T cells, so they can attack a tumor. Some patients, however, relapse when resistance to treatment occurs. Dr. Kalbasi will lead a clinical trial to test a new immunotherapy treatment approach for patients with this deadly skin cancer, who did not respond to standard therapies. He will identify patients whose melanoma tumor cells express a protein called IL13Ra2. He will then collect the patient's immune T cells, engineer them to identify tumor cells that express the protein and reinfuse the T cells to kill tumor cells inside the patient. In contrast to immune checkpoint inhibitors that require regular intravenous doses, these engineered chimeric antigen receptor (CAR) T cells are a one-time treatment that theoretically protect the body for life. This clinical trial may also offer insights on how CAR T therapy overcomes tumor resistance mechanisms to treat patients with metastatic melanoma.
Birgit Knoechel, MD, PhD, with mentors Kimberly Stegmaier, MD, and Catherine J. Wu, MD, at Dana-Farber Cancer Institute, Boston
Cancer cells harboring many genetic changes in their DNA often express novel proteins called neoantigens that activate the immune system to recognize and attack the tumor. Based on this mechanism, researchers are developing novel treatments to stimulate the immune system's response against a tumor, but this approach may not work for pediatric cancers that carry few genetic mutations. Dr. Knoechel's research is investigating alternative ways neoantigens can be generated, such as splicing or epigenetic changes, which occur frequently in leukemia and pediatric cancers. She is focusing on T-cell acute lymphoblastic leukemia (T-ALL), an aggressive blood malignancy in children and young adults that frequently stops responding to treatment causing relapse. Her research aims to identify mechanisms of immune "exhaustion" when T-cells stop fighting a tumor, define neoantigens generated by non-genetic mechanisms, and develop novel strategies to target non-genetic neoantigen expression. This research may lead to novel immunotherapy strategies for pediatric tumors.
Yvonne M. Mowery, MD, PhD, with mentor David G. Kirsch, MD, PhD, at Duke University, Durham
Head and neck cancers usually begin in the squamous cells that line the mucosal surfaces inside the mouth, nose and throat. Even with aggressive treatment including surgery, radiation therapy and chemotherapy, these tumors often recur with poor prognosis. Dr. Mowery will use patient samples and mouse models to investigate why these cancers are resistant to radiation treatment and to test new therapeutic approaches to improve outcomes for patients. She will also conduct a Phase 1 clinical trial to evaluate the effectiveness of using a combination of a radiation sensitizer (a drug that makes cancer cells more vulnerable to radiation therapy), radiation therapy and immunotherapy to treat patients with recurrent head and neck cancer.
In addition, the Committee recommended funding two Continuation Grants:
Vinod P. Balachandran, MD, Memorial Sloan Kettering Cancer Center, New York
"Recombinant interleukin-33 immunotherapy for pancreatic cancer" with mentors Steven D. Leach, MD, and Jedd D. Wolchok, MD, PhD
Piro Lito, MD, PhD, Memorial Sloan Kettering Cancer Center, New York
"Modeling responses to targeted ERK signaling inhibition at the single-cell level" with mentors Neal X. Rosen, MD, PhD, and Charles M. Rudin, MD, PhD
###
DAMON RUNYON CANCER RESEARCH FOUNDATION
To accelerate breakthroughs, the Damon Runyon Cancer Research Foundation provides today's best young scientists with funding to pursue innovative research. The Foundation has gained worldwide prominence in cancer research by identifying outstanding researchers and physician-scientists. Twelve scientists supported by the Foundation have received the Nobel Prize, and others are heads of cancer centers and leaders of renowned research programs. Each of its award programs is extremely competitive, with less than 10% of applications funded. Since its founding in 1946, the Foundation has invested over $375 million and funded more than 3,750 young scientists. Last year, we committed nearly $22 million in new awards to brilliant young investigators. 100% of all donations to the Foundation are used to support scientific research. Administrative and fundraising costs are paid with revenue from the Damon Runyon Broadway Tickets Service and our endowment.
For more information visit damonrunyon.org
CONTACT
Meghan McCurdy
Director, Communications and Marketing
meghan.mccurdy@damonrunyon.org
---