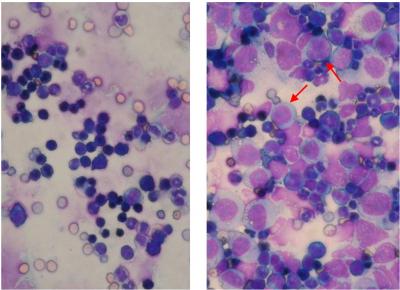 PHILADELPHIA - Researchers have found that one particularly aggressive type of blood cancer, mixed lineage leukemia (MLL), has an unusual way to keep the molecular motors running. The cancer cells rely on the normal version of an associated protein to stay alive.
MLL happens when a piece of chromosome 11 breaks off at the normal MLL-associated gene. The broken gene attaches itself to another chromosome, resulting in a fusion protein that eventually causes uncontrolled growth of blood cells.
The lab of senior author Xianxin Hua, MD, PhD, an associate professor of Cancer Biology at the Abramson Family Cancer Research Institute, University of Pennsylvania School of Medicine, found that this runaway growth triggered by the fusion protein is blocked when the gene for the normal protein is deleted from leukemia cells. This indicates that the normal protein is required for MLL to proliferate. The findings appear in the current issue of Cancer Cell, and are featured on the cover.
The chromosomal breakages and reattachments of MLL, called translocations, are common in many aggressive leukemias. Children with mixed lineage leukemia have a poor treatment outlook because they do not respond well to standard therapies for other types of leukemia, and they often suffer from early relapse after chemotherapy.
MLL translocations come in a variety of types, causing the fusion of the normal gene with one of over 60 other genes on other chromosomes known to work in human leukemias. The fusion protein triggers leukemia, partly through modifying chromatin, a DNA-protein complex.
The researchers also discovered that normal the MLL protein cooperates with the fusion proteins via chemical modifications to chromosomes that regulate what genes should be turned on or off; by increasing survival of leukemia cells; and maintaining leukemia stem cells.
"This research not only uncovers the crucial role of a normal protein key to the development of MLL, but also how the cancer cells stay alive in the first place," says Hua. The unraveling of the new, yet little-anticipated, molecular player behind MLL points to the normal MLL gene as a potential target for new therapies, partly through repressing leukemia stem cells.
Building on this discovery, Hua's team will further investigate whether mixed lineage leukemia cells are particularly "addicted" to normal MLL protein, a non-oncogene, in their growth and survival and whether normal MLL proteins specifically cooperate with other factors to sustain leukemia stem cells, with the hope of searching for an Achille's heel of this aggressive leukemia.
###
Gary Koretzky, MD, PhD, professor of Pathology and Laboratory Medicine at Penn, and Patricia Ernst, Ph.D, assistant professor of Genetics, at Dartmouth College also participated in the research. Other co-authors are Austin T. Thiel, Peter Blessington, Danielle Feather, Xinjiang Wu, Jizhou Yan, Hui Zhang, and Zuguo Liu.
The study was funded partly by a National Institutes of Health (NIH) grant, a Leukemia and Lymphoma Society SCOR grant, and an NIH T32 training grant.
This release and a related image can be found at: http://www.uphs.upenn.edu/news/News_Releases/2010/02/mixed-lineage-leukemia/
Penn Medicine is one of the world's leading academic medical centers, dedicated to the related missions of medical education, biomedical research, and excellence in patient care. Penn Medicine consists of the University of Pennsylvania School of Medicine (founded in 1765 as the nation's first medical school) and the University of Pennsylvania Health System, which together form a $3.6 billion enterprise. Penn's School of Medicine is currently ranked #3 in U.S. News & World Report's survey of research-oriented medical schools, and is consistently among the nation's top recipients of funding from the National Institutes of Health, with $367.2 million awarded in the 2008 fiscal year.
---