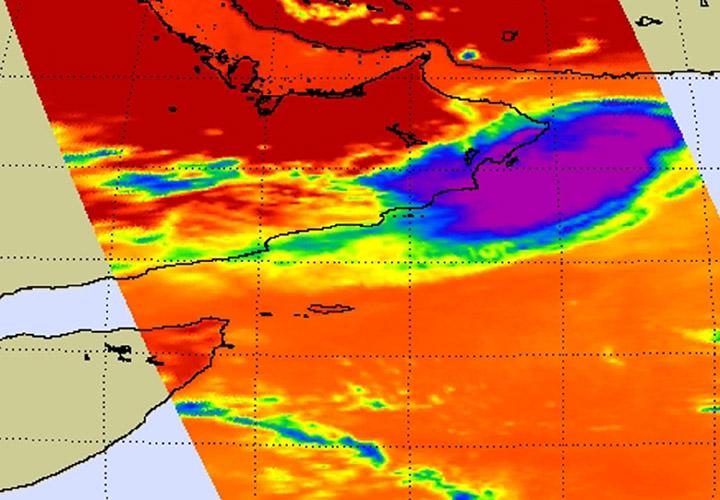 Tropical cyclone Ashobaa made landfall along Oman's eastern coast early on June 12, 2015 (EDT), as NASA's Terra satellite passed overhead.
On June 11 at 09:35 UTC (5:35 a.m. EDT) the AIRS instrument aboard NASA's Aqua satellite gathered infrared data on the tropical cyclone as it neared Oman. In a false-colored image of the data created at NASA's Jet Propulsion Laboratory in Pasadena, Calif., it was evident that wind shear was elongating tropical cyclone Ashobaa. Cloud top temperatures were near minus 63 degrees Fahrenheit/ minus 52 degrees Celcius from southwest to northeast of the center.
The next day, the MODIS or Moderate Resolution Imaging Spectroradiometer instrument aboard NASA's Terra satellite captured a visible image of tropical cyclone Ashobaa after it passed Masirah Island. Terra saw Ashobaa as it was making landfall along the east coast of Oman on June 12 at 7:15 UTC (3:15 a.m. EDT). At that time, the center of the storm had already made landfall, and the southern quadrant was still over Masirah Island.
As Ashobaa came ashore it brought tropical-storm-force wind gusts and heavy rainfall. Hail was reported in Ibri and Rastaaq and flooding was reported in Kalba.
The Joint Typhoon Warning Center issued their final bulletin on the system on June 11 at 2100 UTC (5 p.m. EDT), when it was centered near 20.9 North latitude and 59.8 East longitude, about 74 nautical miles (85 miles/137 km) east-northeast of Masirah Island. Maximum sustained winds were near 30 knots (34.5 mph/55.5 kph) and weakening. Ashobaa was moving westward at 4 knots (4.6 mph/7.4 kph).
Now that Ashobaa has moved over land and is also being affected by dry air, it has weakened to a remnant low pressure area and is expected to dissipate in the next day.
###
---