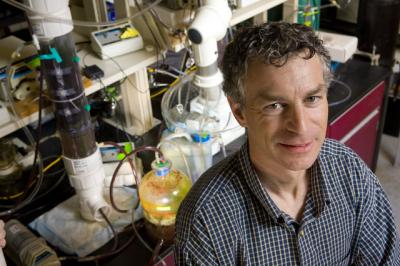 DURHAM, N.C. – For less than $100 and a day's work, a single family in an undeveloped country can construct a solid waste disposal system that not only processes the waste, but requires no electricity or additional energy while destroying harmful pathogens.
So argues a Duke University environmental engineer who envisions a simple system that can be constructed from everyday items designed specifically for Third World countries, where the disposal of solid human waste and the corresponding spread of disease is a leading health concern.
Marc Deshusses, professor of civil and environmental engineering at Duke's Pratt School of Engineering, has plans to develop a novel sewage digestion system with capture of the methane gas produced during the breakdown of the waste to produce enough heat to kill the bacteria and viruses most commonly associated with human waste.
The Bill and Melinda Gates Foundation, an organization that works to help all people lead healthy and productive lives, believes that Deshusses's idea has promise. The foundation's Grand Challenges Explorations program granted Deshusses $100,000 to move his ideas from the laboratory to field-testing in 18 months. The program awarded 110 such grants today.
"People in countries that lack proper sanitation for their sewage desperately need a disposal method that is cheap, simple to implement and maintain, and reliable," Deshusses said. "We believe the proposed system could represent a major advance in environmental and health protection for developing countries."
In the system Deshusses designed, the waste would be directed to a chamber, likely constructed of PVC pipe. Once sealed in the chamber to create an oxygen-free, or anaerobic, environment, bacteria digests the waste. As a byproduct of this digestion, methane gas is produced.
"The system works much like septic tanks used in many rural communities," Deshusses said. "However, in septic tanks, the methane produced is released into the environment, which a lost opportunity as well as an environmental liability. As a greenhouse gas, methane is 25 times more potent than carbon dioxide."
Instead of letting the methane escape into the environment, the new approach captures it and burns it, creating enough heat to kill pathogens in the effluent. Deshusses added that additional organic materials, like leftover food scraps or animal waste, might need to be added along with the human waste to boost the amount of organic matter and increase the methane produced by the anaerobic microbes.
Deshusses said he and a team of Duke researchers will spend the early phase of the grant period perfecting and testing the system in the laboratory before producing a prototype.
"The ultimate goal is to build a device which we will take to Las Mercedes, Honduras, where it will be tested during an eight-week civic engagement project in which Duke students work with local organizations," Deshusses said. The program is the national Engineers Without Borders (EWB) effort, of which the Duke chapter has active projects throughout the Third World.
If the field-testing proves successful, Deshusses anticipates testing the device in up to five additional countries to be identified with the assistance of the Gates Foundation.
The program funding Deshusses's idea is a $100 million initiative launched in 2008. To date, it has funded nearly 500 researchers from over 40 countries. Initial grants of $100,000 are awarded twice a year. Successful projects have an opportunity to receive a follow-on grant of up to $1 million.
"We believe in the power of innovation -- that a single bold idea can pioneer solutions to our greatest health and development challenges," said Chris Wilson, Director of Global Health Discovery for the Gates Foundation. "Grand Challenges Explorations seeks to identify and fund these new ideas wherever they come from, allowing scientists, innovators and entrepreneurs to pursue the kinds of creative ideas and novel approaches that could help to accelerate the end of polio, cure HIV infection or improve sanitation."
###
---