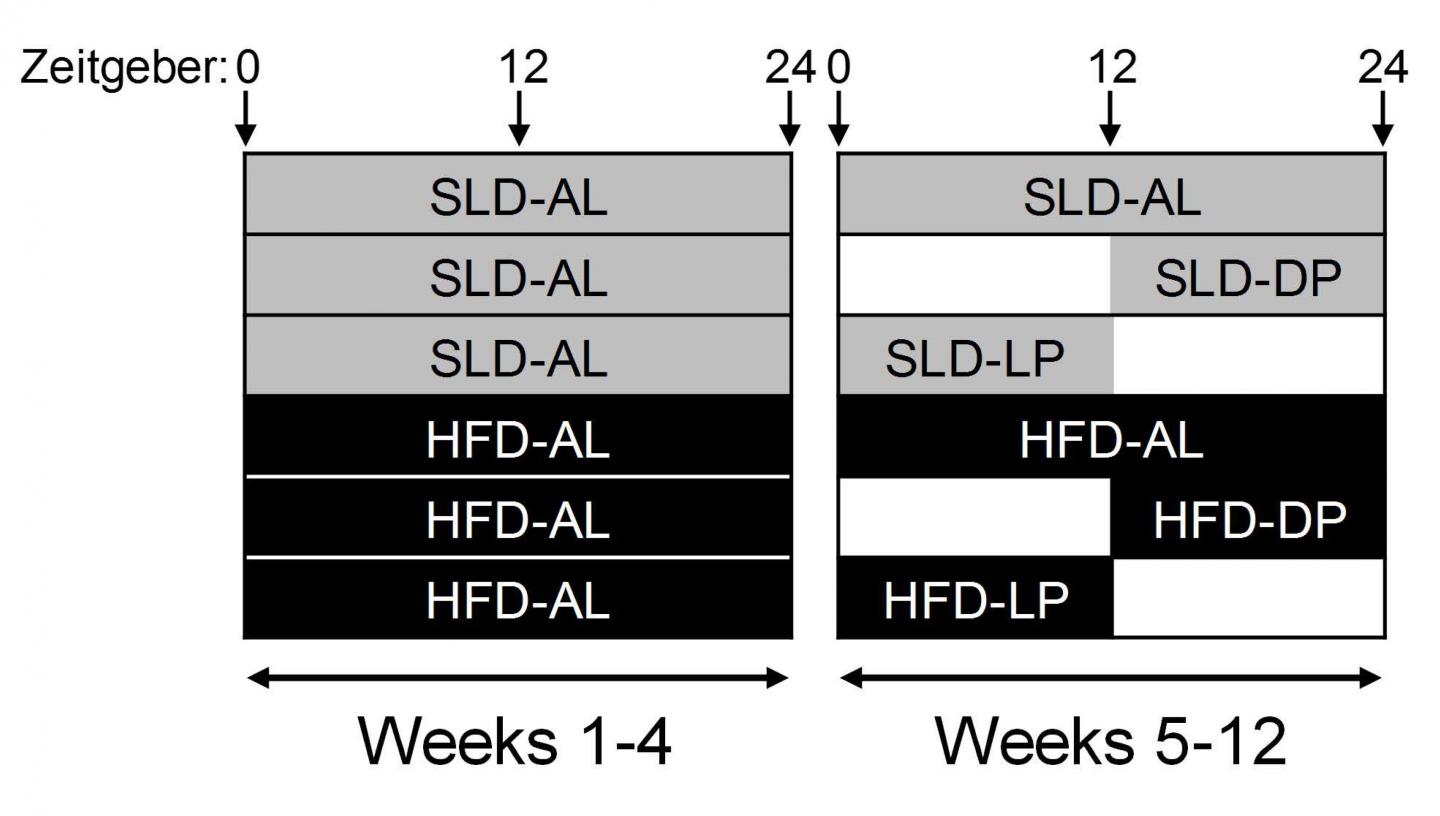 A mouse study published in JNeurosci finds that restricting food availability to one half of the day resets the normal timing of the signals that regulate food intake and reduces weight gain in mice fed a high-fat diet.These findings could inform future obesity research in humans.
Nerve fibers in the stomach communicate to the brain on the amount of food in the stomach. This leads to feelings of fullness and satiety after a meal. The sensitivity of the receptors that regulate this process fluctuates throughout the day in order to coordinate food intake to energy requirements. In rodents, which are nocturnal, the sensitivity of these receptors is lowest during their nighttime active period when energy demands are highest. Previous research that found the normal timing of these signals disappears in mice that become obese from eating a high-fat diet.
Building on previous research and demonstrating positive outcomes in obese mice fed only during the dark period, Amanda Page and colleagues found that time restricted feeding prevented the loss of satiety signaling in mice fed a high-fat diet. These mice gained less weight than mice that had unrestricted access to the same diet.
###
Article: Time restricted feeding prevents ablation of diurnal rhythms in gastric vagal afferent mechanosensitivity observed in high fat diet-induced obese mice
DOI: https://doi.org/10.1523/JNEUROSCI.0052-18.2018
Corresponding author: Amanda Page (University of Adelaide, Australia), amanda.page@adelaide.edu.au
About JNeurosci
JNeurosci, the Society for Neuroscience's first journal, was launched in 1981 as a means to communicate the findings of the highest quality neuroscience research to the growing field. Today, the journal remains committed to publishing cutting-edge neuroscience that will have an immediate and lasting scientific impact, while responding to authors' changing publishing needs, representing breadth of the field and diversity in authorship.
About The Society for Neuroscience
The Society for Neuroscience is the world's largest organization of scientists and physicians devoted to understanding the brain and nervous system. The nonprofit organization, founded in 1969, now has nearly 37,000 members in more than 90 countries and over 130 chapters worldwide.
---