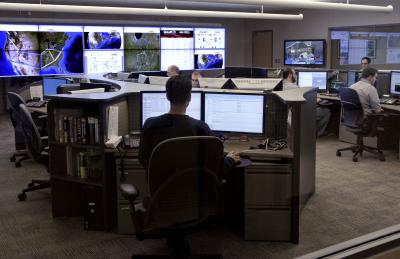 BLOOMINGTON, Ind. -- Indiana University has been awarded $9.2 million from the National Science Foundation (NSF) to lead two high-speed international network services. The awards provide IU with $4.6 million to continue the TransPAC3 network connection to Asia, and an additional $4.6 million for a new connection to Europe, named ACE -- America Connects to Europe.
"Congratulations to Indiana University, the first institution to receive two awards in an IRNC competition," said William Chang, National Science Foundation IRNC (International Research Network Connections) program officer, and an Indiana University graduate. "Thanks to its leadership, scientists and educators in Asia and Europe may now connect to U.S. research and education centers, to the great benefit of people around the world, especially in less developed countries. Indiana University, positioned in the heartland of the U.S., has now earned the distinction of global center of information technology for science and education."
IU, in close cooperation with its national and international partners, will lead the implementation of these networks to connect scientists and researchers in the U.S. with their counterparts in Europe and Asia.
"These global, high-speed communications networks are absolutely critical to 21st century scientific research," said IU President Michael A. McRobbie, who was the principal investigator on the original TransPAC grant in 1998. "They make possible a level of collaboration among researchers at the world's major scientific and engineering institutions that couldn't even be imagined just 20 years ago. Indiana University has played an essential role in managing such services since 1998 when the first connection to the Asia Pacific was initiated. I am extremely proud that IU has been chosen again by the NSF to continue to play a major role in this important work. This continues to place IU right at the center of international developments in advanced networking."
TransPAC3, an extension of the current TransPAC2, will facilitate direct U.S.-Asia research interactions. Moreover, TransPAC3 will expand opportunities for U.S. research collaborations across all regions of Asia, thanks to the network's ability to reach a greater number of countries and deploy higher capacities.
Similarly, the ACE Project, which consists of a cooperative partnership with DANTE and the GÉANT community of more than 34 national research and education networks, will provide significant economies of scale in trans-Atlantic connectivity and support a broad community of users through the deployment of bandwidth between Europe and the U.S.
Both of these connections will have an immediate impact on the global research environment and will pave the way for future service and technology advances.
"Our goals are to competently support current needs and also to extend the trans-Atlantic and trans-Pacific exchanges into further scientific fields and disciplines and geographic regions," said IU Director of International Networking James Williams, principal investigator for both the ACE and TransPAC3 projects. "Bandwidth procurement alone is not the purpose of the projects. Technical and operational collaboration and planning are critical in supporting science and engineering research. Education and research collaboration between the U.S., European, and Asian communities is our overarching mission."
One way in which this award will support the overarching mission of education is through the utilization of IU's Gerald L. Bepko Internship Program, which aims to identify, connect and work with students in populations that are under-represented in information technology. The funding from this award will provide undergraduates in the Bepko program an opportunity to work alongside IU network experts and gain real-world experience on an international scale.
This award will also provide much-needed support for important future research objectives in the Asian and European regions. For example, the International Thermonuclear Experimental Reactor in Southern France and the Australian Square Kilometre Array prototype Pathfinder international radio telescope -- both of which will depend on sharing large amounts of data among hundreds of widely distributed researchers -- will benefit greatly from TransPAC3 and ACE.
"These two awards from the National Science Foundation continue to expand IU's role in leading some of the world's most advanced networks," said Brad Wheeler, vice president for information technology at Indiana University. "There is real synergy in staff expertise for managing these research networks at the state, national and international levels. IU's growing Networks group continues to demonstrate this synergy and effectiveness through these awards and contracts."
Dai Davies, general manager of DANTE, builder and operator of the GÉANT and TEIN3 networks, adds, "Research is a global activity and is becoming increasingly important for seeking solutions to many of the societal issues facing the world. GÉANT and TEIN3 together interconnect with networks worldwide to support collaborative research programs between Asian, European and U.S. researchers. The ongoing demand for capacity increases means close collaboration amongst operators of research networks is vital for cost and technical reasons. This new award to ensure continued and improved connectivity between the USA, GÉANT in Europe and Asia is welcomed and we look forward to this relationship enduring in the years ahead."
About the partnerships
IU will lead the TransPAC3 collaboration in partnership with APAN and DANTE via the TEIN3 project, and in coordination with Internet2 and numerous other R&E networks that will be interconnected through the project.
On the ACE Project, IU will serve as the lead institution and will work in partnership with DANTE, NYSERNet, and Internet2, and in coordination with many national and multi-national R&E networks.
APAN (Asia Pacific Advanced Network) represents research and education interests across much of Asia.
DANTE is the operator of the pan-European network GÉANT and the TEIN3 project.
Internet2 is the leading U.S. research and educational networking organization, representing 300 member institutions and connecting thousands of institutions across the U.S.
NYSERNet, a private not-for-profit corporation created to foster science and education in New York State, is a partner in Manhattan Landing (MAN LAN), one of the premier U.S.-based international R&E exchange points.
###
Funding for ACE and TransPAC3 is provided by grants from the National Science Foundation titled "IRNC: ProNet: ACE -- America Connects to Europe" and "IRNC:ProNet: TransPAC3 -- Asia-US High Performance International Networking" under NSF Award Numbers OCI-0962973 and OCI-0962968. Any opinions, findings and conclusions or recommendations expressed in this material are those of the authors and do not necessarily reflect the views of the NSF.
---