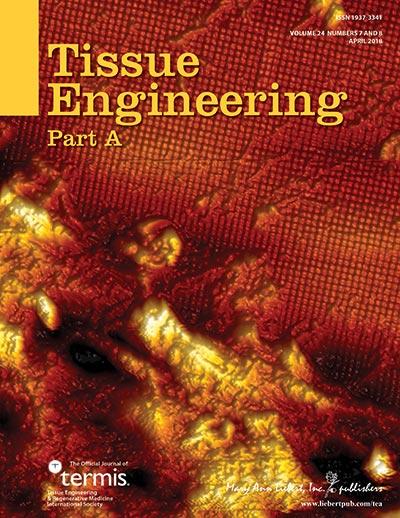 New Rochelle, NY, May 4, 2018--A new comparative study showed the advantages of using donor decellularized muscle to promote functional tissue regeneration at the site of bulk skeletal muscle loss due to trauma or surgery. Compared to an autologous muscle graft, a decellularized muscle matrix used to repair medium- and large-sized defects in rats resulted in enhanced muscle function recovery, muscle regeneration, and the formation of new neuromuscular junctions, as reported in an article published in Tissue Engineering, Part A, peer-reviewed journal from Mary Ann Liebert, Inc., publishers. The article is available free on the Tissue Engineering website until June 4, 2018.
The article entitled "Decellularized Muscle Supports New Muscle Fibers and Improves Function Following Volumetric Injury" was coauthored by Barbara Boyan, PhD, Virginia Commonwealth University (VCU), Richmond and Georgia Institute of Technology, Atlanta and colleagues from VCU and Musculoskeletal Transplant. Foundation, Edison, NJ and University of Texas Health Science Center at San Antonio. The researchers demonstrated less scar tissue formation and more new neuromuscular receptors using a decellularized muscle matrix than either a rat muscle autograft or collagen plugs to repair large muscle defects.
"This article demonstrated the potential of decellularized tissue grafts for use as scaffolds in tissue engineering applications," says Tissue Engineering Co-Editor-in-Chief Antonios G. Mikos, PhD, Louis Calder Professor at Rice University, Houston, TX.
###
About the Journal
Tissue Engineering is an authoritative peer-reviewed journal published monthly online and in print in three parts: Part A, the flagship journal published 24 times per year; Part B: Reviews, published bimonthly, and Part C: Methods, published 12 times per year. Led by Co-Editors-in-Chief Antonios G. Mikos, PhD, Louis Calder Professor at Rice University, Houston, TX, and John P. Fisher, PhD, Fischell Family Distinguished Professor & Department Chair, and Director of the NIH Center for Engineering Complex Tissues at the University of Maryland, the Journal brings together scientific and medical experts in the fields of biomedical engineering, material science, molecular and cellular biology, and genetic engineering. Leadership of Tissue Engineering Parts B (Reviews) and Part C (Methods) is provided by Katja Schenke-Layland, PhD, Eberhard Karls University, Tübingen and John A. Jansen, DDS, PhD, Radboud University, respectively. Tissue Engineering is the official journal of the Tissue Engineering & Regenerative Medicine International Society (TERMIS). Complete tables of content and a sample issue may be viewed on the Tissue Engineering website.
About the Publisher
Mary Ann Liebert, Inc., publishers is a privately held, fully integrated media company known for establishing authoritative peer-reviewed journals in many promising areas of science and biomedical research, including Stem Cells and Development, Human Gene Therapy, and Advances in Wound Care. Its biotechnology trade magazine, GEN (Genetic Engineering & Biotechnology News), was the first in its field and is today the industry's most widely read publication worldwide. A complete list of the firm's 80 journals, books, and newsmagazines is available on the Mary Ann Liebert, Inc., publishers website.
---