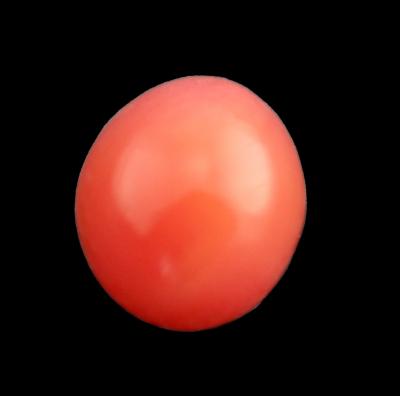 BOCA RATON, FL (November 4, 2009) – For more than 25 years, all attempts at culturing pearls from the queen conch (Strombus gigas) have been unsuccessful—until now. For the first time, novel and proprietary seeding techniques to produce beaded (nucleated) and non-beaded cultured pearls from the queen conch have been developed by scientists from Florida Atlantic University's Harbor Branch Oceanographic Institute (HBOI). With less than two years of research and experimentation, Drs. Héctor Acosta-Salmón and Megan Davis, co-inventors, have produced more than 200 cultured pearls using the techniques they developed. Prior to this breakthrough, no high-quality queen conch pearl had been cultured. This discovery opens up a unique opportunity to introduce a new gem to the industry. This significant accomplishment is comparable to that of the Japanese in the 1920s when they commercially applied the original pearl culture techniques developed for pearl oysters.
HBOI has been working with the Gemological Institute of America (GIA) to conduct extensive laboratory testing of the queen conch cultured pearls. In its independent analysis, GIA used techniques that included conventional gemological examination, chemical composition, spectroscopy, spectrometry and microscopy. HBOI and GIA plan to jointly publish the results of these trials in an upcoming issue of GIA's scientific journal, Gems & Gemology.
"This is a significant development for the pearl industry, and we were very excited to have the opportunity to closely examine these unique conch cultured pearls in our laboratory," said Tom Moses, senior vice president of the GIA Laboratory and Research. "Several of the pearls we examined are truly top-quality gems. With the equipment and expertise available at the GIA Laboratory, identification criteria are being compiled to separate queen conch cultured pearls from their natural counterparts."
Previous efforts to culture queen conch pearls were unsuccessful, probably because of the animal's sensitivity to traditional pearl seeding techniques and its complex shell. The spiral shape of the shell makes it virtually impossible to reach the gonad, one of the pearl-forming portions in pearl oysters, without endangering the animal's life.
"Perhaps the most significant outcome from our research is that the technique we have developed does not require sacrificing the conch in the process," said Davis. "The 100 percent survival rate of queen conch after seeding and the fact that it will produce another pearl after the first pearl is harvested will make this culturing process more efficient and environmentally sustainable for commercial application."
Survival of the animal is critical because commercial fishing has depleted the once-abundant wild populations of queen conch, and they are now considered a commercially threatened species in Florida and throughout the Caribbean.
There are basically two types of cultured pearls: nucleated (beaded) and non-nucleated (non-beaded). Nucleated cultured pearls are produced by inserting a piece of mantle tissue from a donor mollusk and a nucleus, usually a spherical piece of shell, into the body of a recipient mollusk. Non-nucleated pearls are produced by grafting only a piece or pieces of mantle tissue, and no bead is inserted.
"We used two different seeding techniques to induce pearl formation in the queen conch," said Acosta-Salmón. "One was a modification of the conventional technique used to produce cultured pearls in freshwater mussels, and the other was a modification of the conventional technique used in marine pearl oysters."
Conch pearls are formed by concentric layers of fibrous crystals, and this layering often produces the desired flame structure, which is characteristic of conch pearls. The pearls have a porcelain finish and luster like the interior of the conch shell, and come in a wide variety and combination of colors including white, red, pink, orange, yellow and brown. Queen conch pearls are measured in carats like traditional gemstones.
The size of the cultured pearls produced by Acosta-Salmón and Davis is controlled by the size of the bead and the culture time. The researchers have experimented with culture times from six months to two years; longer culture times may produce larger pearls. The queen conch is farmed in aquaculture tanks, and the queen conch cultured pearls in the initial harvest were grown in an aquaculture facility at HBOI. Queen conch achieve full size at about three years and have a life span of up to 40 years.
The queen conch is the largest molluscan gastropod of the six conch species found in the shallow seagrass beds of Florida, the Bahamas, Bermuda, the Caribbean Islands, and the northern coasts of Central and South America.
###
To learn more about these queen conch cultured pearls, go to the G&G eBrief electronic newsletter at www.gia.edu/gandg. For additional information, contact Jan Petri at 772-465-2400, ext. 241 or petri@hboi.fau.edu. To view a brief video, go to http://pubweb.fau.edu:16080/Research/Conch_Pearl_Press.wmv.
About the Inventors:
Héctor Acosta-Salmón, Ph.D. – Dr. Acosta-Salmón has been working in the fields of pearl culture and pearl quality for more than 12 years. He has conducted research with all the commercial species of pearl oysters including the akoya, the black-lip, the silver-lip, and the 'mabe' pearl oysters distributed in the Western Pacific, and also with the rainbow-lip, and the Panamanian pearl oysters from the Eastern Pacific. He focused on pearl oyster broodstock management and pearl quality during his doctoral studies at James Cook University in Australia. In 2006, he moved to Florida where he served as a post-doctoral investigator at HBOI bringing with him the pearl oyster culture technology which he utilized during his post-doctoral studies and research. His aim during his tenure with HBOI was to develop techniques to produce queen conch cultured pearls. Dr. Acosta-Salmón also served as an assistant research professor at HBOI until 2009, and is now associate scientist at Centro de Investigaciones Biológicas del Noroeste in La Paz, B.C.S., Mexico.
Megan Davis, Ph.D. – Dr. Davis has been working in aquaculture and marine science for 30 years. As co-founder of a commercial queen conch farm in the Turks and Caicos Islands, she developed commercial culture of conch from eggs to juveniles. She joined HBOI in 1996, and in 2000, she led an effort that succeeded in inducing egg laying in tank-reared conch, effectively closing the entire life cycle of the queen conch for use in aquaculture. She is the director for aquaculture and stock enhancement at HBOI. Her aquaculture skills with queen conch provided the necessary technology for the successful culture of queen conch pearls. Her other interests are to develop aquaculture species for food, stock enhancement and to ease fishing pressure on wild stocks. She actively works on projects with goals to produce aquaculture species and systems that are cost effective, energy efficient and environmentally sustainable. She has been involved in several aquaculture retraining and education outreach programs to assist individuals in advancing the aquaculture industry. Her primary research areas are aquaculture of queen conch, spiny lobsters and marine fish.
About Harbor Branch Oceanographic Institute:
Harbor Branch Oceanographic Institute at Florida Atlantic University is a research institute dedicated to exploration, innovation, conservation, and education related to the oceans. Harbor Branch was founded in 1971 as a private non-profit organization. In December 2007, Harbor Branch joined Florida Atlantic University. The institute specializes in ocean engineering, at-sea operations, drug discovery and biotechnology from the oceans, coastal ecology and conservation, marine mammal research and conservation, aquaculture, and marine education. For more information, visit www.hboi.fau.edu.
About Florida Atlantic University:
Florida Atlantic University opened its doors in 1964 as the fifth public university in Florida. Today, the University serves more than 28,000 undergraduate and graduate students on seven campuses. Building on its rich tradition as a teaching university, with a world-class faculty, FAU hosts ten colleges: College of Architecture, Urban & Public Affairs, Dorothy F. Schmidt College of Arts & Letters, the Charles E. Schmidt College of Biomedical Science, the College of Business, the College of Education, the College of Engineering & Computer Science, the Harriet L. Wilkes Honors College, the Graduate College, the Christine E. Lynn College of Nursing and the Charles E. Schmidt College of Science.
---