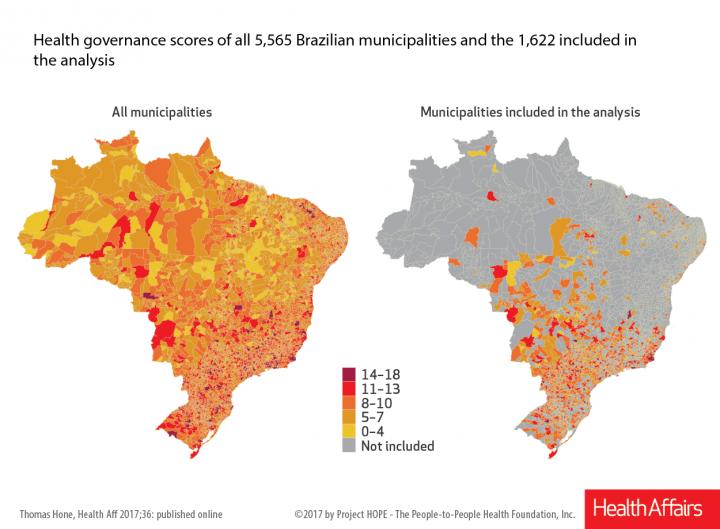 The January issue of Health Affairs includes a study that explores a much-discussed issue in global health: the role of governance in improving health, which is widely recognized as necessary but is difficult to tie to actual outcomes. In this study, Thomas Hone, of Imperial College London, and coauthors examine whether expansion of the Brazilian Estratégia de Saúde da Família (ESF; family health strategy), a community-based primary care program, reduced amenable mortality (mortality avoidable with timely and effective health care) and whether this association varied by municipal health governance. Using municipality data from Brazil for the years 2000-12, the authors found that while socioeconomic characteristics improved over the time period, increased primary care coverage was associated with reductions in rates of amenable mortality. They also measured the strength of local health governance within each municipality (see the exhibit below) and demonstrated that municipalities with the highest governance scores had the largest reductions in mortality. "Our findings indicate that expanding the provision of primary health care can have a substantial impact on mortality rates, but that strong local governance is essential to the implementation of effective services and the achievement of better health outcomes in terms of reduced amenable mortality rates," the authors conclude.
Also of interest in the January issue: Analysis & Commentary: Global Health: A Pivotal Moment Of Opportunity And Peril; Lawrence Gostin and Eric Friedman, both of the O'Neill Institute For National and Global Health Law at Georgetown University.
###
Health Affairs is the leading journal at the intersection of health, health care, and policy. Published by Project HOPE, the peer-reviewed journal appears each month in print, with additional Web First articles and health policy briefs published regularly at http://www.healthaffairs.org. You can also find the journal on Facebook and Twitter. Read daily perspectives on Health Affairs Blog. Download monthly Narrative Matters podcasts on iTunes. Tap into Health Affairs content with the iPad app.
---