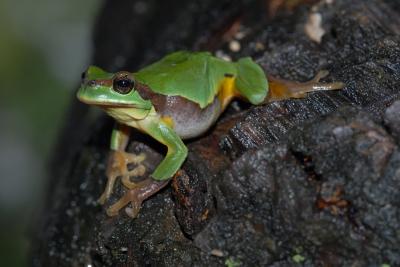 This release is available in Chinese.
Researchers in China have discovered the first protein-based toxin in an amphibian –a 60 amino acid neurotoxin found in the skin of a Chinese tree frog. This finding may help shed more light into both the evolution of amphibians and the evolution of poison.
While gene-encoded protein toxins have been identified in many vertebrate animals, including fish, reptiles and mammals, none have yet been found in amphibians or birds. In the case of poisonous amphibians, like the tropical poison dart frogs, their toxins are usually small chemicals like alkaloids that are extracted from insects and secreted onto the animal's skin.
Therefore, Ren Lai and colleagues were surprised to find a protein toxin while examining the secretions of the tree frog Hyla annectans. They then purified and characterized this new toxin, which they called anntoxin.
In protein sequence and structure, anntoxin was very similar to dendrotoxins (the venoms found in cobras and other mamba snakes) and cone snail toxins, though anntoxin only has two disulfide bridges (a strong link that helps keep proteins folded) compared to three in the other types. The slight differences may account for why anntoxin does not block potassium channels as the other venoms do, but rather sodium channels important for signaling in sensory nerves.
Like these other venoms, though, anntoxin is fast-acting and potent; the researchers found it could produce rapid convulsions, paralysis and respiratory distress in several would-be predators like snakes and birds.
The similarities and differences make anntoxin a very valuable protein for further study, considering amphibians' special niche as the animals bridging the evolutionary land-water gap.
###
From the Article: "The first gene-encoded amphibian neurotoxin" by Dewen You, Jing Hong, Mingqiang Rong, Haining Yu, Songping Liang, Yufang Ma, Hailong Yang, Jing Wu, Donghai Lin and Ren Lai
Article link: http://www.jbc.org/cgi/content/abstract/284/33/22079
Corresponding Authors:
Ren Lai, Kunming Institute of Zoology, Chinese Academy of Sciences, Yunnan, China; rlai@mail.kiz.ac.cn Donghai Lin, Shanghai Institute of Materia Medica, Chinese Academy of Sciences, Shanghai, China; dhlin@mail.shcnc.ac.cn
The American Society for Biochemistry and Molecular Biology is a nonprofit scientific and educational organization with over 12,000 members in the United States and internationally. Most members teach and conduct research at colleges and universities. Others conduct research in various government laboratories, nonprofit research institutions and industry. The Society's student members attend undergraduate or graduate institutions.
Founded in 1906, the Society is based in Bethesda, Maryland, on the campus of the Federation of American Societies for Experimental Biology. The Society's purpose is to advance the science of biochemistry and molecular biology through publication of the Journal of Biological Chemistry, the Journal of Lipid Research, and Molecular and Cellular Proteomics, organization of scientific meetings, advocacy for funding of basic research and education, support of science education at all levels, and promoting the diversity of individuals entering the scientific work force.
For more information about ASBMB, see the Society's Web site at www.asbmb.org.
---
Journal
Journal of Biological Chemistry