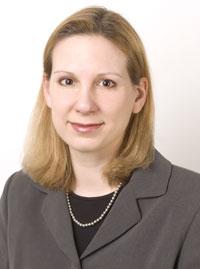 AMHERST, Mass. ¬– The estimated 10 percent of women in Western nations who enter menopause before age 45 have an elevated risk of cardiovascular disease, as well as lower fertility. Now epidemiologist Elizabeth Bertone-Johnson at the University of Massachusetts Amherst is conducting the first large study to investigate whether vitamin D deficiency, inflammatory factors, hormones and other factors are associated with risk of early menopause, funded by NIH.
Bertone-Johnson recently received a five-year, $3.1 million grant from NIH's Eunice Kennedy Shriver National Institute of Child Health and Human Development to determine how biochemical, reproductive, dietary and lifestyle factors are related to risk of early menopause among members of the Nurses' Health Study II (NHS2), an ongoing prospective study of 116,000 women aged 25-42 when they entered the study in 1989.
As she explains, more than 3,500 NHS2 participants experienced early menopause during the 24 years observation period, including 500 women who provided a blood sample up to 15 years before entering menopause.
"Our study in the NHS2 will be among the first to evaluate how these factors collectively predict risk of early menopause," Bertone-Johnson says. "To our knowledge, it will be not only the first to look at vitamin D and inflammatory factors, but also among the first to address whether women at high risk for early menopause may be able to slow early decline in their reproductive function."
The epidemiologist says this work is an important first step in developing new interventions that might then be tested in clinical trials. "Being able to identify women at risk for early menopause before their fertility declines would improve our options for treatment and prevention," she notes. "We need a better understanding of how early menopause is affected by factors that women can control, such as diet, physical activity, smoking and contraceptive use."
Few large prospective studies that evaluate how multiple risk factors simultaneously impact early menopause, Bertone-Johnson says. She and colleagues at the Harvard School of Public Health plan to first evaluate whether anti-Müllerian hormone (AMH) levels predicts risk of early menopause, comparing levels in 500 women with early natural menopause to levels in 500 matched controls with menopause at older ages. AMH is expressed in a woman's ovaries and has been identified as a biological measure of reproductive age.
The study will also determine whether biochemical and behavior factors are associated with baseline AMH levels and the rate of AMH decline over a 10-year period.
Further, to understand better how early menopause develops, the researchers will prospectively evaluate how risk is related to inflammation markers including C-reactive protein, interleukin-6, and tumor necrosis factor alpha receptor 2; total and bioavailable vitamin D levels, and reproductive, dietary and lifestyle factors.
Lastly, Bertone-Johnson and colleagues will develop prediction and etiologic models for early menopause that incorporate all of this information. She says, "We hope this work will be an important first step in developing new ways to delay early decline in reproductive function in at-risk women."
###
---