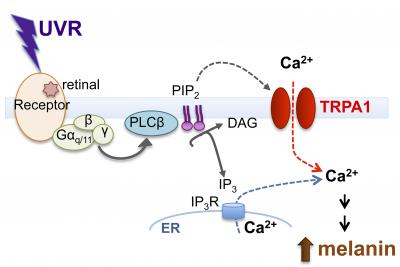 The ultraviolet radiation (UVR) present in sunlight is the most common environmental carcinogen, and long-term exposure to UVR can lead to skin cancer and premature aging of the skin. To develop better methods of protection from the sun, we need to understand how the human skin detects and responds to UVR. A study in The Journal of General Physiology provides new insight into the molecular pathway underlying this process.
Skin cells called melanocytes respond to UVR by increasing the skin's pigmentation, a protective mechanism otherwise known as tanning. But the exact details of the early stages of the response to UVR are poorly understood. Now, researchers from Brown University have identified key elements of the UVR-activated pathway in skin.
The researchers identified a specific protein involved in mediating the skin's response to UVR as well as some downstream elements in the pathway. Intriguingly, their data suggest that, in melanocytes responding to UVR, the signal transduction cascade (the process by which an external stimulus leads to a response inside a cell) resembles a light-activated pathway in the eye.
More research is needed to identify other key players in this newly characterized UVR response pathway. As these remaining gaps are filled, researchers can use the information to develop better methods for protecting the human skin from the damaging effects of sun exposure.
###
Bellono, N.W., et al. 2014. J. Gen. Physiol. doi:10.1085/jgp.201311094
About The Journal of General Physiology
Founded in 1918, The Journal of General Physiology (JGP) is published by The Rockefeller University Press. All editorial decisions on manuscripts submitted are made by active scientists in conjunction with our in-house scientific editor. JGP content is posted to PubMed Central, where it is available to the public for free six months after publication. Authors retain copyright of their published works and third parties may reuse the content for non-commercial purposes under a creative commons license. For more information, please visit http://www.jgp.org.
Research reported in the press release was supported by Brown University, the National Institutes of Health, and the National Science Foundation.
---
Journal
Journal of General Physiology