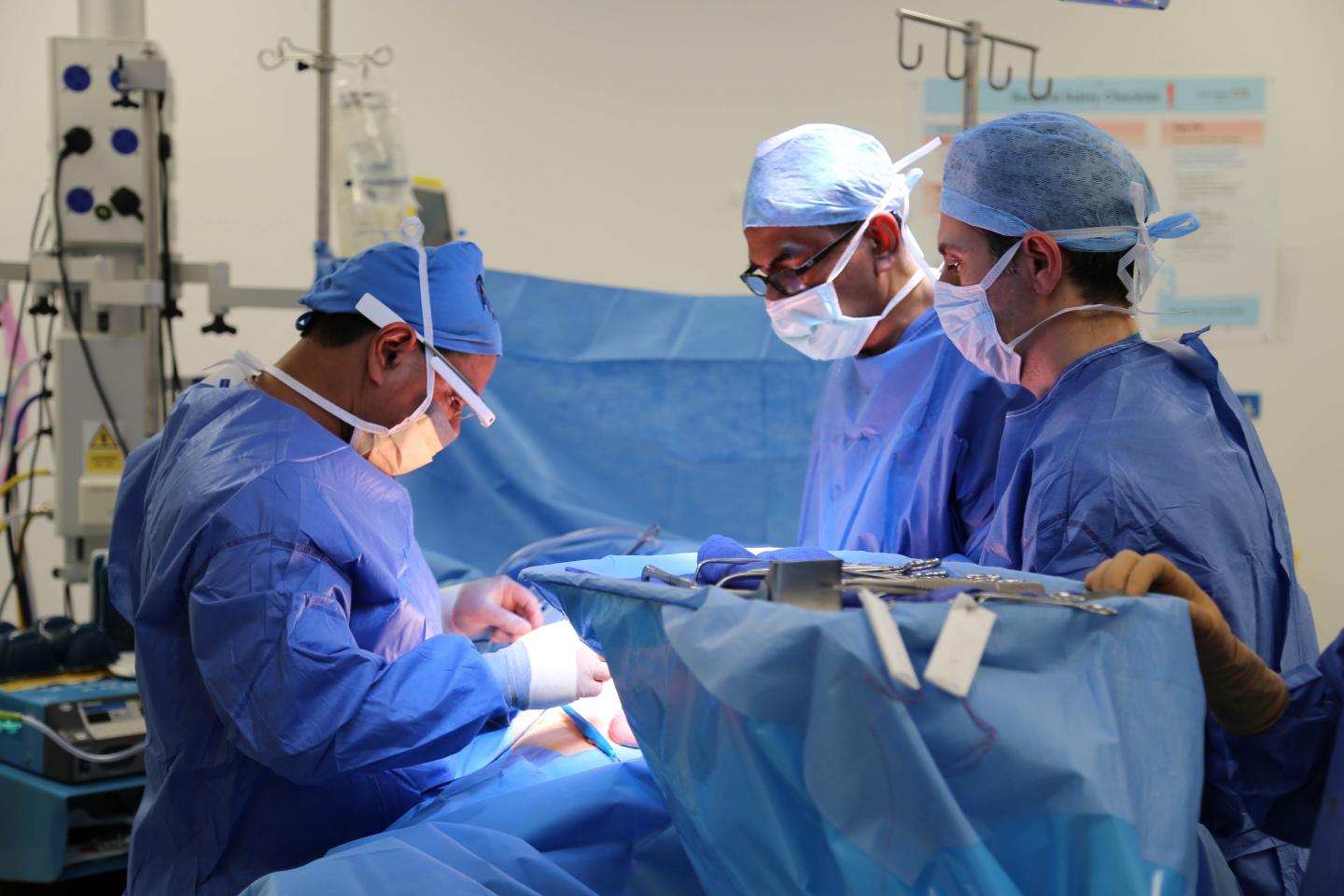 Professor Shafi Ahmed from Barts and The London School of Medicine and Dentistry, Queen Mary University of London and The Royal London Hospital has won a prestigious award to mark the NHS's 70th birthday.
Nominated by Rushanara Ali, MP for Bethnal Green and Bow, Professor Ahmed was announced as the countrywide winner of the NHS England Future NHS Award category at a special ceremony in the Palace of Westminster today - the day before the NHS's 70th birthday.
Mr Ahmed was among ten winners - selected from more than 750 nominations submitted by over 250 MPs - to receive their awards at a ceremony on the Palace of Westminster's Terrace Pavilion, hosted by Dr Sara Kayat, NHS GP & TV Doctor.
Professor Shafi Ahmed, Lecturer in Surgery at Barts and The London School of Medicine and Dentistry, Queen Mary, and Consultant General, Laparoscopic and Colorectal Surgeon at Barts Health NHS Trust said: "It is humbling to be chosen as the winner in the Future NHS Award category of the NHS70 Parliamentary Awards. Technology and innovation will undoubtedly help solve some of the problems within any health system and will ultimately make healthcare and medical education more affordable, accessible and equitable around the world."
Dubbed 'the virtual surgeon', Professor Shafi Ahmed has pioneered the use of technology during surgery. In 2014 he was the first surgeon to use Google Glass to aid the learning of surgical students by transporting 13,000 people from 115 countries directly into the operating theatre at The Royal London Hospital. The students were able to type questions as they watched from Professor Ahmed's point of view, and their queries appeared on his Google Glasses so he could answer them verbally to all viewers as he operated.
While trainee physicians have traditionally had to settle for looking over the shoulder of a surgeon, his use of technology has advanced learning by enabling students at Barts and The London School of Medicine and Dentistry and beyond to position themselves anywhere and view operations from all angles.
Barts and The London was also the first medical school in the world to embed innovation and entrepreneurship into the curriculum under Professor Ahmed's leadership, through the introduction of the Barts X Medicine programme.
Professor Steve Thornton, Vice Principal (Health) at Barts and The London School of Medicine and Dentistry, Queen Mary University of London, said: "We are incredibly proud that Shafi Ahmed's contributions have been recognised with such a high profile award. Through his introduction of new technology, we've been able to push the boundaries of medical education by offering unprecedented views of live surgical procedures, and embed innovation and entrepreneurship into our curriculum."
Alwen Williams, Chief Executive of Barts Health NHS Trust said: "It is wonderful that Professor Ahmed's dedication to advancing the quality and safety of healthcare has been recognised on a national scale. He is a highly valued member of our world-renowned surgical team at The Royal London Hospital. I am proud of all he has accomplished in embracing technology to lead the way for the NHS."
Professor Ahmed has also live-streamed an operation around the world using virtual reality technology to 55,000 live viewers, designed to give viewers the feeling that they are in the operating theatre. He has undertaken similar initiatives using Snapchat Spectacles which has been seen by over 2 million people.
Dr Neil Churchill OBE, Director for Experience, Participation & Equalities at NHS England, said: "Professor Ahmed is a great example of the kind of pioneer that the NHS has fostered throughout its 70 years, benefiting both patients here and millions of others around the world. By using the power of technology to make contact and share his skills with countless more colleagues and students than could otherwise have been possible, he has personified the reach, inclusivity and innovation of the future NHS and so is a very deserving recipient of this award."
###
Notes to Editors
High res photographs can be downloaded at: http://bit.ly/2zc0n5m
The NHS70 Parliamentary Awards, sponsored by IBM and Teva, were launched in February to recognise the massive contribution made by the individuals who work in and alongside the NHS.
MPs in England were asked to nominate individuals and teams serving their constituents across ten categories. Regional champions were selected in May, with the national winners chosen by a panel of senior leaders representing staff and patients.
The award was judged by a panel including the leaders of Royal Colleges, the Unison trade union, and the Patients Association - collectively representing millions of health and care workers and patients.
Barts Health NHS Trust
With a turnover of £1.4 billion and a workforce of around 16,000, Barts Health is the largest NHS trust in the country, and one of Britain's leading healthcare providers. The Trust's five hospitals - St Bartholomew's Hospital in the City, including the Barts Heart Centre, The Royal London Hospital in Whitechapel, Newham University Hospital in Plaistow, Whipps Cross University Hospital in Leytonstone and Mile End - deliver high quality compassionate care to the 2.5 million people of East London and beyond.
Queen Mary University of London
Queen Mary University of London is one of the UK's leading universities with 25,332 students representing more than 160 nationalities.
A member of the Russell Group, we work across the humanities and social sciences, medicine and dentistry, and science and engineering, with inspirational teaching directly informed by our research. In the most recent national assessment of the quality of research, we were placed ninth in the UK amongst multi-faculty universities (Research Excellence Framework 2014).
As well as our main site at Mile End - which is home to one of the largest self-contained residential campuses in London - we have campuses at Whitechapel, Charterhouse Square, and West Smithfield dedicated to the study of medicine and dentistry, and a base for legal studies at Lincoln's Inn Fields.
Queen Mary began life as the People's Palace, a Victorian philanthropic project designed to bring culture, recreation and education to the people of the East End. We also have roots in Westfield College, one of the first colleges to provide higher education to women; St Bartholomew's Hospital, one of the first public hospitals in Europe; and The London, one of England's first medical schools.
---