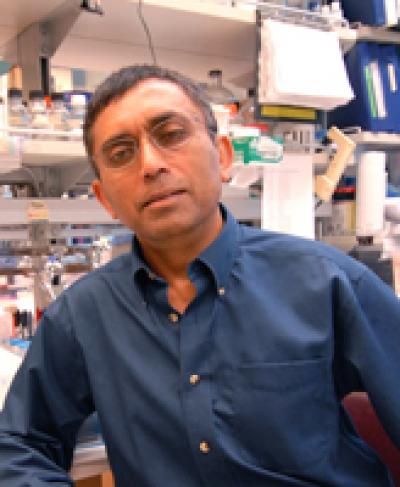 Scientists at the University of California, San Diego School of Medicine have received a major 7-year, $18 million grant to begin translating emerging discoveries in the field of glycosciences into new discoveries and therapies related to heart, lung and blood diseases.
Glycobiology is the study of glycans (carbohydrate chains) and their crucial roles in molecular and cellular biology. The grant from the National Heart, Lung and Blood Institute (NHLBI) under its new "Program of Excellence in Glycosciences" (PEG) will be headed by Ajit Varki, MD, professor of medicine and cellular and molecular medicine and co-director of UC San Diego's Glycobiology Research and Training Center (GRTC). A key component of the grant will be to train new generations of scientists who understand glycans. It will be led by Jeff Esko, PhD, professor of cellular and molecular medicine and the other co-director of the GRTC.
The NHLBI program highlights the growing importance of glycans in heart, lung and blood disease research. The PEG grant has several goals: To train future generations of scientists fluent in both glycan chemistry and biology; to facilitate national collaborations; to disseminate important research findings; and to develop and expand core facilities across the country devoted to supporting the diverse endeavors of glycoscience. Because of its well-established presence and prominence in the field, UC San Diego School of Medicine and the GRTC have been selected by NHLBI to take the lead role in coordinating the program interactions among the new PEG-funded institutions, which include Harvard University, the Cleveland Clinic and Johns Hopkins University.
"We are particularly well-suited for this role," said Varki, who is also executive editor of the major textbook on glycobiology. "The GRTC is one of the few such centers in the world. And there's an entrepreneurial spirit here at UC San Diego that's rare and special. It encourages researchers to come together and collaborate in ways not seen elsewhere."
Glycans are sugar molecules ubiquitously found on the surfaces of all mammalian cells, where they typically interact with other molecules to influence a wide variety of cellular activities, including immune system function, inflammation, angiogenesis and a variety of disease processes.
"In the past, glycans were not an integral part of molecular biology studies because they were more difficult to analyze," said Varki, whose recent published work has linked glycans called sialic acids to inflammation and the biology of cancer and diabetes. "However, they are important molecules in all biological systems and the technology is now here to integrate them fully. Following the earlier lead of the National Institute of General Medical Sciences and the National Cancer Institute, the NHLBI has now established this special PEG program to recognize and support this transition."
The educational component led by Esko will train "scientifically bilingual" investigators conversant in glycan chemistry and biology and capable of conducting multidisciplinary research. It will provide mentored research experiences that include hands-on and didactic training in basic glycosciences, with clinical correlations and biotechnology applications. This will increase the number of highly trained, committed investigators pursuing careers in the glycosciences in academia, medicine and the private sector.
At UC San Diego, the NHLBI grant will focus on glycan modulation of inflammatory responses and fund four collaborative projects: A project lead by Varki will elucidate how a family of sialic-binding molecules called siglecs regulates the immune response. A project headed by Esko will study how molecules called glycosaminoglycans regulate white blood cells and blood vessel biology. Victor Nizet MD, professor of pediatrics and pharmacology, will study how white blood cells deal with microbes that mimic host glycans or that produce enzymes to destroy them. And Richard Gallo, MD, PhD, professor of medicine, will investigate another glycan called hyaluronan and its role in inflammation. These highly collaborative studies of how glycans modulate the inflammatory process have relevance to a wide variety of diseases in which inflammation plays a major role, from cancer to heart attacks to infections.
"Glycobiology is a very important aspect of biological science that deserves a great deal of attention," said Shu Chien, MD, PhD, director of UC San Diego's Institute of Engineering in Medicine and an advisor to the PEG effort. "Dr. Varki and his colleagues are world leaders in this field. The funding of their excellent proposal will allow these talented scientists to work as a team to make innovative discoveries that will advance our fundamental knowledge and enable clinical translation to a variety of important diseases."
All of these projects will be strongly supported via Core facilities run by Nissi Varki, MD, professor of pathology and Core Director for multiple UCSD Histology Cores; Dzung Le, MD, PhD, director of the UCSD Murine Hematology and Coagulation Core Laboratory and Biswa Choudhury, technical director of the GRTC Glycotechnology Core.
Distinguished local advisors to the PEG include Michael Karin, PhD, Distinguished Professor of Pharmacology and Pathology at UCSD's Laboratory of Gene Regulation and Signal Transduction and Moores Cancer Center; Anjana Rao, PhD, adjunct professor of pharmacology and Professor at the La Jolla Institute of Allergy and Immunology; and Christopher Glass, MD, PhD, professor in the department of cellular and molecular medicine and the department of medicine.
###
---