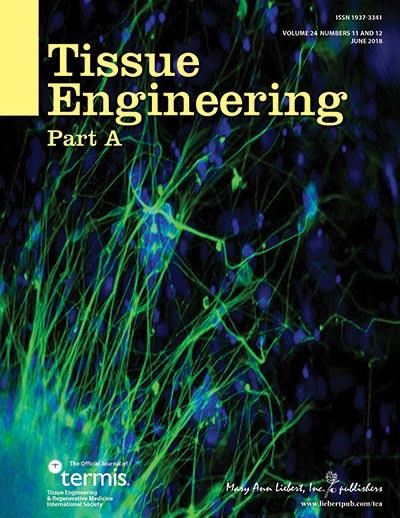 New Rochelle, NY, June 13, 2018 -- Researchers have demonstrated that a novel biocompatible adhesive made of two naturally derived polymers is 15 times stronger than adhesive materials currently used for nerve reconstruction and can support the survival, extension, and proliferation of cells essential for nerve regeneration. The study showing the regenerative potential of this new hydrogel adhesive in vitro and when implanted in a mouse model of suture-less repair of sciatic nerves is published in Tissue Engineering, Part A, peer-reviewed journal from Mary Ann Liebert, Inc., publishers. The article is available free on the https://www.liebertpub.com/doi/full/10.1089/ten.tea.2017.0502) until July 13, 2018.
Ryan Koppes, Northeastern University (Boston, MA), Nasim Annabi, Northeastern U. and Massachusetts Institute of Technology (Cambridge, MA), and coauthors from Tecnológico de Monterrey (Mexico) and University of Sydney (Australia) describe the materials and technique they developed in the article entitled "Photocrosslinkable Gelatin/Tropoelastin Hydrogel Adhesives for Peripheral Nerve Repair." The researchers used photocrosslinking to combine two polymers with distinct biophysical and biochemical characteristics to form the adhesive hydrogel. This produced a material with improved adhesive strength compared to conventional fibrin-based adhesives, and with the desired mechanical stability, nerve regenerative capability, and biodegradable and immunogenic properties.
"This article presents the development of a regenerative biomaterial that has designer mechanical properties and adhesive characteristics and addresses an important clinical need for nerve regeneration," says Tissue Engineering Co-Editor-in-Chief Antonios G. Mikos, PhD, Louis Calder Professor at Rice University, Houston, TX.
###
Research reported in this publication was supported by the National Institutes of Health under Award Numbers R01EB023052 and R01HL140618. The content is solely the responsibility of the authors and does not necessarily represent the official views of the National Institutes of Health.
About the Journal
Tissue Engineering is an authoritative peer-reviewed journal published monthly online and in print in three parts: Part A, the flagship journal published 24 times per year; Part B: Reviews, published bimonthly, and Part C: Methods, published 12 times per year. Led by Co-Editors-in-Chief Antonios G. Mikos, PhD, Louis Calder Professor at Rice University, Houston, TX, and John P. Fisher, PhD, Fischell Family Distinguished Professor & Department Chair, and Director of the NIH Center for Engineering Complex Tissues at the University of Maryland, the Journal brings together scientific and medical experts in the fields of biomedical engineering, material science, molecular and cellular biology, and genetic engineering. Leadership of Tissue Engineering Parts B (Reviews) and Part C (Methods) is provided by Katja Schenke-Layland, PhD, Eberhard Karls University, Tübingen and John A. Jansen, DDS, PhD, Radboud University, respectively. Tissue Engineering is the official journal of the Tissue Engineering & Regenerative Medicine International Society (TERMIS). Complete tables of content and a sample issue may be viewed on the Tissue Engineering website.
About the Publisher
Mary Ann Liebert, Inc., publishers is a privately held, fully integrated media company known for establishing authoritative peer-reviewed journals in many promising areas of science and biomedical research, including Stem Cells and Development, Human Gene Therapy, and Advances in Wound Care. Its biotechnology trade magazine, GEN (Genetic Engineering & Biotechnology News), was the first in its field and is today the industry's most widely read publication worldwide. A complete list of the firm's 80 journals, books, and newsmagazines is available on the Mary Ann Liebert, Inc., publishers website.
---
Journal
Tissue Engineering