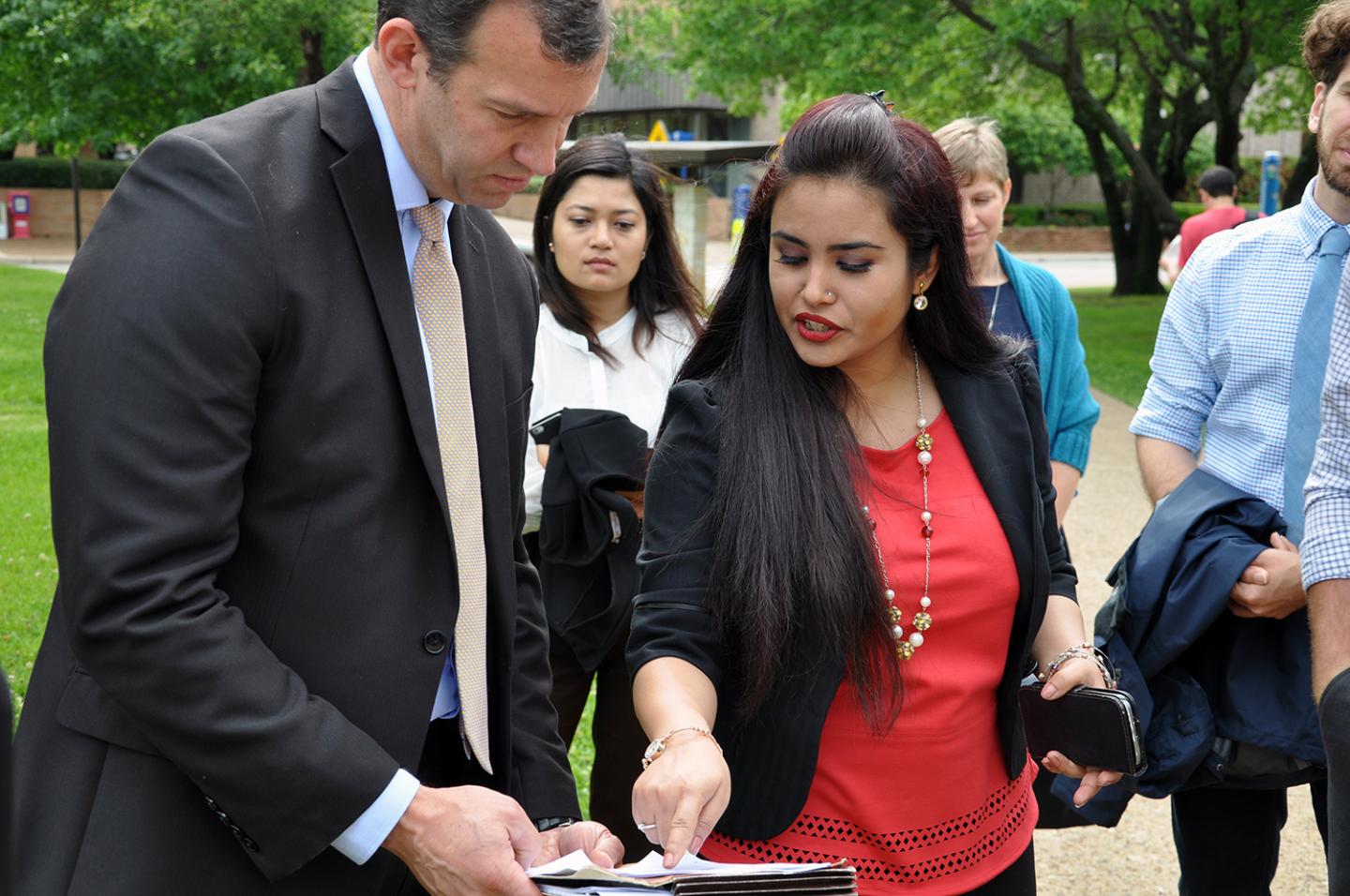 A University of Texas at Arlington student team's design to reduce stormwater runoff that could result from future campus construction projects has won a national Environmental Protection Agency's Office of Water award as part of the agency's 2015 Campus RainWorks Challenge.
The College of Architecture, Planning and Public Affairs team included landscape architecture graduate students Baishaki Biswas, Sherry Fabricant, Jacob Schwarz and Ahoura Zandiatashbar, a doctoral student in urban planning and public policy. Their winning entry in the Master Plan category was called "Eco-Flow: A Water-Sensitive Placemaking Response to Climate Change" and centered on water runoff rates at sites of potential UTA student living, dining, recreation and parking facilities.
Teams were asked to present an innovative, green infrastructure project for a location on campus. The UTA CAPPA students used an EPA model calculator to compare stormwater runoff and climate change-related issues from the study site as it exists today and projected the impact if future design and construction were to follow low-impact, environmentally sensitive strategies.
The interdisciplinary team recommended reducing non-permeable surfaces by 20 percent, decreasing heat contributions by 22 percent and increasing the tree canopy in the project area by 50 percent. As a result, the model indicated stormwater absorption rates at the site increased 60 percent during a storm event, significantly reducing downstream flooding.
Eco Flow Team member Schwarz said: "It was an honor to participate with my team for this intriguing challenge. We applied the theoretical knowledge we've gained in the classroom to develop a feasible means of reducing the negative impacts of stormwater runoff including pollution of our water sources and flooding."
Now in its fourth year, the EPA competition has grown steadily with 77 submissions from schools in 26 states in 2015. The winning teams will be awarded a student prize of $2,000 to be evenly divided team members, as well as a faculty prize of $3,000 to support green infrastructure research or training.
"Our Campus RainWorks Challenge winners inspire the next generation of green infrastructure designers and planners," said Joel Beauvais, deputy assistant administrator for the EPA's Office of Water. "All the submissions included innovative approaches to stormwater management. I want to congratulate The University of Texas at Arlington for their impressive, winning submission."
Another UTA team received honorable mention for its project submission, "Innovation Park at The University of Texas at Arlington: Research and Innovation in a Changing Climate." That team included landscape architecture master's students Layal Bitar-Ghanem, Kerry Gray-Harrison, Riza Pradhan and doctoral candidate Somayeh Moazzeni of urban planning and public policy.
The Innovation Park concept would transform 17 acres of parking lots to incorporate bioswales, living walls and green roofs to reduce heat gain on vertical and horizontal surfaces. The project model indicates that for a two-inch storm event, these changes would result in a reduction of runoff at the site from the current 817,931 untreated gallons to 283,630 gallons of bio-filtered water.
Taner Ozdil, associate professor of landscape architecture, served as faculty adviser for both teams. These projects were completed as part of the Landscape Architecture program's Urban Landscape Design Studio during the Fall 2015 semester.
"Both of our student teams developed innovative and compelling approaches to using green infrastructure to lessen the impacts of storm water runoff and to respond to the effects of climate change," he said. "This is a highly competitive challenge with dozens of teams from some of the best schools in the nation. I am very proud of what our students have accomplished."
CAPPA Dean Nan Ellin said the students' performance demonstrates the University's commitment to enabling a globally sensitive and sustainable megacity as outlined in the Strategic Plan 2020: Bold Solutions | Global Impact.
"Our programs at CAPPA focus on generating positive change for places, and making our communities healthier and more sustainable" Ellin said. "We are preparing tomorrow's pioneers and leaders in urban planning and building in harmony with nature. The performance of our students at the Campus RainWorks Challenge is testimony to that effort."
The Campus RainWorks Challenge is designed to engage students in reinventing our water infrastructure and addressing the effects of climate change. In most developed areas, stormwater is drained through engineered collection systems and discharged into nearby water bodies. This stormwater carries trash, bacteria, heavy metals and other pollutants from the urban landscape, degrading water quality. Green infrastructure refers to systems and practices that use or mimic natural processes to infiltrate, evaporation/plant transpiration or harvest stormwater at its source.
The RainWorks Challenge is intended to provide a hands-on, interdisciplinary learning experience to encourage students to learn about the impacts of climate change and demonstrate how the use of green infrastructure practices can build resiliency to those impacts while effectively managing stormwater runoff.
###
About the UTA College of Architecture, Planning and Public Affairs
Established in 2015, the UTA College of Architecture, Planning and Public Affairs unites the former schools of Architecture and Urban and Public Affairs in one of the nation's premier programs in architecture, interior design, landscape architecture, planning, public administration and public policy. The College includes the David Dillon Center for Texas Architecture, the Digital Architectural Research Consortium, the Institute of Urban Studies, the Arlington Urban Design Center based at Arlington City Hall, the Center for Metropolitan Density and the Parallel Construction design/build program. U.S. News & World Report ranked the Master of Public Administration among the nation's best on its 2017 list of best public affairs programs, while the online MPA was No. 7 on GraduatePrograms.com's Spring 2015 list public administration programs ranked by current and recent graduate students.

About The University of Texas at Arlington
The University of Texas at Arlington is a Carnegie "highest research activity" institution of more than 52,000 students in campus-based and online degree programs and is the second-largest institution in The University of Texas System. U.S. News & World Report ranks UTA fifth in the nation for undergraduate diversity. The University is a Hispanic-Serving Institution and is ranked as the top four-year college in Texas for veterans on Military Times' 2016 Best for Vets list. Visit http://www.uta.edu to learn more, and find UTA rankings and recognition at http://www.uta.edu/uta/about/rankings.php.
---