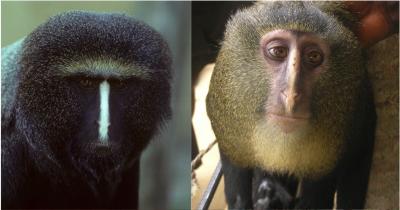 Researchers have identified a new species of African monkey, locally known as the lesula, described in the Sep. 12 issue of the open access journal PLOS ONE. This is only the second new species of African monkey discovered in the last 28 years.
The first lesula found was a young captive animal seen in 2007 in a school director's compound in the town of Opala in the Democratic Republic of Congo. The young monkey bore a resemblance to the owl faced monkey, but its coloration was unlike that of any other known species.
Over the following three years, the study authors located additional lesula in the wild, determined its genetic and anatomical distinctiveness, and made initial observations of its behavior and ecology, as reported in the PLOS ONE paper.
The new species' range covers about 6,500 square miles in central DRC, in what was one of Congo's last biologically unexplored forest blocks. Although its range is remote and only lightly settled at present, the lesula is threatened by local bush meat hunting.
"The challenge for conservation now in Congo is to intervene before losses become definitive," say John and Terese Hart, who led the project. "Species with small ranges like the lesula can move from vulnerable to seriously endangered over the course of just a few years."
###
Citation: Hart JA, Detwiler KM, Gilbert CC, Burrell AS, Fuller JL, et al. (2012) Lesula: A New Species of Cercopithecus Monkey Endemic to the Democratic Republic of Congo and Implications for Conservation of Congo's Central Basin. PLOS ONE 7(9): e44271. doi:10.1371/journal.pone.0044271
Financial Disclosure: The research was supported by Arcus Foundation (http://www.arcusfoundation.org/), United States Fish and Wildlife Service (http://www.fws.gov/grants/ ), a grant from Edith McBean, Abraham Foundation (http://abrahamfoundation.org/cms/), Margot Marsh Biodiversity Foundation Grant, and a Gaylord Donnelley Environmental Postdoctoral Fellowship from the Yale Institute for Biospheric Studies (http://www.yale.edu/yibs/programs_donnelley.html). The funders had no role in study design, data collection and analysis, decision to publish, or preparation of the manuscript.
Competing Interest Statement: The authors have declared that no competing interests exist.
Disclaimer: This press release refers to upcoming articles in PLOS ONE. The releases have been provided by the article authors and/or journal staff. Any opinions expressed in these are the personal views of the contributors, and do not necessarily represent the views or policies of PLOS. PLOS expressly disclaims any and all warranties and liability in connection with the information found in the release and article and your use of such information.
About PLOS ONE
PLOS ONE is the first journal of primary research from all areas of science to employ a combination of peer review and post-publication rating and commenting, to maximize the impact of every report it publishes. PLOS ONE is published by the Public Library of Science (PLOS), the open-access publisher whose goal is to make the world's scientific and medical literature a public resource.
All works published in PLOS ONE are Open Access. Everything is immediately available—to read, download, redistribute, include in databases and otherwise use—without cost to anyone, anywhere, subject only to the condition that the original authors and source are properly attributed. For more information about PLOS ONE relevant to journalists, bloggers and press officers, including details of our press release process and our embargo policy, see the everyONE blog at http://everyone.plos.org/media.
---