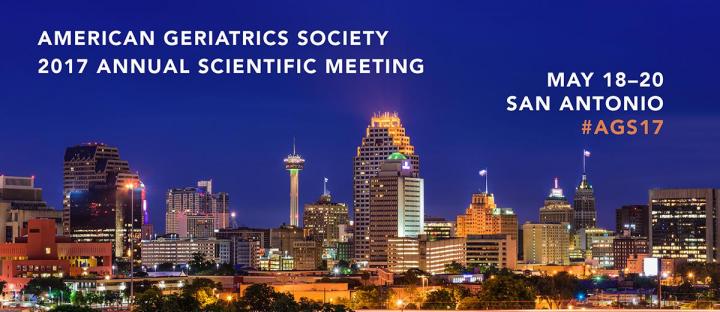 The American Geriatrics Society (AGS) has named Fatima Sheikh, MD, CMD, MPH, Medical Director at FutureCare in Maryland and Assistant Professor at Johns Hopkins University School of Medicine, the 2017 AGS Clinician of the Year. In her work across post-acute and long-term care, Dr. Sheikh is recognized not only as a skilled physician serving the needs of particularly frail older adults in the Baltimore area but also as a dedicated mentor for a diverse and growing interprofessional team. Dr. Sheikh will be honored at the AGS 2017 Annual Scientific Meeting (May 18-20 in San Antonio, Texas).
"Geriatrics expertise is complex and multifaceted, and that's especially true when working with frail older adults like those cared for by Dr. Sheikh," notes AGS President Ellen Flaherty, PhD, APRN, AGSF. "Dr. Sheikh and the healthcare professionals fortunate enough to learn from her are setting a new standard for what it means to provide high-quality, person-centered care."
With a professional interest in improving long-term care for residents of skilled nursing facilities, Dr. Sheikh has championed several programs at FutureCare for managing multiple chronic conditions and transitions to and from the hospital--both critical components of long-term care for older adults. In 2012, for example, Dr. Sheikh played a key role to establish the Johns Hopkins Community Partnership Skilled Nursing Facility Collaborative, one of five Johns Hopkins University community health projects funded by the Centers for Medicare and Medicaid Services Innovation Center.
And as these programs enhance the broader setting for geriatrics expertise, Dr. Sheikh has remained equally committed to high-quality care as a clinician and a mentor. Dr. Sheikh is recognized for her skill in conducting Advance Care Planning--an innovative service for documenting care preferences and one only recently recognized for Medicare beneficiaries. She continues to work with colleagues and fellows from the Johns Hopkins University School of Medicine on the nuances of geriatrics care, particularly when it comes to navigating cultural competency for diverse older adults and their families.
"The most exciting experience for me in taking care of older adults is listening to their life stories," notes Dr. Sheikh. "And the most rewarding experience is when I can help make their end-of-life as comfortable and peaceful as possible."
Dr. Sheikh has been a member of the AGS since 2011, when she first began her fellowship in geriatrics. She is board-certified in internal and geriatric medicine, and continues to balance her clinical career in geriatrics with research on health system innovation and improvements to care quality.
The AGS Clinician of the Year Award recognizes exceptional health professionals who deliver outstanding care to older adults and who model the importance of geriatrics for our country's growing older adult population. It is one of several honors conferred by the AGS at its Annual Scientific Meeting--held this year in San Antonio, Texas., May 18-20. The 2017 award recipients include more than 15 healthcare leaders representing the depth and breadth of disciplines championing care for older adults. For more information, visit AmericanGeriatrics.org.
###
About the American Geriatrics Society
Founded in 1942, the American Geriatrics Society (AGS) is a nationwide, not-for-profit society of geriatrics healthcare professionals that has--for 75 years--worked to improve the health, independence, and quality of life of older people. Its nearly 6,000 members include geriatricians, geriatric nurses, social workers, family practitioners, physician assistants, pharmacists, and internists. The Society provides leadership to healthcare professionals, policymakers, and the public by implementing and advocating for programs in patient care, research, professional and public education, and public policy. For more information, visit AmericanGeriatrics.org.
About the AGS Clinician of the Year Award
The AGS Clinician of the Year Award was established to recognize the contributions of practitioners to quality health care for older people and the importance of the geriatrics clinician in our healthcare delivery system. Through awardees' efforts, scientific advances are integrated into the practice of geriatrics, resulting in improved well-being and quality of life for older adults.
About the AGS Annual Scientific Meeting
The AGS Annual Scientific Meeting is the premier educational event in geriatrics, providing the latest information on clinical care, research on aging, and innovative models of care delivery. More than 2,500 nurses, pharmacists, physicians, physician assistants, social workers, long-term care and managed care providers, healthcare administrators, and others will convene May 18-20, 2017 (pre-conference program on May 17), at the Henry B. Gonzalez Convention Center in San Antonio, Texas, to advance geriatrics knowledge and skills through state-of-the-art educational sessions and research presentations. For more information, visit AmericanGeriatrics.org.
---