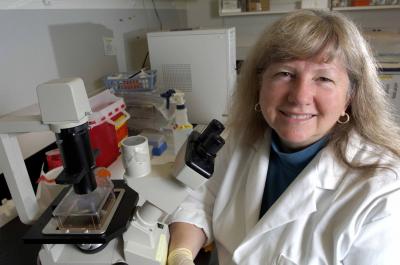 EAST LANSING, Mich. — At any given time, trillions of tiny microbes – some helpful, some harmful – are living on and in humans, forming communities and outnumbering the body's own cells tenfold.
Using a $7.3 million federal grant that establishes a new cooperative research center at Michigan State University, a group of investigators is studying the microbes that live in our intestines, analyzing the role they play in food- and water-borne illnesses that kill millions of people each year worldwide.
MSU's Enterics Research Investigational Network, one of four such U.S. research centers being funded by five-year grants from the National Institutes of Health, is led by Linda Mansfield, a microbiologist with the College of Veterinary Medicine. The team is looking at the enteric microbiome, or all the microbes that live in the human gut.
"Our long-term goal is to develop new interventions and treatments for food- and water-borne diseases; we want to know what makes people more susceptible or more resistant to enteric diseases," said Mansfield, whose group is focusing on illnesses caused by E. coli, Salmonella, Clostridium difficile and Campylobacter, among others. "Evidence suggests the enteric microbiome profoundly affects our health and disease susceptibility and may be a new preventive and therapeutic target."
Enteric diseases, which are primarily caused by food- and water-borne pathogens, are the leading cause of acute diarrheal illness, which despite concerted efforts remains a continued threat in the United States, particularly among children.
Overall, investigators from the colleges of Veterinary Medicine, Human Medicine, Natural Science and Engineering as well as the Michigan Agricultural Experiment Station are taking part in the project. The research team will be looking at three specific areas:
*Microbial ecology and pathogenesis: Led by microbiologist Robert Britton, researchers will use a bioreactor model, made by MSU engineers, and mice to study communities of microbes and whether reduced diversity in those communities – which can be caused by antibiotics — allows pathogens to take hold. "Although most of us think bacteria are bad, the 10 trillion bacteria that inhabit our gut play some very important roles, one of which is to keep bad bacteria from flourishing in our intestines, causing disease," Britton said. "What we hope to learn is which bacteria or communities of bacteria can protect us and how can we use this knowledge to create new therapies and treatments."
*Host response: Led by Mansfield, researchers are trying to find the link between enteric disease caused by Campylobacter jejuni (a food-borne bacterium often found on poultry) and autoimmune disorders that are rapidly increasing in the United States. Nervous system autoimmune diseases such as Guillain Barré syndrome and Miller Fisher syndrome have been associated with recent Campylobacter infection. These diseases can cause paralysis and death, yet researchers do not know why, Mansfield said. "Our goal in this project is to understand the causes and to develop preventions and cures," she said. "We believe it will also provide insights into how other autoimmune diseases begin."
*Clinical Research: Led by molecular epidemiologist Shannon Manning, researchers will study fecal samples taken by the Michigan Department of Community Health to determine how infection with different pathogens (such as E. coli) alters the type of microbes present in the intestine. The microbial communities in patients with disease will be compared with communities in exposed individuals without disease. "Our hope is to identify potentially beneficial microbes, microbial communities and/or microbial by-products that can be used to prevent or treat disease," Manning said.
###
MSU's ERIN cooperative research center continues and builds on the work started by the Microbiology Research Unit scientists. That unit is a research component of the National Institutes of Health's Food and Waterborne Integrated Research Network; for more information, visit http://foodsafe.msu.edu/mru_web/.
Michigan State University has been advancing knowledge and transforming lives through innovative teaching, research and outreach for more than 150 years. MSU is known internationally as a major public university with global reach and extraordinary impact. Its 17 degree-granting colleges attract scholars worldwide who are interested in combining education with practical problem solving.
---