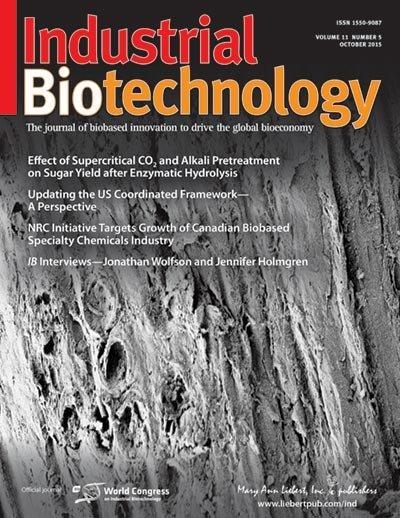 New Rochelle, NY, November 19, 2015--The sugar obtained after enzymatic hydrolysis of empty fruit bunches (EFBs increased from 17% to 24% when supercritical carbon dioxide (SC-CO2) pretreatment of the EFBs was used, according to a new study. SC-CO2 pretreatment plus premixing of the EFBs with alkali further increased the glucose yield to almost 37%, as reported in the study published in Industrial Biotechnology, a peer-reviewed journal from Mary Ann Liebert, Inc., publishers. The article is available for free download on the Industrial Biotechnology website.
Nurul Hazirah Che Hamzah, Masturah Markom, Osman Hassan, and Shuhaida Harun, National University of Malaysia, Selangor, provide visual evidence of the surface changes of pretreated EFBs, which appeared swollen and ruptured compared to the surface of the untreated EFBs. The researchers compared the effects of SC-CO2 pretreatment under different conditions. In the article "Investigation of the Effect of Supercritical Carbon Dioxide Pretreatment on Sugar Yield Prior to Enzymatic Hydrolysis of Empty Fruit Bunches" they show that glucose yields increased with higher pretreatment temperature, pressure, and time.
"Capturing the international dimensions of industrial biotechnology innovation is one of the major focuses of our journal," says Co-Editor-in-Chief Larry Walker, PhD.
###
About the Journal
Industrial Biotechnology, led by Co-Editors-in-Chief Larry Walker, PhD, and Glenn Nedwin, PhD, MoT, CEO and President, TripleDNA Consulting, LLC, Davis, CA, is an authoritative journal focused on biobased industrial and environmental products and processes, published bimonthly in print and online. The Journal reports on the science, technology, business, and policy developments of the emerging global bioeconomy, including biobased production of energy and fuels, chemicals, materials, and consumer goods. The articles published include critically reviewed original research in all related sciences (biology, biochemistry, chemical and process engineering, agriculture), in addition to expert commentary on current policy, funding, markets, business, legal issues, and science trends. Industrial Biotechnology offers the premier forum bridging basic research and R&D with later-stage commercialization for sustainable biobased industrial and environmental applications.
About the Publisher
Mary Ann Liebert, Inc., publishers is a privately held, fully integrated media company known for establishing authoritative peer-reviewed journals in many promising areas of science and biomedical research, including Environmental Engineering Science and Sustainability: The Journal of Record. Its biotechnology trade magazine, Genetic Engineering & Biotechnology News (GEN), was the first in its field and is today the industry's most widely read publication worldwide. A complete list of the firm's 80 journals, books, and newsmagazines is available on the Mary Ann Liebert, Inc., publishers website.
---
Journal
Industrial Biotechnology