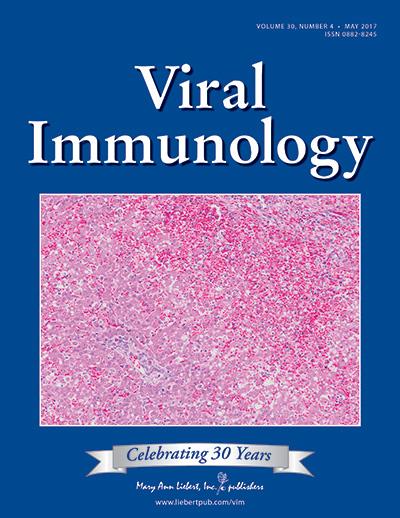 New Rochelle, NY, June 6, 2017--A new study of infection by a virus that causes brain inflammation and seizures in a mouse model has shown increased levels of complement component C3. The C3 was produced by immune cells in the brain called microglia within the first few days after infection. C3 showed the greatest increase in expression in the brain compared to a variety of other complement components, cytokines, chemokines, and antigens measured in the study that is published in Viral Immunology, a peer-reviewed journal from Mary Ann Liebert, Inc., publishers. The article is available free on the Viral Immunology website.
Jane Libbey, Matthew Cusick, PhD, Daniel Doty, and Robert Fujinami, PhD, University of Utah School of Medicine, Salt Lake City, coauthors of the article entitled "Complement Components Are Expressed by Infiltrating Macrophages/Activated Microglia Early Following Viral Infection," reported that while C3 production by microglial cells increased in the brain, levels of C3 or other complement components were not higher in the blood. This suggests that the microglial immune response to the virus infection was localized to the brain. These new findings add to the researchers' understanding of how increased expression of certain immunologic factors contribute to the development of neuroinflammation and seizures following viral infection in this mouse model.
"The Fujinami laboratory is making great strides in our understanding of the host response to infection in the brain. The spotlight on C3 will help researchers identify the mechanisms that underlie the development of neuroinflammation and seizures following viral infection " says David L. Woodland, PhD, Editor-in Chief of Viral Immunology and Chief Scientific officer for Keystone Symposia on Molecular and Cellular Biology.
###
Research reported in this publication was supported by grants from National Institutes of Health under Award Numbers 1S10RR016802-01 and T32AI055434. The content is solely the responsibility of the authors and does not necessarily represent the official views of the National Institutes of Health.
About the Journal
Viral Immunology is an authoritative peer-reviewed journal published ten times a year in print and online. Topics cover both human and animal viral immunology, exploring viral-based immunological diseases, pathogenic mechanisms, and virus-associated tumor and cancer immunology. The Journal includes original research papers, review articles, and commentaries covering the spectrum of laboratory and clinical research and exploring developments in vaccines and diagnostics targeting viral infections. Tables of content and a sample issue may be viewed on the Viral Immunology website.
About the Publisher
Mary Ann Liebert, Inc., publishers is a privately held, fully integrated media company known for establishing authoritative peer-reviewed journals in many promising areas of science and biomedical research, including Journal of Interferon and Cytokine Research, AIDS Research and Human Retroviruses, and Biosecurity and Bioterrorism: Biodefense Strategy, Practice, and Science. Its biotechnology trade magazine, GEN (Genetic Engineering & Biotechnology News), was the first in its field and is today the industry's most widely read publication worldwide. A complete list of the firm's 80 journals, books, and newsmagazines is available on the Mary Ann Liebert, Inc., publishers website.
---